2016 in Review
I wrote this article while sitting at Munich airport and waiting to board my plane to Berlin. Thanks to Lufthansa the…
I wrote this article while sitting at Munich airport and waiting to board my plane to Berlin. Thanks to Lufthansa the plane was delayed by 40 min so I had enough time to reflect. At least they didn't strike!
2016 was the year of "Taking Action" for me and I set a few goals at the beginning. I haven't achieved all of them because exciting opportunities came up along the way which pushed my timeline a bit out.
Nevertheless it's been an incredible year for me since I achieved more things than ever before.
In this article I want to quickly share my highlights.
I experienced the power of social media
The year started with an incredible insight I made on LinkedIn. After coming back from Malaysia in January I had a lot of energy and was full of inspiration.
During the first week at work I was not busy so I wrote an article about my new years resolution and the things I wanted to achieve in 2016.
The title was "The Level of success depends on the level of personal development".
Until today, I still couldn't figure out what happened but when I woke up the day after I had about a 1000 likes and 3000 views!
This was an incredible feeling because for the first time I experienced how powerful social media can be. In the end the blogpost reached more than 4300 people and got 1200 likes.
This was such an influential experience that actually led me to building this blog.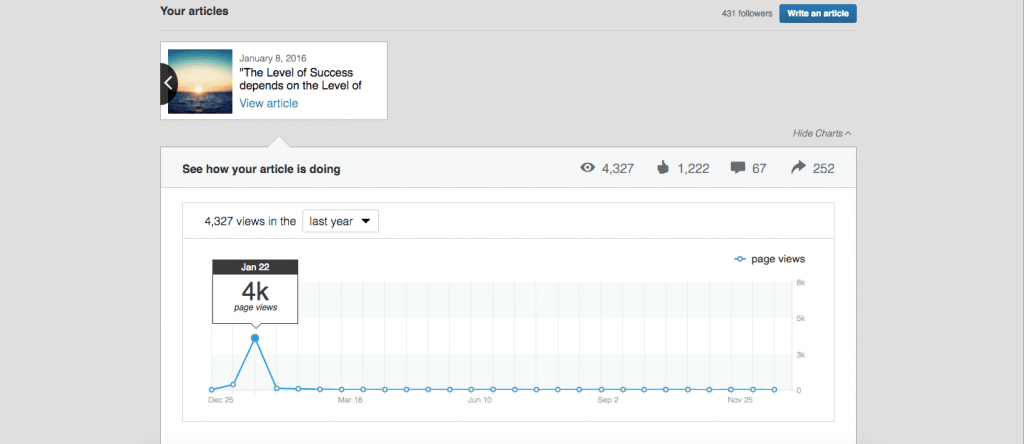 I created new habits
This year I focused a lot on creating sustainable habits to help my personal development in the long run. To quickly recap I wanted to…
1. …practicing the art of selective ignorance (avoiding news)
2. …live more healthy
3. …avoid negative energy
4. …create a better morning routine
1. Practicing Selective Ignorance
Also avoiding news and blogs gave me an incredible advantage: saving time!
I focused my energy on things that were more important to me and only digested information that helped me to get further with my own projects.
I often had the feeling of missing out and sometimes even felt dump if I couldn't contribute to conversations. But in retrospect I learned a shitload in other areas that I don't want to trade.
2. Living More Healthy
Since I have no precise measurement system to compare my previous year to this one I can't really make a conclusion if I lived healthier.
I felt that I ate more veggies this year and tried to reduce the amount of meat. I also went to the gym more often or went out for hikes on the weekend. But then all effort was destroyed by the increased consumption of chocolate and sweets.
The scale stayed pretty neutral so win win situation.
3. Avoiding Negative Energy
This one is tough. I always try to justify ranting and complaining as something that has to get out and holding it back will only lead to unhappiness and frustration.
In general I increased my awareness for negative conversations and tried to stay away as much as possible. Also I tried to have more empathy for people and not to judge actions quickly.
Understanding why people behave the way they do is probably my biggest learning this year.
Everyone is acting in a specific way because of personal emotions and experiences and trying to understand their motivations first before marking someone as an idiot will only help you in the long run.
4. Creating A Morning Routine
Now, almost one year later I can sum up with a peace of mind:
Although I don't do the full miracle morning anymore I still managed to maintain some essential habits:
I'm meditating almost every morning for about 10 min. Sometimes it happens that I skip but in general I keep the habit pretty much alive.
Reading also became an essential part of my life now especially because I didn't read much before. I exceeded my personal goal of six books a year. Here is the full list:
Journaling is still part of my morning routine although I don't do it every day anymore. But at least once a week I pull out my little moleskin to jot down thoughts, events and the things I'm grateful for.Writing in general became in essential part of my life now which brings me to my next highlight:
I started Project Horizn
Project Horizn was born out of inspiration with the purpose to document my journey to financial freedom.
Writing helps me to organize and put my thoughts into a tangible form and after a year I feel that my communication skills have improved.
I started a few blogs in the past but never sustained a good habit of actually producing content. I think the main reason was that I never had a clear purpose.
But for the first time I feel to have a stronger motivation behind and an explicit direction which makes it easier to carry on.
I plan to grow this blog into my personal home base and a place to go for likeminded designers who want to achieve the same.
If I can only change the life of one person that would be already worth the effort.
Articles: 26
Visitors: 970
Pageviews: 1830
I created my first product
This was my biggest achievement for this year. I had the idea of redesigning the vietnamese coffee filter while drinking hipster coffee on Penang. I produced the first sketches in the hostel where I stayed and refined the design when I came back later.
If you are interested in some details, I documented the process on my website: VineBrew – Hai Ninh Nguyen
I educated myself about coffee and drunk 2-3 cups a day to train my taste buds.
At some point I had so much caffeine running through my veins that my hands started shaking.
Although it it is still an ongoing project, I never would have thought that I would get this far. I also never could have predicted what I was getting myself into ?
It is just a shitload of work and often causes sleepless nights.
The biggest satisfaction for a designer is to see his own product coming the market and getting feedback from customers.
Yet if you work for a bigger company it is unlikely that you have to deal with the details of this process because there are other experts taking care of it.
Once you do it yourself you will realize that it is not enough just to design a beautiful product. There are a lot of new skills you need to learn along the way. That is why starting out takes so much time.
For this year I've finished the glasses but I am still working to get the ceramic right. Stay tuned for 2017!
I worked in Australia
This was the biggest reason why my timeline got pushed out. I had the incredible opportunity to go to sydney for a project from mid april until june.
Australia was actually never on my radar but I thought it would be a good opportunity to gain new experiences and get inspired.
My experience was marred by a not very exciting project, but I am still grateful for the experience because I had wonderful people around me. I met old friends made a lot of new friends whom I am still in contact with.
I made new experiences in Vietnam
On the way home from australia I made a small pit stop in vietnam to visit my family.
It was my first time to visit my country without my parents and it gave me the freedom to do some exploration on my own. I stayed at my families house for about a month before going back to germany.
The main reason why I went to vietnam was to find a ceramic manufacturer for my coffee set which actually turned out to be a failure.
Vietnamese manufacturers are good when it comes to hand crafting but they lack experiences with mass production.
Also all manufacturers left emails and phone calls unanswered which is not a good sign.
The rest of my stay, I spent time with family, learning how to ride motorbikes and I signed up for a Scuba Diving Course on an island in the south of vietnam.
I explored Bavaria
Having spent 3 months abroad I somehow realized that I haven't seen much of my own home yet. I always travelled far to see beautiful things and never really appreciated what I have in front of my own doorstep.
I came back in the summer which is a great time to do weekend trips and exploring the landscape around Munich. I always considered hiking as something super boring and only for old people.
Somehow I got hooked after my first hike to Höllentalklamm. Although I've been living in Munich for almost 10 years now, I never made the effort to go to the mountains. But now I came to realize how beautiful the german alps can be and why so many people love bavaria.
Or am I just getting old?
What's next?
2017 will be about Experimentation & Growth. I will continue to grow Project Horizn to a bigger platform and refine the branding. So far I haven't been able to document all the learnings I had with my product but I want to produce more How To's to help people who want to get started. Furthermore I plan to finish my coffee set so everyone can purchase it.
By the end of the year I hope to reach a point where I can announce bigger changes.
Alright, that's it for now. Stay tuned for 2017 and I wish you all Merry Christmas and a Happy New Year to you all.