February 2019 – Travel & Income Report
Wow, I can't believe we are approaching march already. I felt like it's just been 2 weeks ago since I entered…
Wow, I can't believe we are approaching march already. I felt like it's just been 2 weeks ago since I entered the plane to Thailand to start my location independent journey.
But as you know. Time flies if you're having fun and I can definitely say that had a fantastic time so far.
For the monthly review, I usually keep the same format and tackle the following points:
a short summary of my last 4 weeks
my personal projects
my income and expenses for the month
learnings / life lessons / challenges
and upcoming travel plans
So let's get started.
My Life in Chiang Mai
While January has been all about traveling and experiencing new things, February has been exactly the opposite.
It's been a quiet month as I settled in Chiang Mai and focused more on the work aspect of the location independent lifestyle. I joined a co-working space and a gym close to my apartment and got back into a routine.
While most digital nomads prefer to stay in the Nimman area, I found a nice apartment in the north of Chiang Mai called Santitham . It's a quiet neighborhood and I enjoy the local life. The great thing about staying outside the touristy and popular places is that it's also soo much cheaper.
On the other hand, because Nimman is such a popular place, it also offers much more options in terms of co-working spaces, work cafes, bars and nightlife compared to Santitham.
Finding an Apartment in Chiang Mai
This is probably why Chiang Mai is so popular among digital nomads: finding an apartment in Chiang Mai is sooo much easier compared to other countries.
Most Apartments are on a month to month basis, so you can move in and out super quickly. Many are furnished already so you don't need to worry about buying your own stuff. Also most have Wifi included, but you can also get your own dedicated Internet.
And apartments are affordable too: I pay around 200€ for my two room apartment + electricity and water at the end of the month.
It took me 2 days to find it and move in. All I needed was:
Go to google maps and type in: Apartments Chiang Mai
Get their Phone Number / Line / Email
ask if there are any available rooms
make an appointment and go for a visit
Prepay Monthly rent = 7000 Baht
Pay Deposit 1 or 2 months rent
Have Passport ready
Done!
Yeah it's THAT hassle free!
Joining a Gym
After moving into my apartment and unload my stuff, I research a gym around my area. I haven't been working out for a long time and just needed to get back in shape. I joined the gym called Go-Gym in the north of Santitham.
It's an old warehouse turned into gym and basically just a big roof with some fences around. Because it's in the very far north, it is not so crowded most of the time which I really enjoy. Some of the devices are very old and broken, but because the gym offers so many of them, it doesn't really matter to me.
And for the price of 60baht (2€) per day, one can't really complain. I signed up for a monthly membership (900 baht = 25€) which turned out to be quite a mistake.
At least at this time of the year. The burning season in Chiang Mai started in February this year, earlier than expected, and the air quality is terrible. Because the gym is open, working out heavily and breathing in the smog is not something I would recommend anyone to do.
I will know better for next year.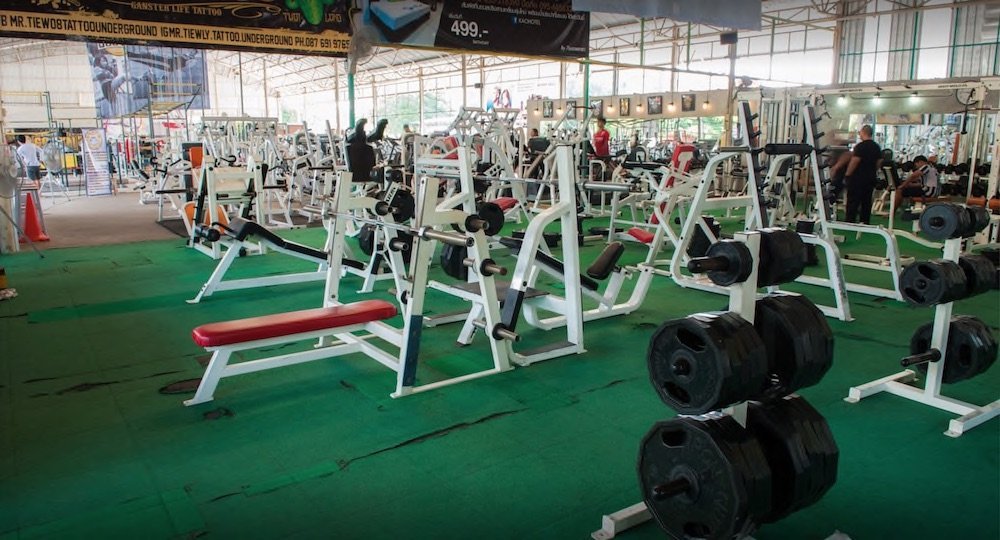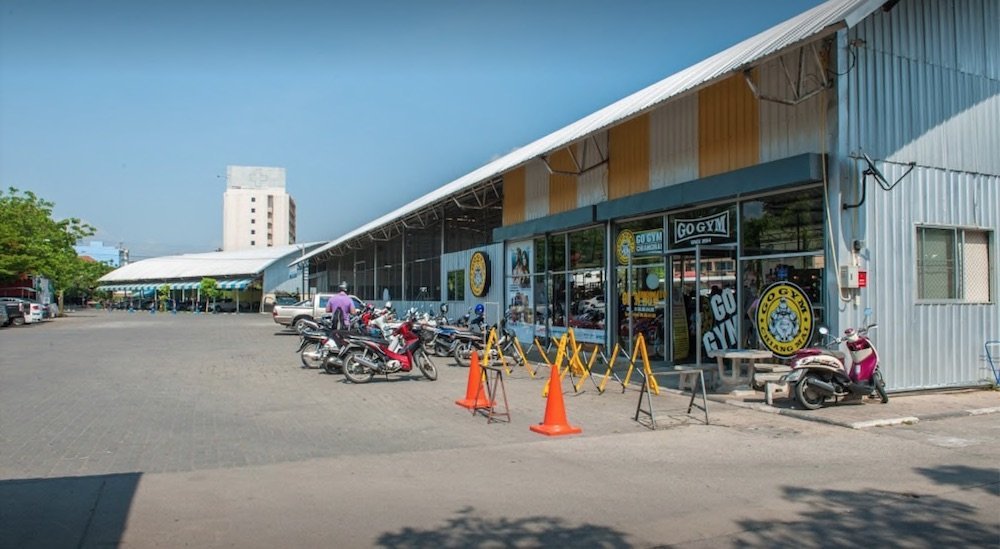 What is the Burning Season in Chiang Mai?
For those who never heard about this before, here is a quick summary of what it is.
Basically, in order to prepare for the next season, farmers start controlled fires to get rid of existing crops. So during the month of February, March and April, the air quality in Chiang Mai get's quite bad with the AQI hovering between 150-200, which is unhealthy (great: 0-50, good: 50 -100).
So keep this in mind If you plan to come to Chiang Mai.
Here is a more detailed article about the burning season in Chiang Mai: https://iglu.net/survivor-guide-chiang-mai-smoky-season/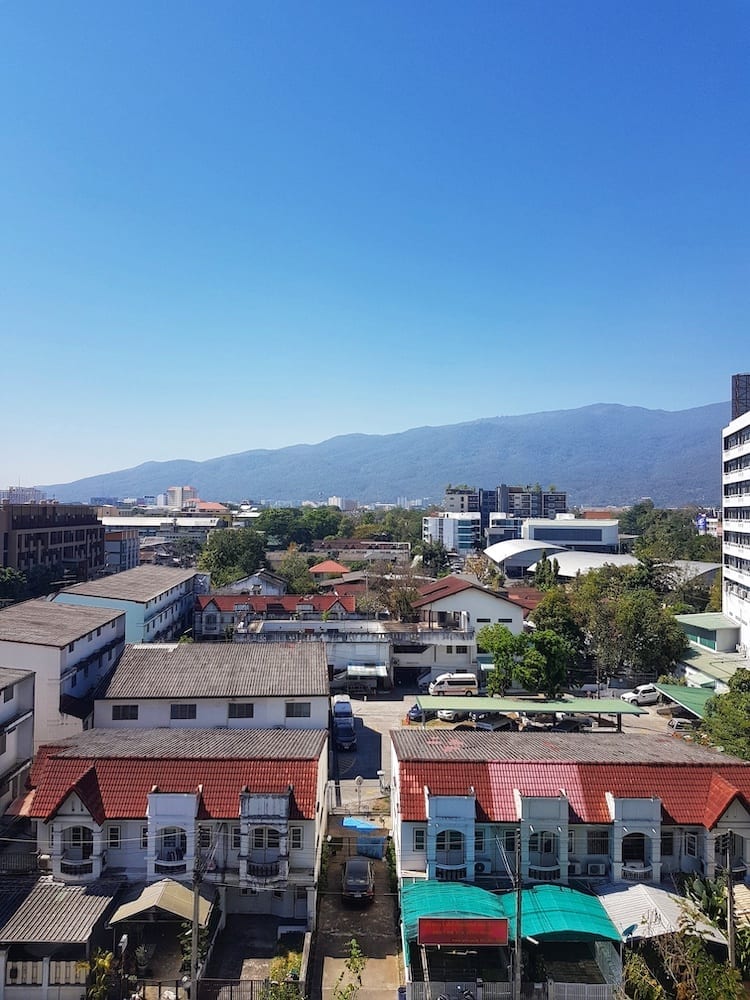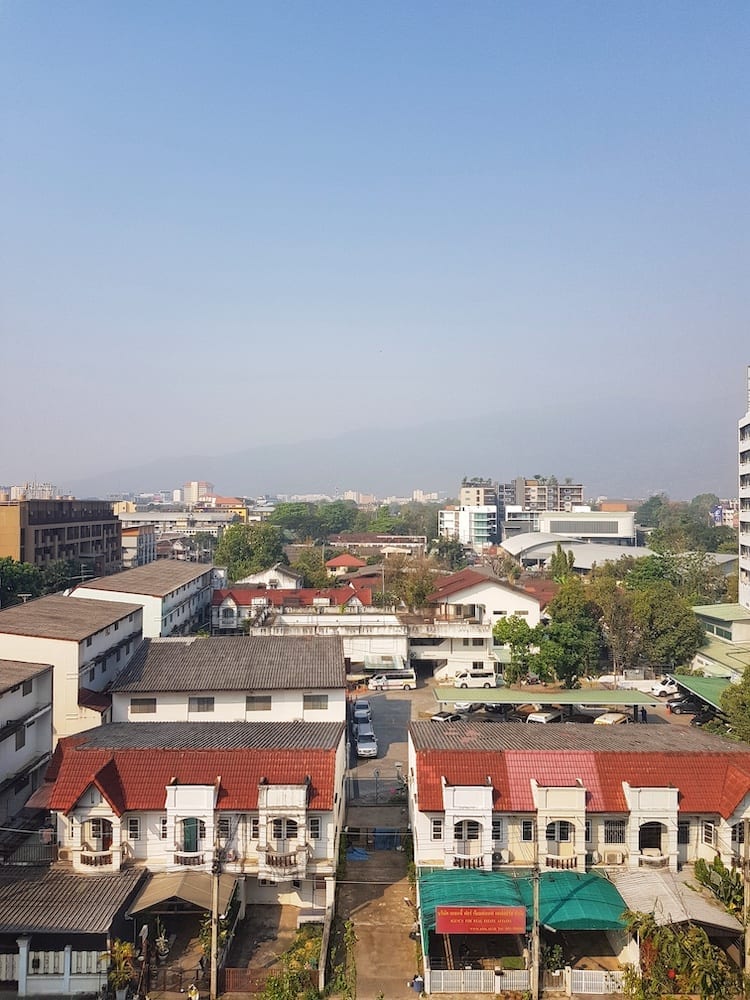 Joining a Co-Working Space
Now with the apartment and gym in place, I needed to look for a place where I can get work done. In terms of co-working spaces in Santhitam, there wasn't really a lot of options.
The only "real" Co-Working space in Santitham is KitnCaboodle which I joined for a month. It is a very small and less commercially driven Co-Working space. It is almost half the price of what you usually pay for a co working membership in Chiang Mai. But then, it also doesn't offer a lot of perks that others do and the space is fairly small.
Because I'm not a very picky person (and also didn't want to cycle for 30min at 35C° to Nimman every day), I decided to make it my go to work place for a month.
Besides KitnCaboodle, there are quite a few coffee places where you can also work from. If you don't have a crazy tech setup and only rely on solid wifi. Here are some nice coffee places to work from:
The Location Independent Lifestyle
I can't really express how much I love the life in Chiang Mai as a Location Independent Entrepreneur.
Everything just seems to work so much easier from what I'm used to in Germany and the city atmosphere with all the night markets and street food stands everywhere is just fantastic.
I can't describe everything in detail but here is basically a summary what I appreciated most during my stay:
there is lots of cheap street food
great coffee culture and there are soooo many wonderfully designed coffee places with great WIFI
roof top pools
healthy smoothies / fruits almost everywhere
many vegan restaurants
nightlife with many life music bars
the many night markets with lots of wonderful artistic stuff
in general, more bang for the buck, especially if you are in the bootstrapping phase
Cost of Living, ~ 1050€ / month
With all the great stuff you get in Chiang Mai, how much do you actually need to live here?
This month, I managed to get a more detailed analysis of my expenses compared to last month.
Here is the breakdown: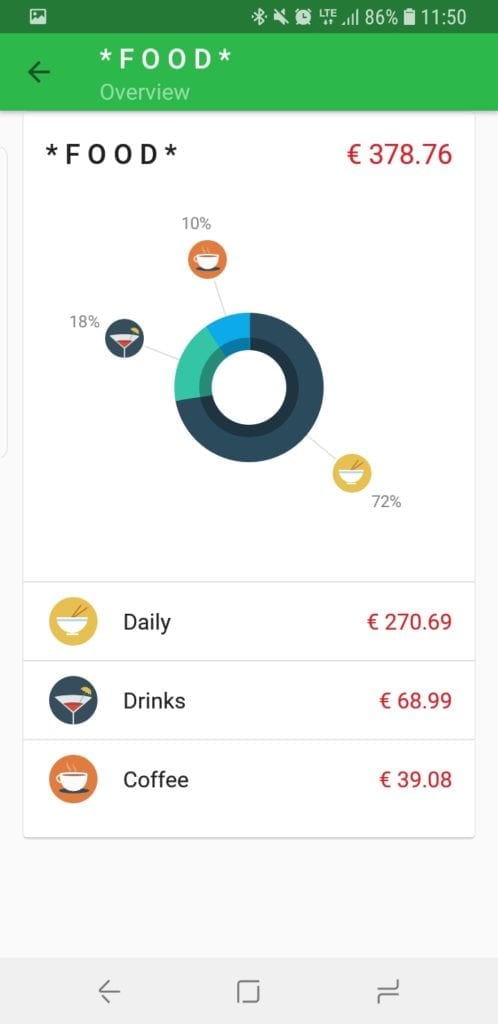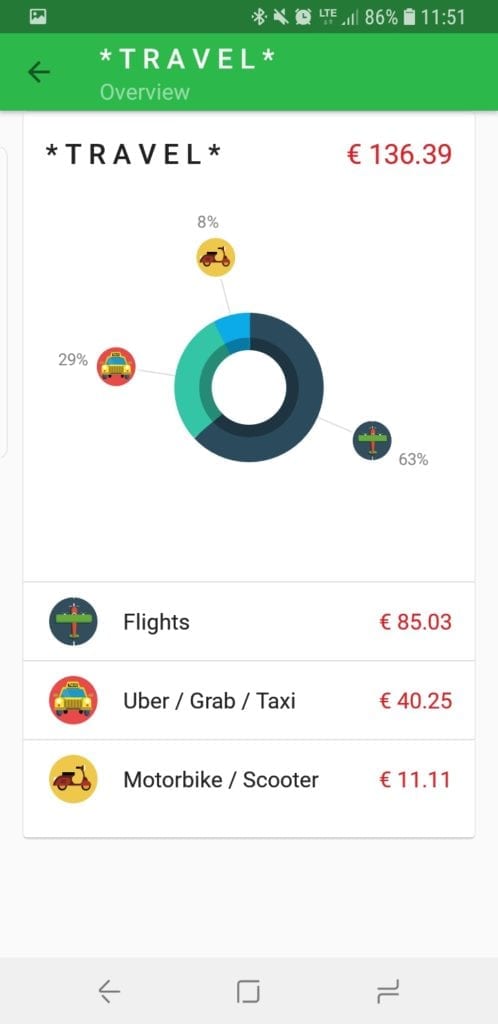 Everything else is rather negligible because it includes my international health insurance, student loan and some other small things. Therefore I won't go into the details there but you can see it yourself in the categories.
Online Business Progress
Last month I started to revamp the branding for my store and optimize my existing products for keywords to increase traffic. This process takes a lot of time and I planned to be finished by the end of february so I can focus on creating new products.
For some products, I created duplicated listings with different keywords to check the impact. And IT WORKS! I feel like I'm slowly getting the hang of the process.
February was the first month where I had 2 sales. This is a great confidence boost for me because for the last couple of months, I've been just improving the store with no visible results. Yet, I didn't really take profit from the sales since I lowered the prices for my products to a point to just break even.
This is necessary to boost sales and ranking in the first stages to generate more organic sales in the long run. Especially with market places like ebay, amazon etc, it is important to get initial traction and favor sales / reviews over profit in the beginning. Even if that means you lose money in the short term.
February 2019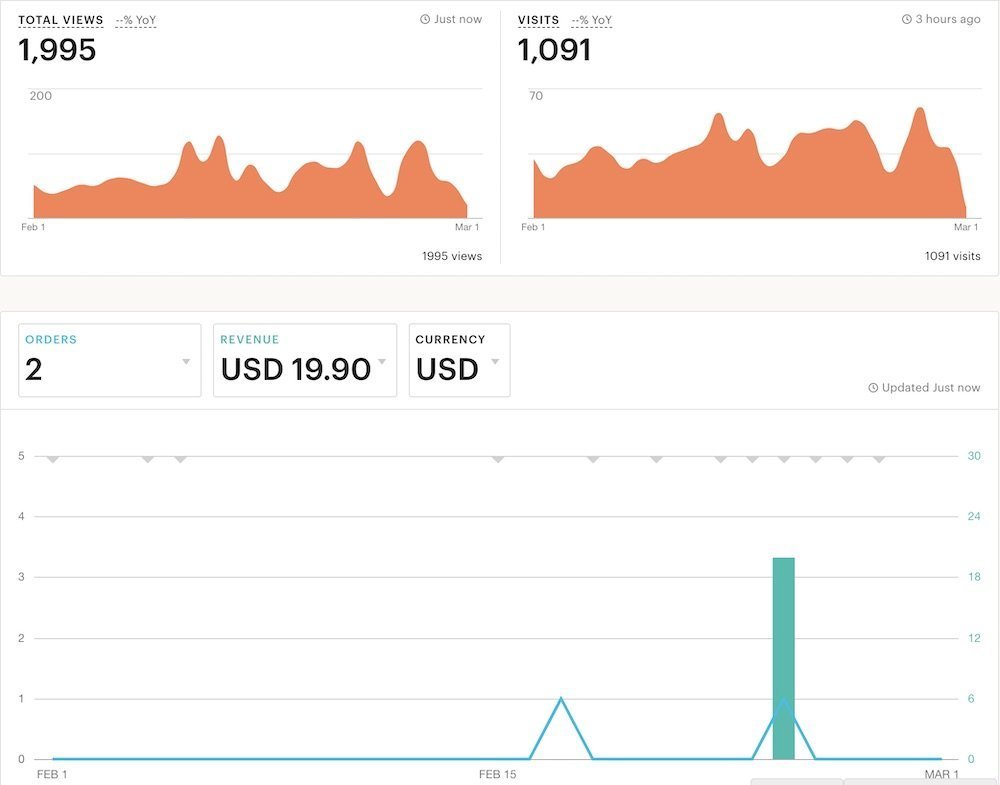 January 2019 for Comparison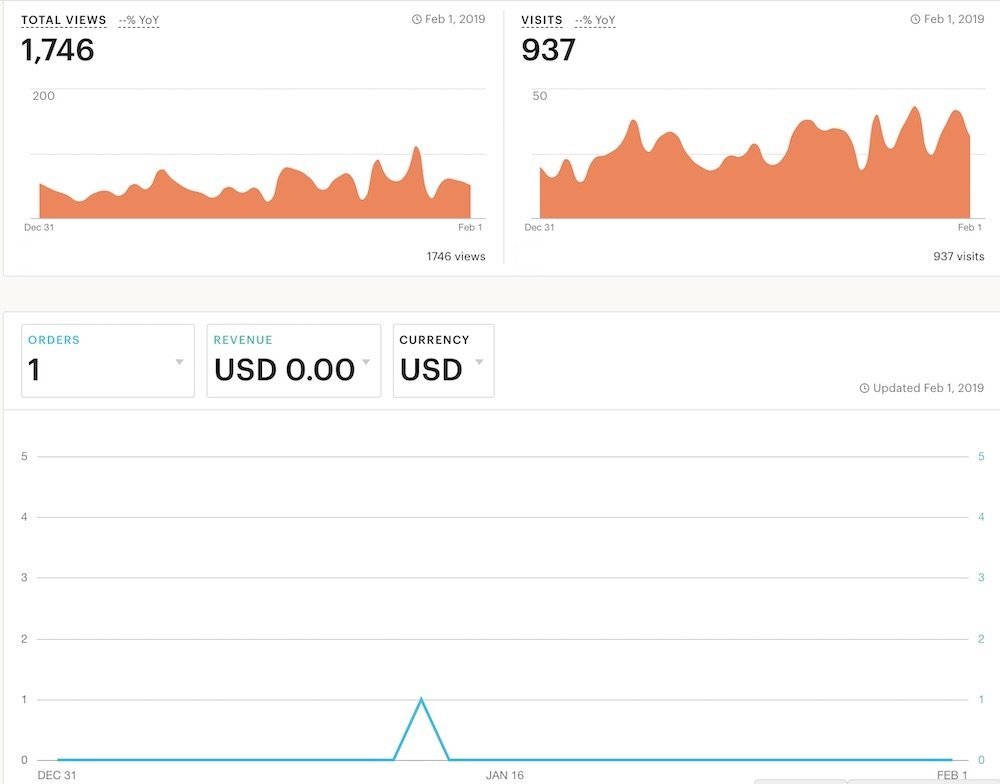 And 2019 so far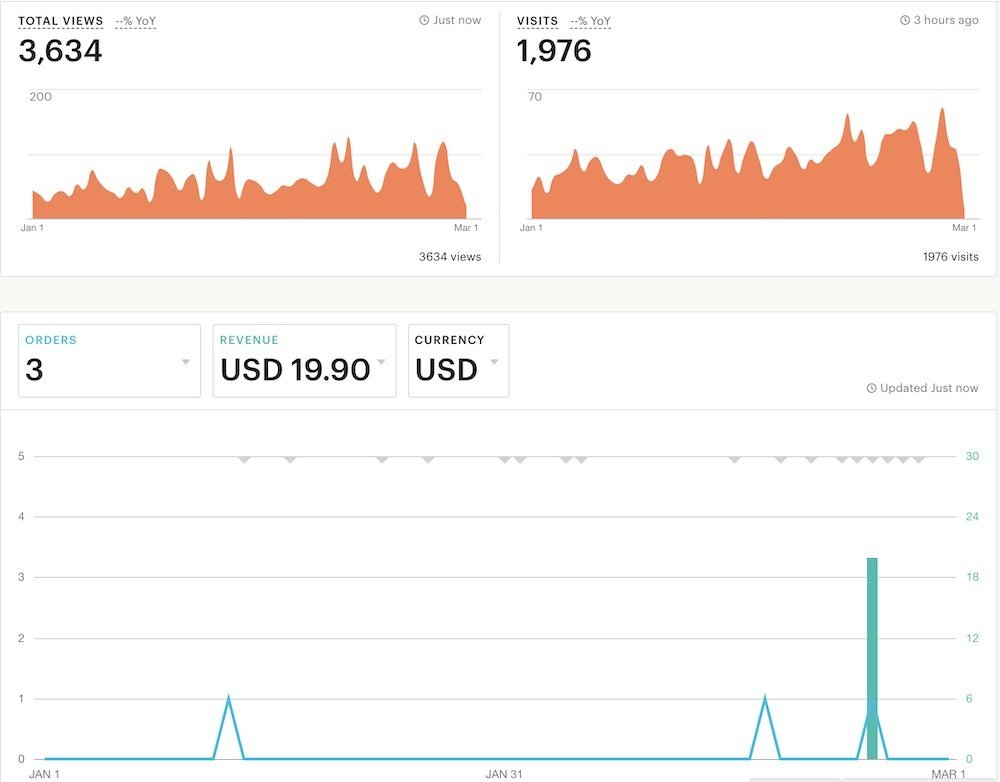 Next Destination
My Thai Visa is slowing coming to an end I decided that Vietnam will be my next destination. I will be in Hanoi for about 3-4 Weeks to visit my family and mingle with local nomads/expats. It will be sad to leave Chiang Mai because I really like it here.
But because my friends already left and Chiang Mai's burning season is driving me mad, I guess it's time to move on. It's just part of the location independent journey and I'm actually looking forward to see Vietnam again.