June 2019 – Travel & Expense Report
Welcome back to another update of my travel diary. I'm writing this report during my last week in Chiang Mai before…
Welcome back to another update of my travel diary.
I'm writing this report during my last week in Chiang Mai before moving on to Malaysia.
June actually marks my 6 months being on the road.
Half a year ago, I left Munich to travel around the world and embrace the location independent lifestyle. Looking back, it's hard to believe how much my life has changed ever since.
I'm grateful for all the experiences I made and for all the awesome people I met along the way. My life feels supercharged because of the new experiences that are raining down on me. In many ways, it also feels richer and filled with many more facets because i'm learning so much about other cultures and more importantly about myself. I haven't felt that for long time while living in Munich. Of course, this just comes naturally if you travel and work remotely and have to leave your comfort-zone constantly.
But June has been also one of these months where I didn't feel like overloading my nervous system too much with new things. I just wanted to … live my life.
During the last month, I spent most of my time exploring my neighborhood. Navigating to hidden coffee places I've never been before, exploring local food markets for authentic meals and fighting my way through spicy northern thai cuisines. It actually felt great to enjoy a local life instead of being the frequent tourist.
For this monthly update, I will actually let my photos and videos speak for themselves instead of a 3000-word essay. Enjoy 🙂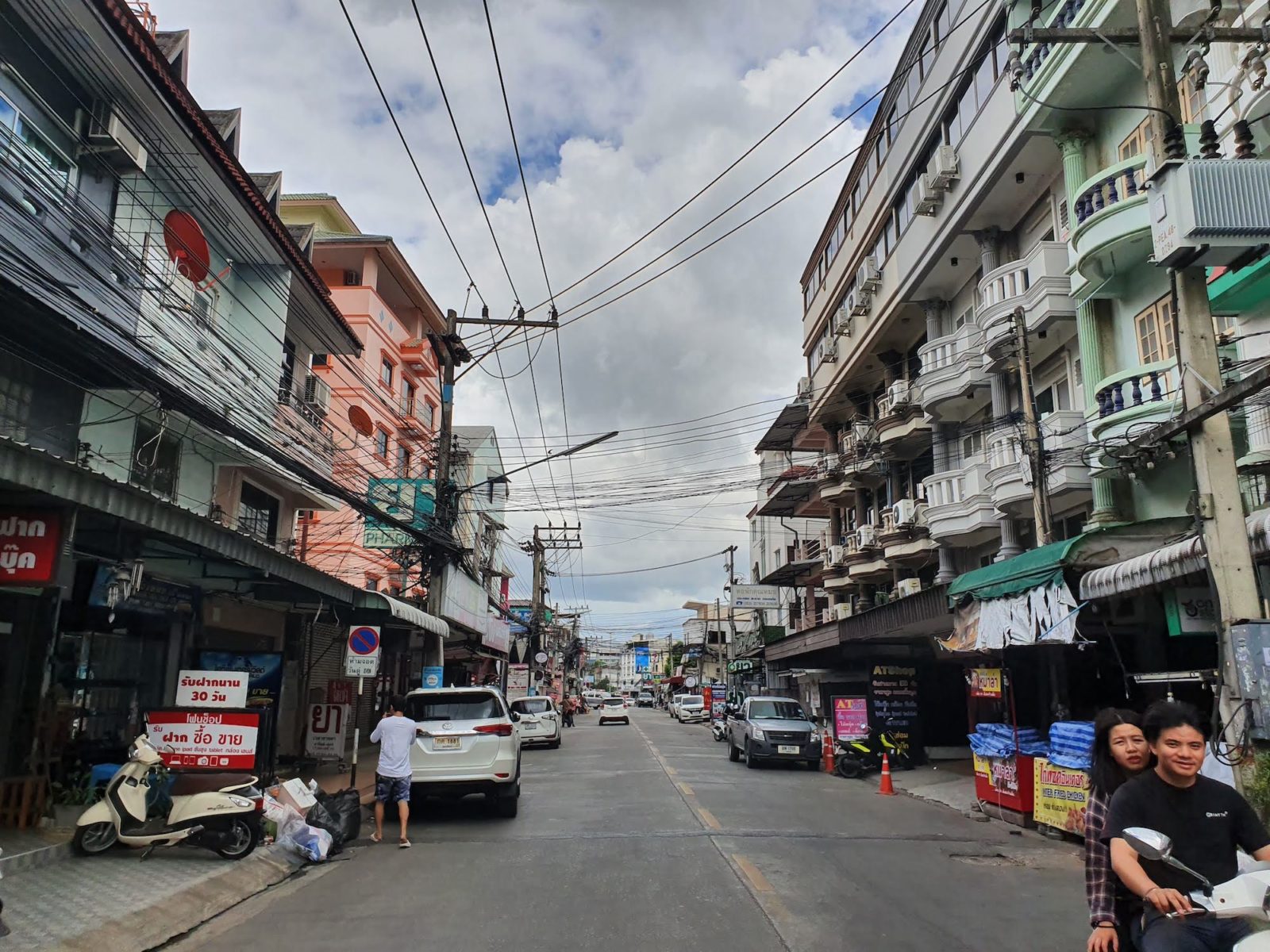 Pretty much a typical day in Chiang Mai during rainy- / low season. The sky is slightly grey and cloudy, temperature is on a comfortable level and I spend most of my time going from coffee place to coffee place and grab food from the local market for dinner.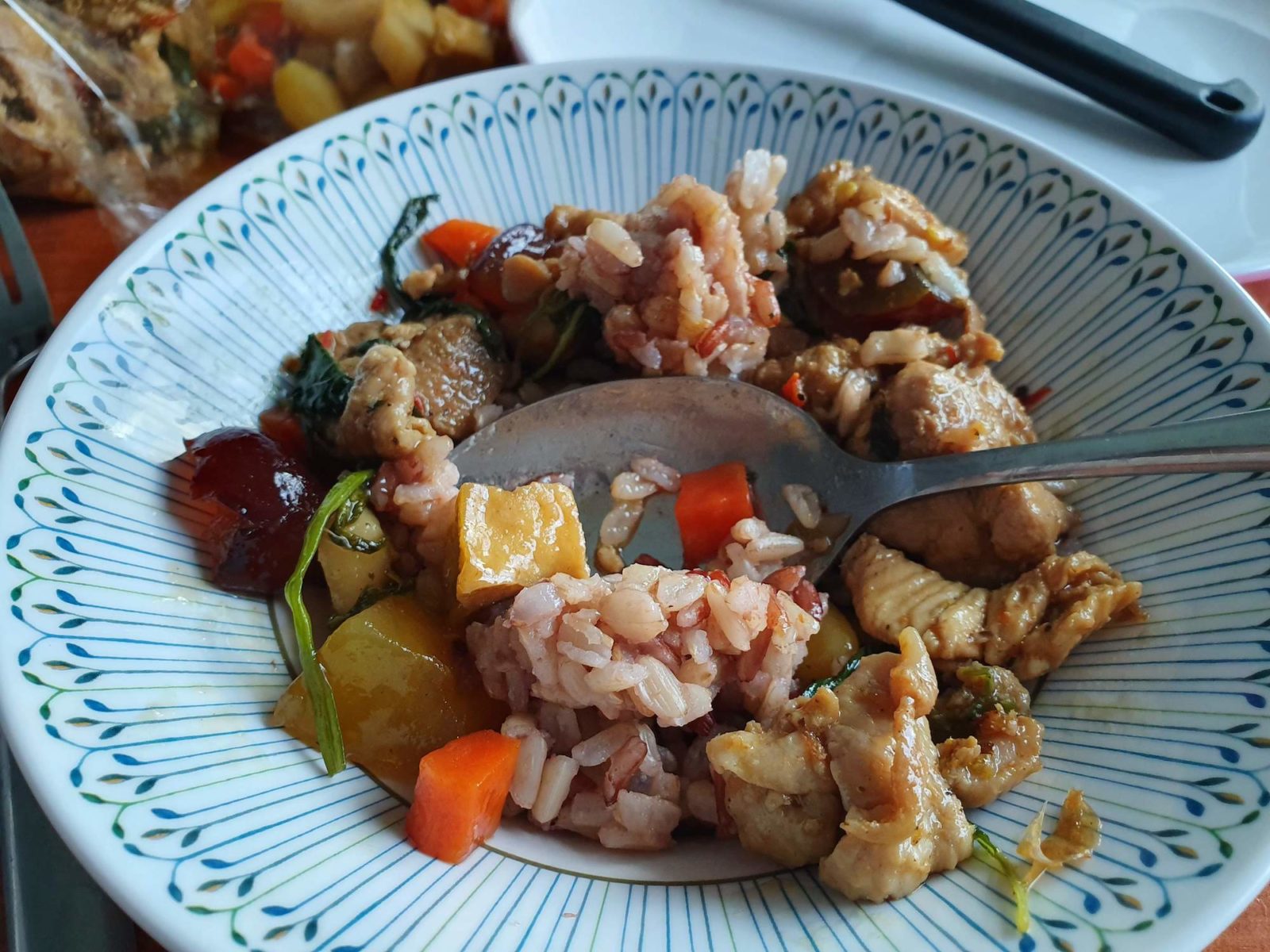 Below my highlights for the month
Exploring Coffee Places in Chiang Mai
I don't know how many different coffee places I've already visited in Chiang Mai but it seems like there is an endless stream of it here. I love the coffee culture in Chiang Mai and it's so exciting to find new spots every week.
Vegetarian Food in Chiang Mai
Besides the great coffee you can get in Chiang Mai, I also appreciate the diversity of the food. Especially when it comes healthy options, I very much appreciate the local vegetarian restaurants. Contrary to western countries, these stores are absolutely affordable and have meals for as little as 35 baht (1.00€). Most of the meat replacement are mushroom or soy based. Healthy food doesn't have to be expensive!
Swimming in Khao Soi
This is for sure my favorite dish of the month. I got so addicted to it, that I even sketched it. Chances are high that I had one of these delicious coconut curry noodle bowls every second day for lunch. This is THE signature dish of the northern provinces that you absolutely HAVE to try when you come to Chiang Mai.
Chiang Mai Farmers Market
The Farmers Market opens every weekend and offers local grown and organic produces. It's a fantastic way to start your sundays by having superior coffee and explore the small stands with neatly crafted products.
Expenses – 809.35€
Last month my expenses have been dominated by … luckily nothing. Thank god, no broken phone, no expensive tech toys…
The biggest chunk really went out for paying my apartment and food. It's incredible how much or how little your living cost can be in Chiang Mai if you just embrace a simple local life.
And to be honest, I don't live very frugally. I eat what I want without counting my money beforehand. I go out with friends and order drinks without worrying and I have coffees multiple times a day (if it doesn't disrupt my sleep though : Sleep Hacking : What is the best time to drink coffee?).
If you really pinch penny, you could as well survive for 500-600€ a month. Save up between 7.000-10.000€ and you could come here and live for a year without worrying about money or being stressed from work.
If you don't believe me, here is my monthly breakdown for June 2019:
Online Business -17.99€
June has not been a good month to be honest. While my sales constantly went up since the beginning of the year, it totally crashed in June. I had zero sales and on top of that, I had to replace an item for a customer because there was a spelling mistake on the design. To sum up, I made -17.99€ last month.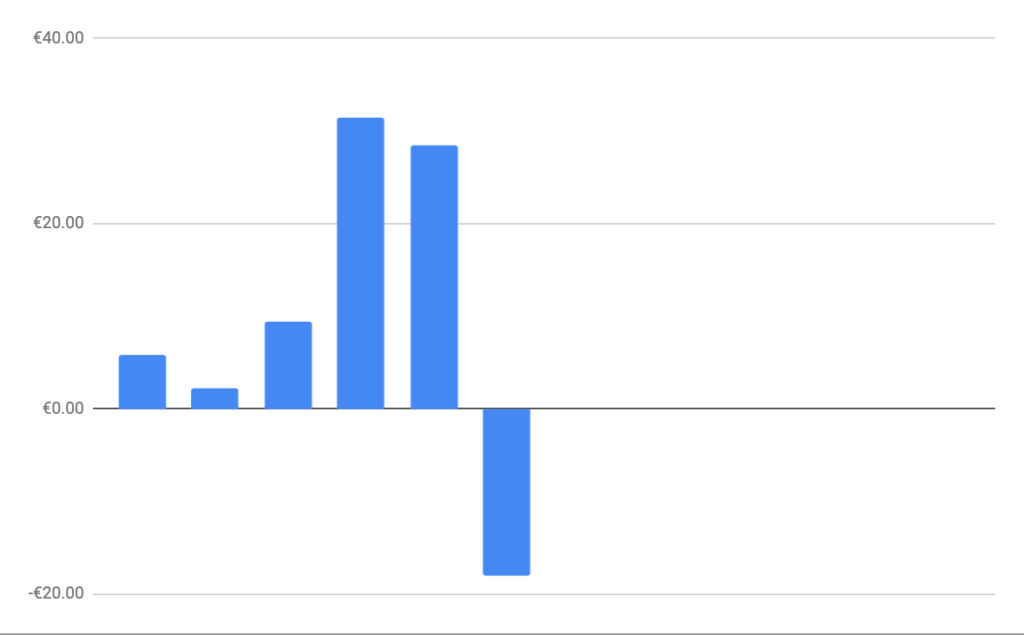 I know, building a business is a marathon and not a sprint. Yet, I still feel a bit sad to see no sales at all. I can't explain why to be honest, because I haven't changed anything in my shop. I added more products and hoped to get more exposure. My traffic dropped slightly to my surprise. I kept reminding myself that it's all part of the game and there will be many up and downs, so I just need to keep going.
I'm not sure if it was just a coincidence, but at the same time I read a book called "The Compound Effect by Darren Hardy" and there was a lovely anecdote that I wanted to share with you.
To remember this lesson more easily, I created these little illustrations for you:1. Imagine you are looking for a new water source. You ask around and based on someone's hint, you start to build a pump and pump for water.2. You pump and pump and there is activity below the surface that you can't see.
You slowly build up suction and water starts to move your way.3. After a long time, you see the first drop of water coming out. You keep pumping, but only little drops come out. Most people would give up at this point because they expected bigger results.4.
But if you keep pumping, you will eventually reach a critical mass and water will start to move more quickly. Pumping becomes easier, water starts flowing faster and you find yourself in a fountain.So whenever you face dark days, just keep reminding yourself that everything works in cycles. After a harsh winter, there will be a beautiful spring. After spring, there will be a beautiful summer. But summer never stays forever and soon there will be autumn.
And when you hope that things go better, there will be another winter. But even harsh winters never stay around for long and soon you will be seeing the spring again. Just keep pumping!
Sales and Traffic for May – June 2019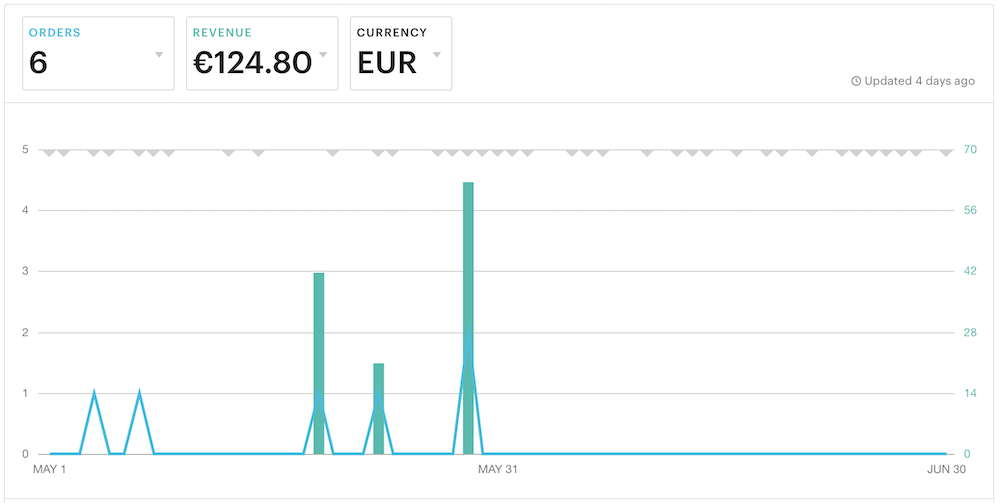 Sales and Traffic for June 2019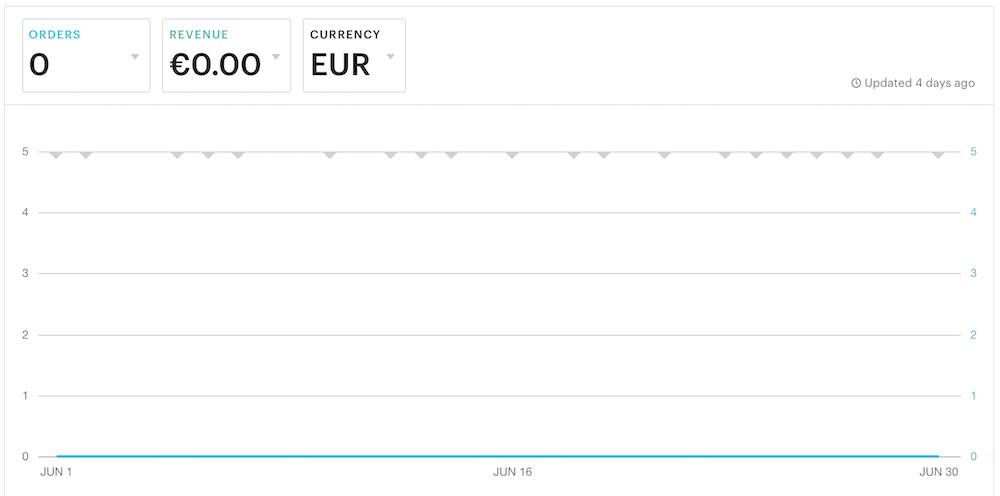 Yes, June was somewhat a quiet month, but I'm honestly not worried at this point. This is why I love the POD dropship model. Even though you don't make any money, you also don't lose much because you don't have to invest in products upfront. Compared to my previous FBA business where I had to purchase hundreds of products in advance (read more here: My Love & Hate Relationship with Amazon FBA), this business model gives me much more peace at sleep
Upcoming Travels
As I already mentioned in the beginning, I will be heading to Malaysia next week. I will take a couple of weeks off from freelance work and purely focus on reading and writing…and eating. I hope to refresh my creativity and come up with new ideas I can potentially turn into real projects in the future.
I'm really looking forward to Malaysia because it was the country where I listened to the 4-Hour Work Week the first time which led to where I am today. I will take lots of photos and share my stories on instagram and of course here. Stay tuned and have a wonderful day 🙂