Travel Protocol for Visa run to Malaysia from Chiang Mai
In the past, I've been really bad with taking notes and saving basic things that are important when it comes to…
In the past, I've been really bad with taking notes and saving basic things that are important when it comes to traveling.
As a result, I would have to research the same things over and over again.
For that reason, I created this quick checklist for myself and for fellow nomads to save time and money when going on a visa run in Malaysia.
This is NOT a full travel guide to Malaysia but it's helpful if you want to do a Visa Run in KL or Penang and start off from Thailand, in particular Chiang Mai.
But even if you just want to visit Malaysia for vacation, some of the tips will be helpful too. Just skip the Visa part.
This checklist includes the most important things such as where to change Malaysian Ringits in Chiang Mai, where to get a SIM card at KL airport, how to get to the Thai Embassy in KL and many more.
Preparation & Things to know upfront
Before heading off to Malaysia, here are some recommendations:
Have GRAB installed
If you're based in SEA, you will probably use GRAB already. If not, then download and sign up before you arrive. The most important thing to know here, is that the app adapts to the country. The UI will change once you arrived in Malaysia and you will notice different options. If you are using GRAB in Malaysia and have your credit card as the payment option, it might be that you will be charged the minute driver accepts your request INSTEAD of after the ride. This made me nervous at first, but dont worry, GRAB will not charge twice. This is what GRAB calls a Payment Authorization (read more HERE: https://help.grab.com/passenger/en-ph/360002030307-What-is-Payment-Authorization). If you feel unsure about it, switch to CASH payment before requesting a car. Especially with larger sums, this gives you a peace of mind.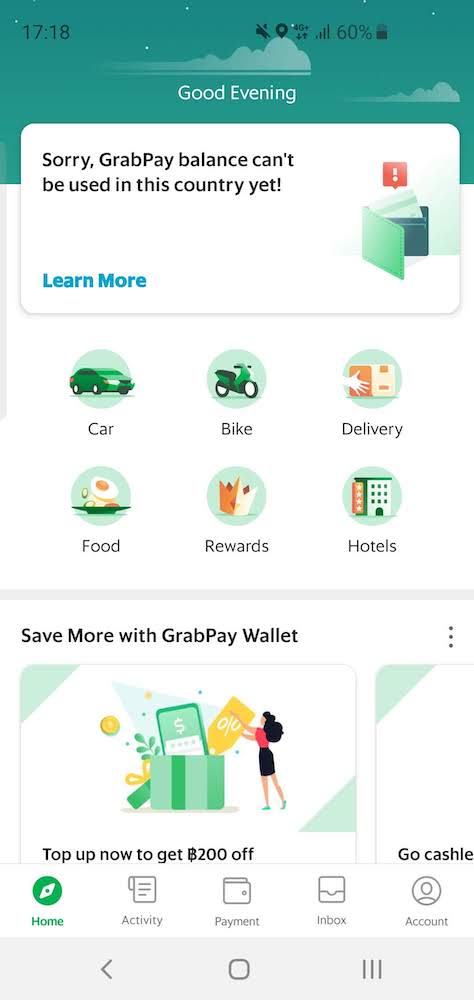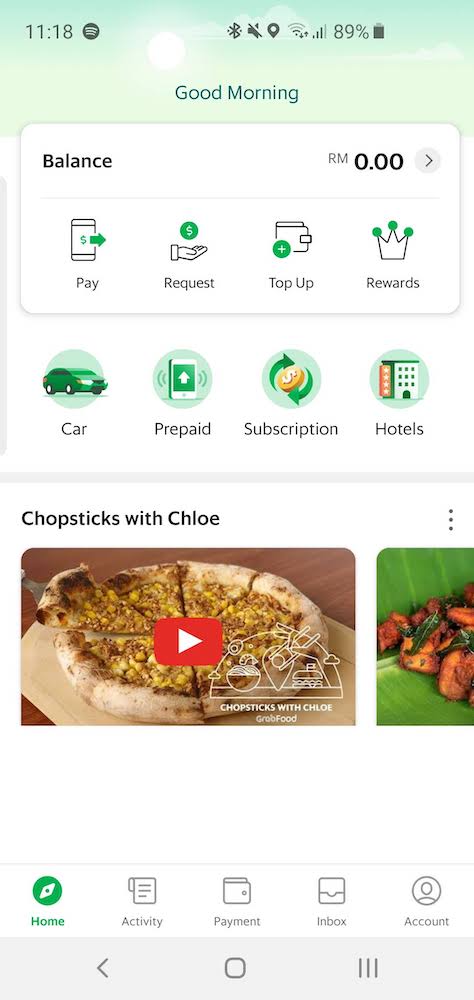 Use XE Currency Converter
This app is super helpful to check the real time exchange rate in case you want to swap THB for RM at a money exchange. I found the conversion rate from THB to RM at a money exchange in Malaysia very similar to what you see in the app. This means that you lose very little money in the transaction which is fantastic. Don't exchange at the airport though (as a general rule).
Download "KL LRT Price Check" – App
Although I use Google Maps almost everywhere, I found it to be less accurate when it comes to train schedule in KL. In one scenario, we wanted to go to the Batu Caves in the early morning and Google Maps was showing 7:32am as the departure. However, after arriving we had to wait for almost 40 min, because the train was actually leaving at 8:11am. The app not only shows accurate schedules but also the correct prices.
Download for Android: Google Play Store
Here is the Apple equivalent – Download for iOS: App Store
Get a power adapter with Type-G plug
You will need a power adapter when you come from Thailand. Malaysia uses a Type-G plug which is from British origin. It also comes in handy if you plan to visit Singapore, because both countries use the same plug.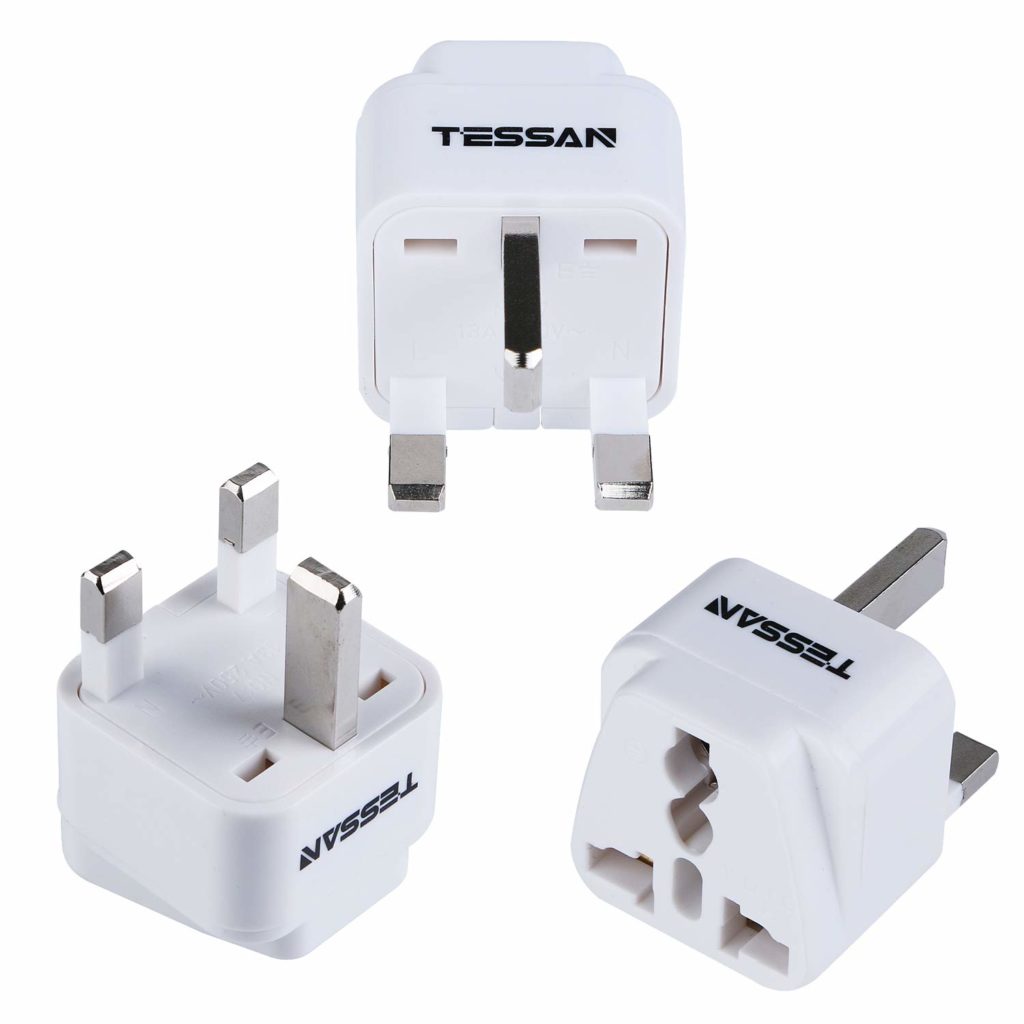 Understanding the culture and have an appropriate dress code
Malaysia has a fairly traditional Muslim culture and people tend to show little skin. While this is less dramatic for men, it is more important to know for women. If you are a woman, be aware that you WILL get a lot of attention if you run around in very tight shorts and tank tops. Be mindful and dress appropriately if you don't want to draw too much attention on yourself.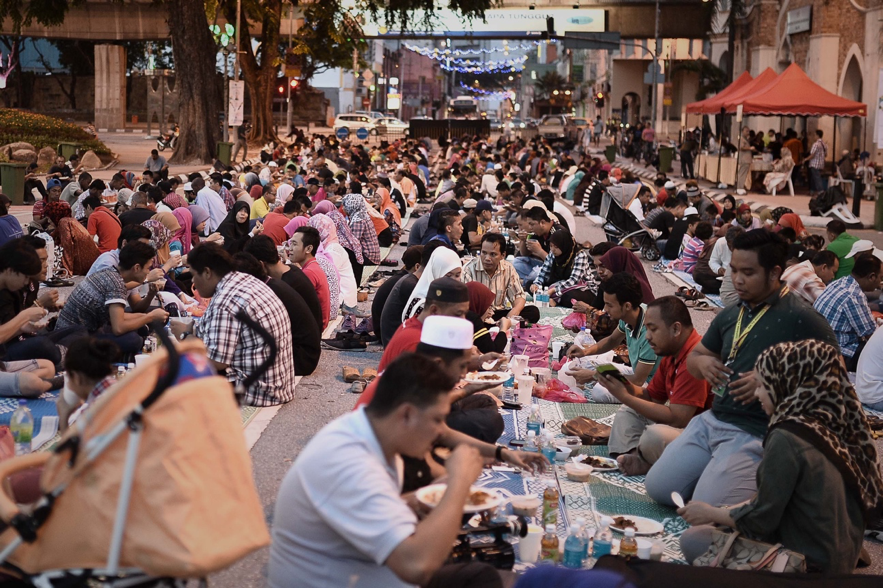 Visa Run in KL or Penang?
Coming from Chiang Mai, flights are most convenient to KL. If you want to go to Penang, chances are high you have to transfer in Bangkok which results in longer travel time.
Since 2018, Penang has a limit of 100 applicants a day whereas KL is able to process 130 applicants a day.
For KL, you can book an appointment 2 weeks upfront here: Visa requirements. Scroll to the bottom for Visa application.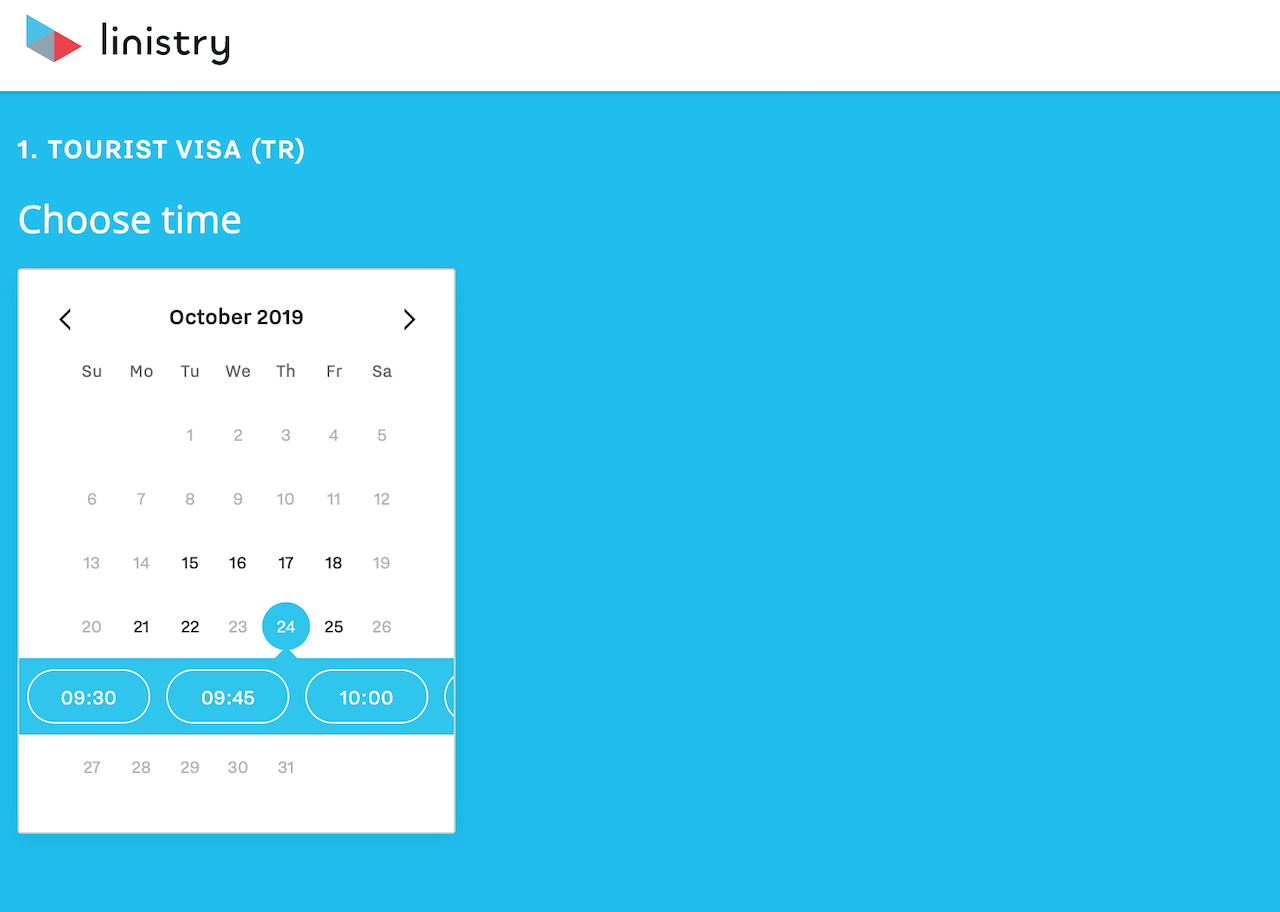 You will get an SMS as confirmation. The SMS contains a link to a website with your appointment number.
Update October 2019: You can now select between SMS and Email notification. Make sure to check your SPAM folder if you received the confirmation email and the link to your ticket.

In case of Penang, I couldn't find any online booking but believe you have to show up in person early in the morning:
https://www.travel-penang-malaysia.com/thai-embassy-penang.html
Step 1 – Heading to Chiang Mai Airport + Saving money
If you book a GRAB straight to Chiang Mai airport, you will end up paying almost 100 baht more. I live in Santitham and it would cost me more than 180 baht to go to the airport. If I book a GRAB to the nearby Airport Plaza, it costs me around 100baht. Apparently, there is some airport charge for taxis.
Anyway, if you want to save money going to Chiang Mai Airport, here is what you should do:
Go to Central Airport Plaza first
You can walk around, get a coffee, enjoy the food court and stack up on snacks and drinks for your travel
Go down to the main entrance and take the FREE Shuttle bus to the airport. It's a yellow Songthaew. Here is a timetable: https://www.tripadvisor.com/LocationPhotoDirectLink-g293917-d1699367-i333160036-CentralPlaza_Chiangmai_Airport-Chiang_Mai.html
Enjoy your free ride. The Songthaew will drop you off at the entrance for domestic flights (unfortunately, the same Songthaew only works one way and you won't be able to go back to Central Airport Plaza when arriving back in Chiang Mai)
BEFORE taking the shuttle bus: Exchange Money first
There is a money exchange on the first floor next to the escalators when you walk down to the shuttle bus. To my surprise, there was NO Exchange fee. I would recommend to change some THB to RM (Malaysian Ringits) so you can buy a SIM card right after arriving at KL Airport. If you exchange around 5000THB = RM675, it should give you a comfortable start for your trip without worrying too much about looking for an ATM right away.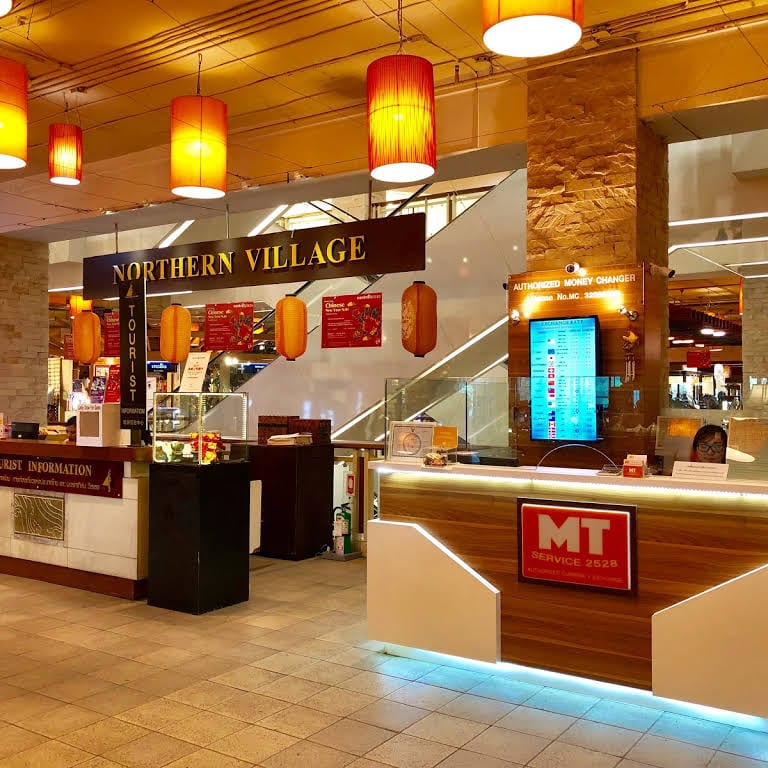 Step 2 – Arriving at the KL Airport
Once arrived, you have to go through immigration first. The process is pretty straight forward.
Get a SIM Card
Right in front of the exit, look for a big MAXIS phone store. Get your SIM Card there. I paid around RM60 for 8GB and 30 days and an unlimited social media usage promotion. The staff is very proficient and it took us less than 10min for 2 people to get online.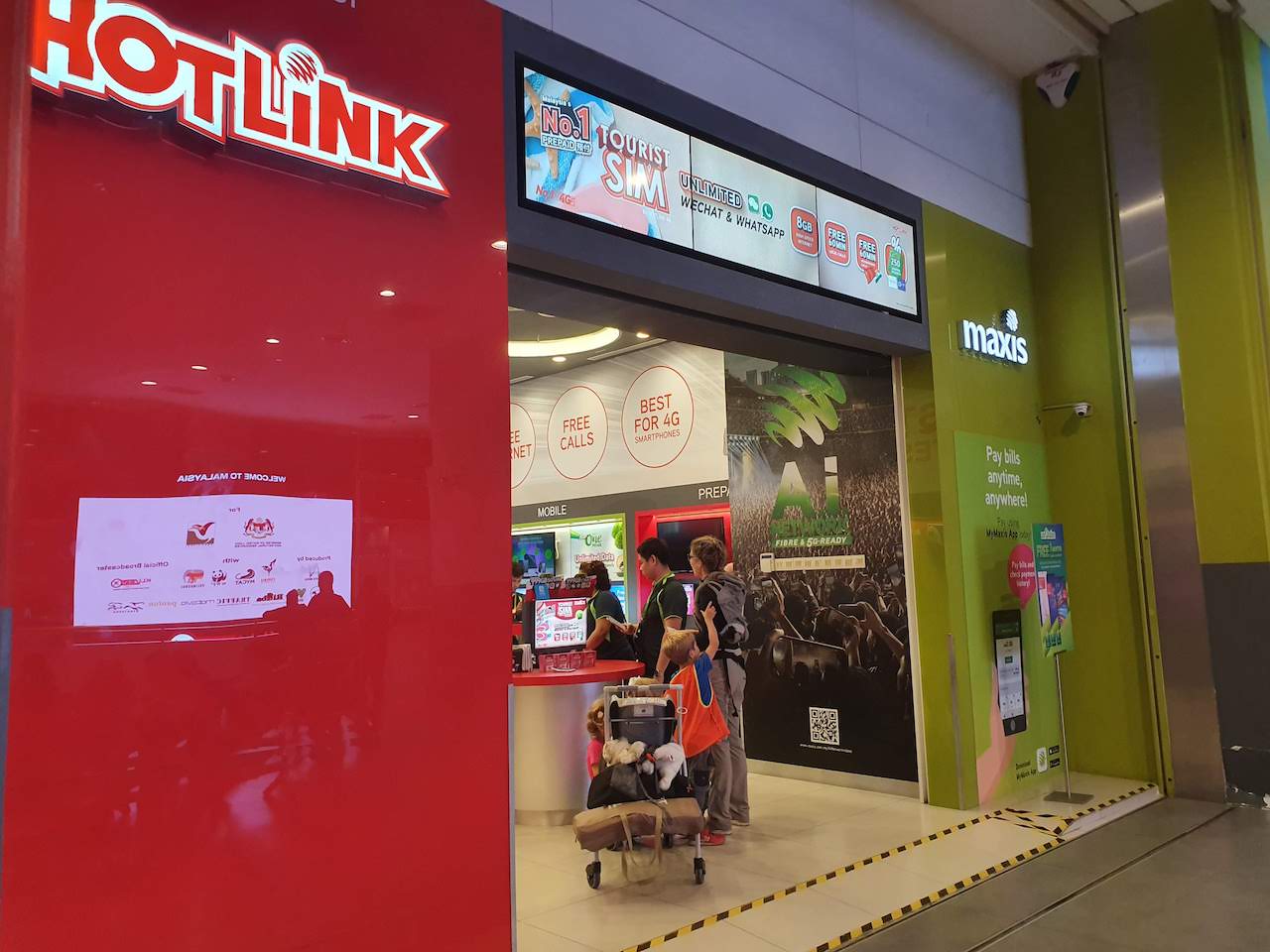 Go to the City
Fastest Way – KLIA EKSPRES : RM55 & approx. 30min to KL Sentral
Most convenient – GRAB : ~RM70 to hotel (good if you arrive at night because there are no trains in the city operating after midnight or so)
My recommendation: if you travel solo and don't arrive at night, take the KLIA Ekspres as it is cheaper than GRAB. If you travel with your partner or in a group, split the GRAB and you will pay far less and GRAB brings you directly to the hotel.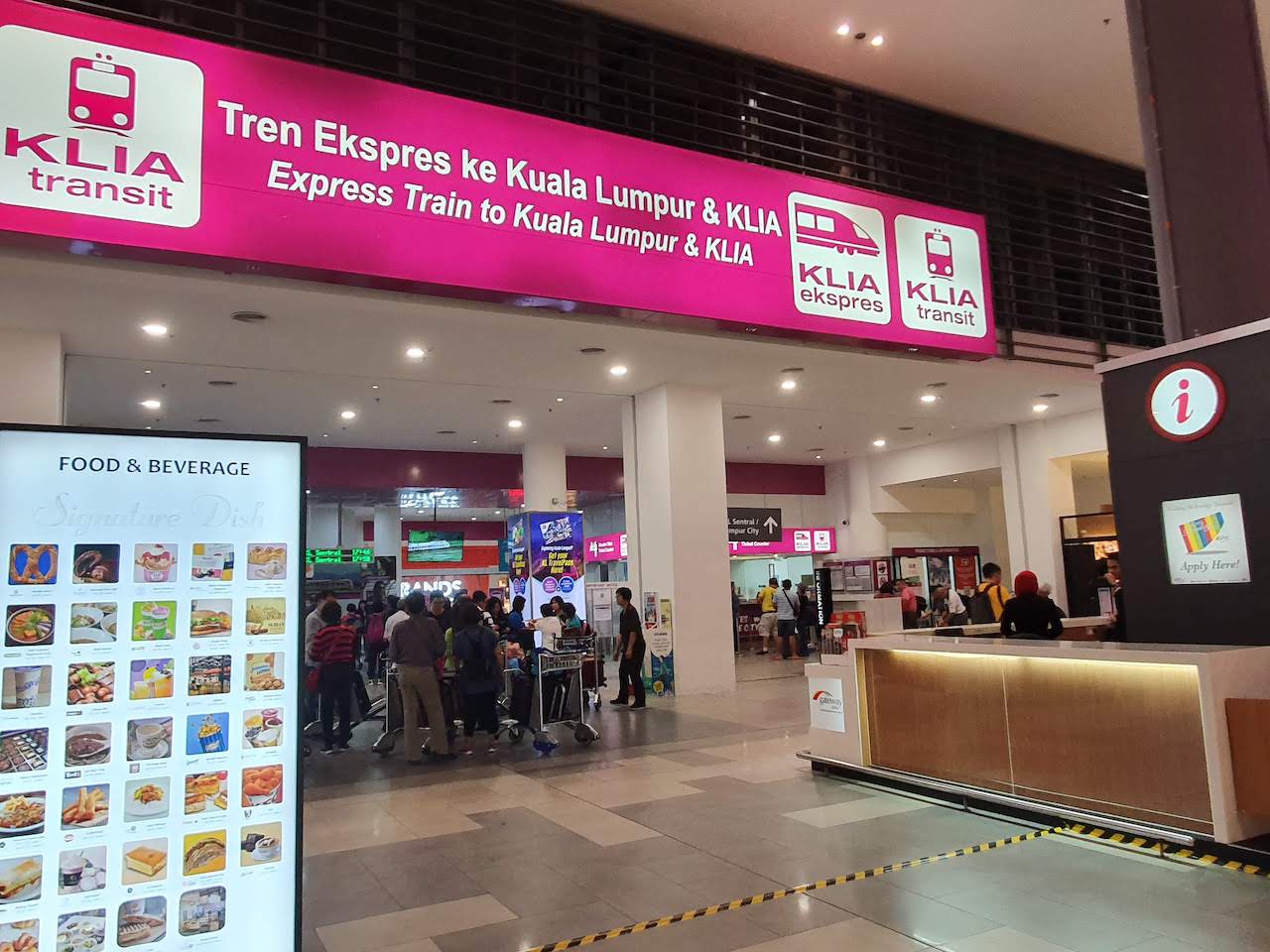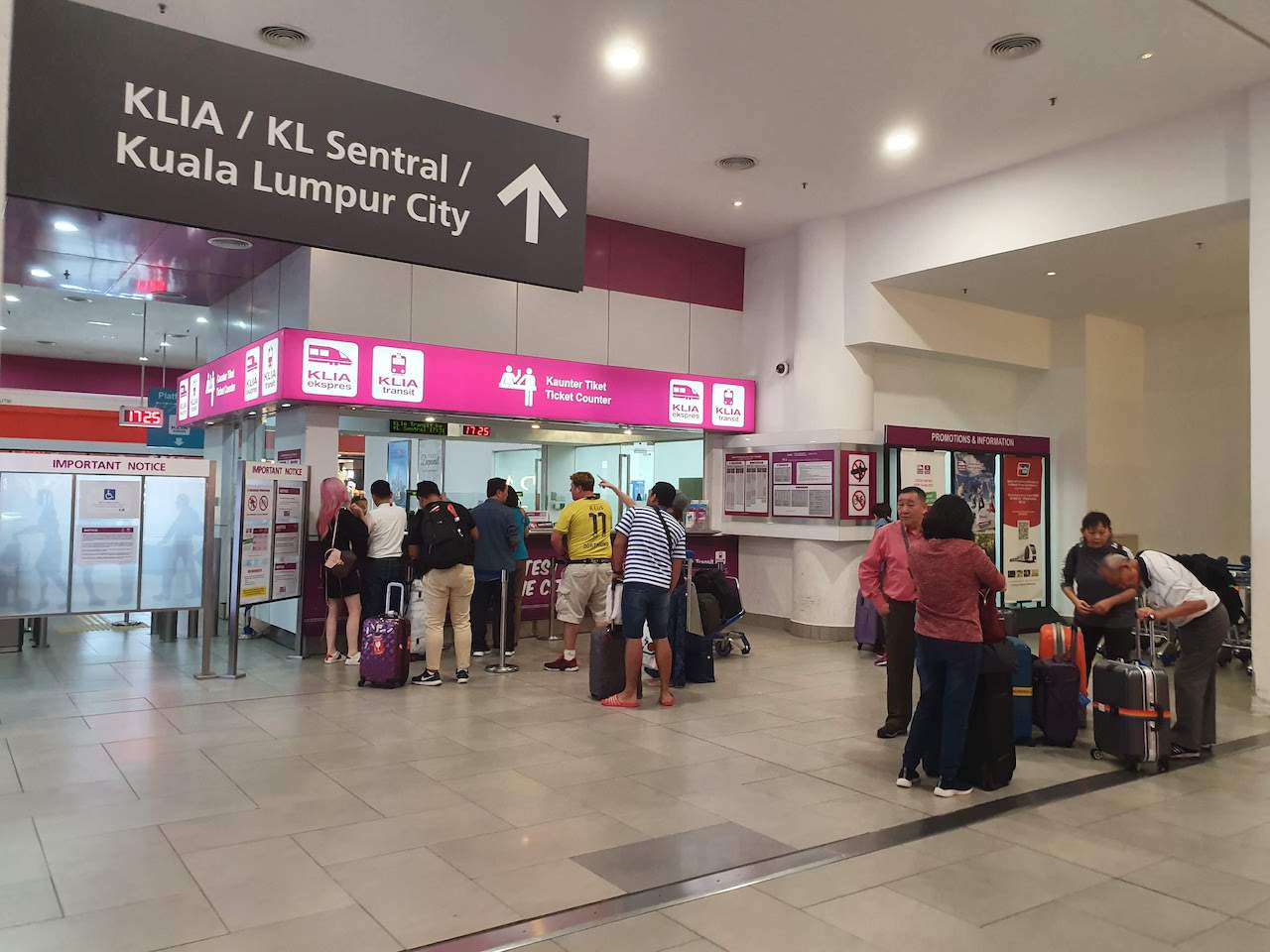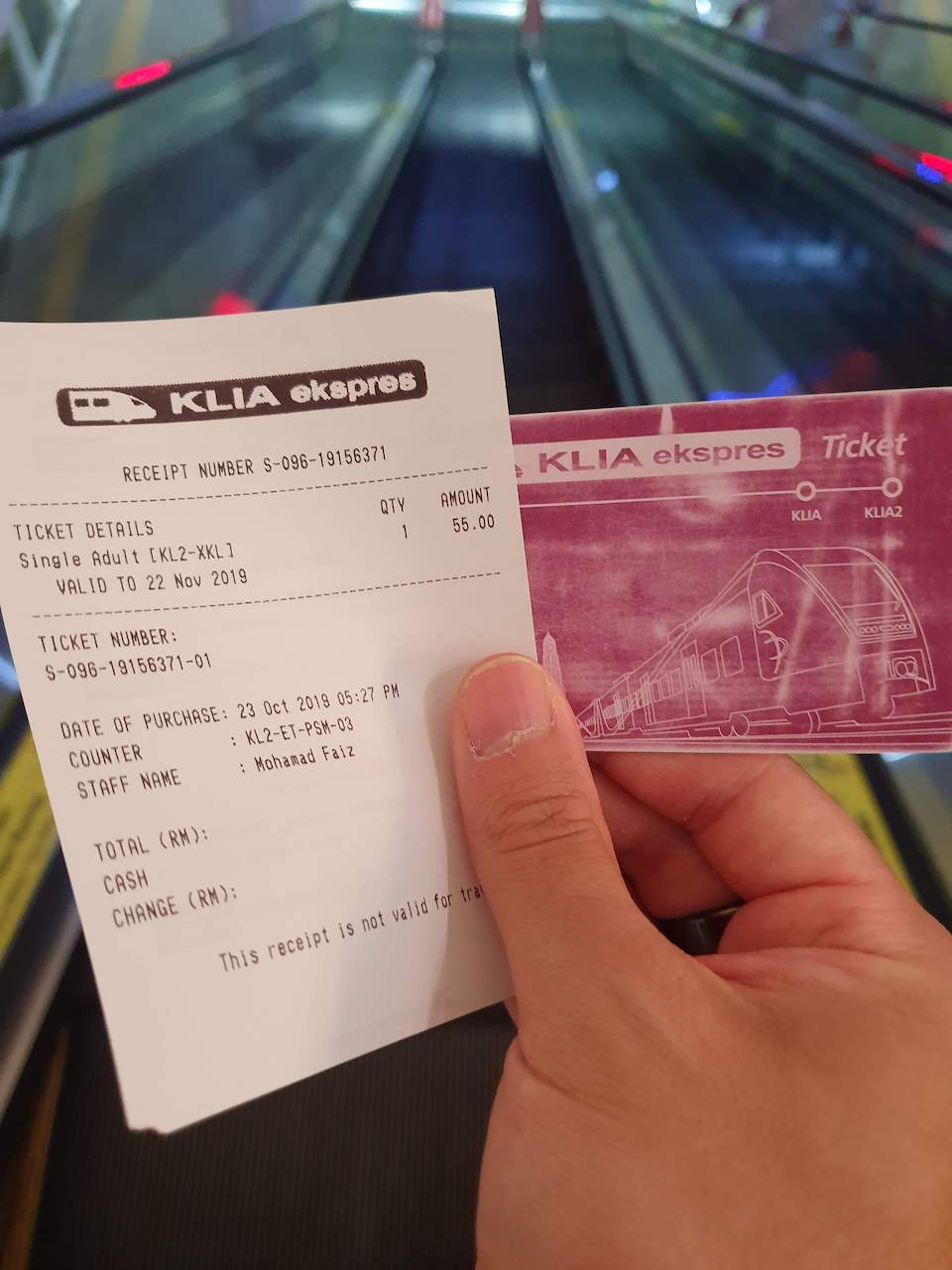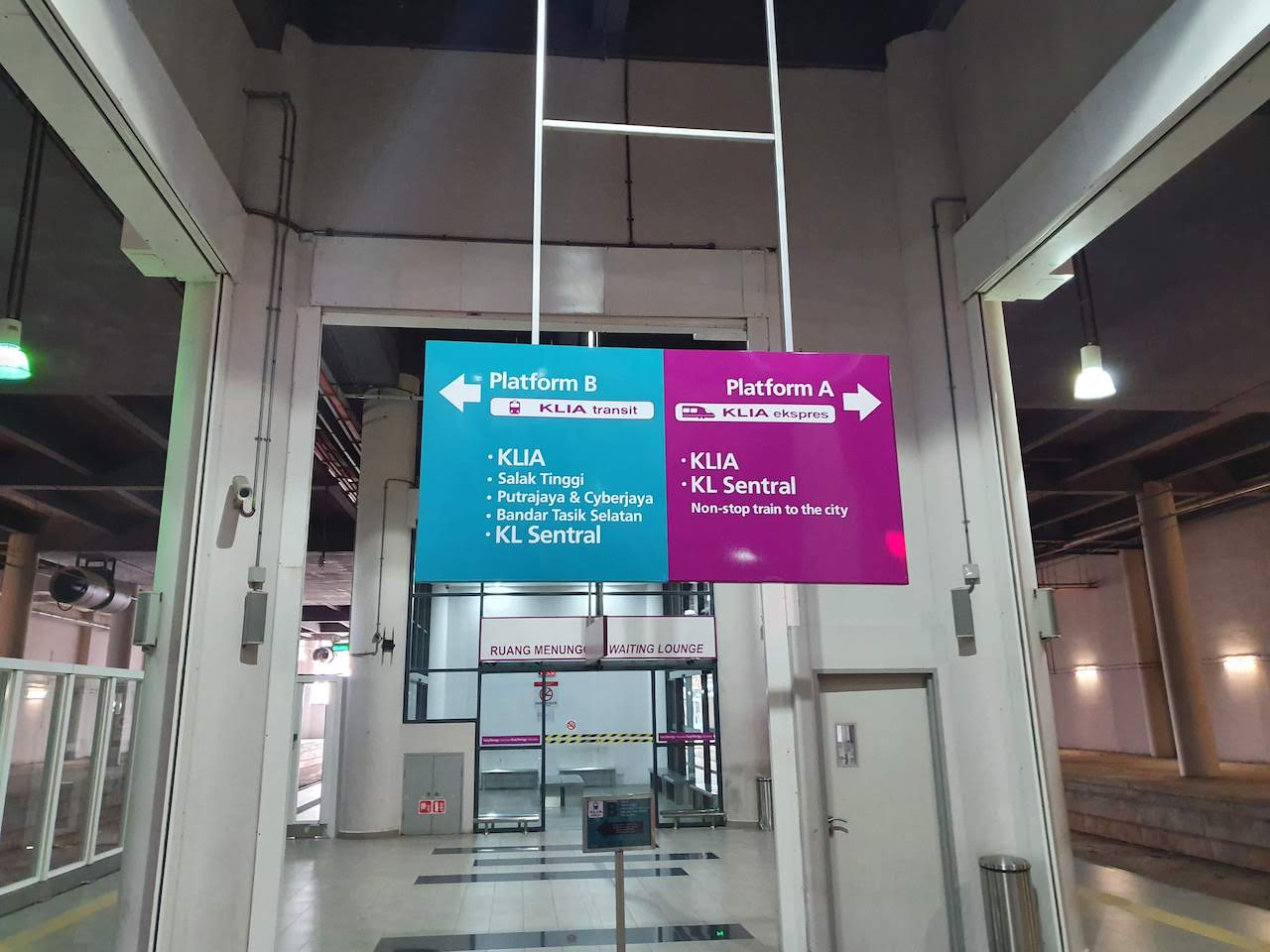 Step 3 – Where to stay in KL?
During my visa run, we stayed in this lovely little hostel. It's in a very convenient location, has good connection, friendly staff, private room and dorms with a big comfy bed and access to great indian restaurants nearby.
Back Home Kuala Lumpur Hostel
30, Jalan Tun H S Lee, City Centre, 50100 Kuala Lumpur, Wilayah Persekutuan Kuala Lumpur, Malaysia
+60 3-2022 0788
https://goo.gl/maps/sypuTSsogzBssSg97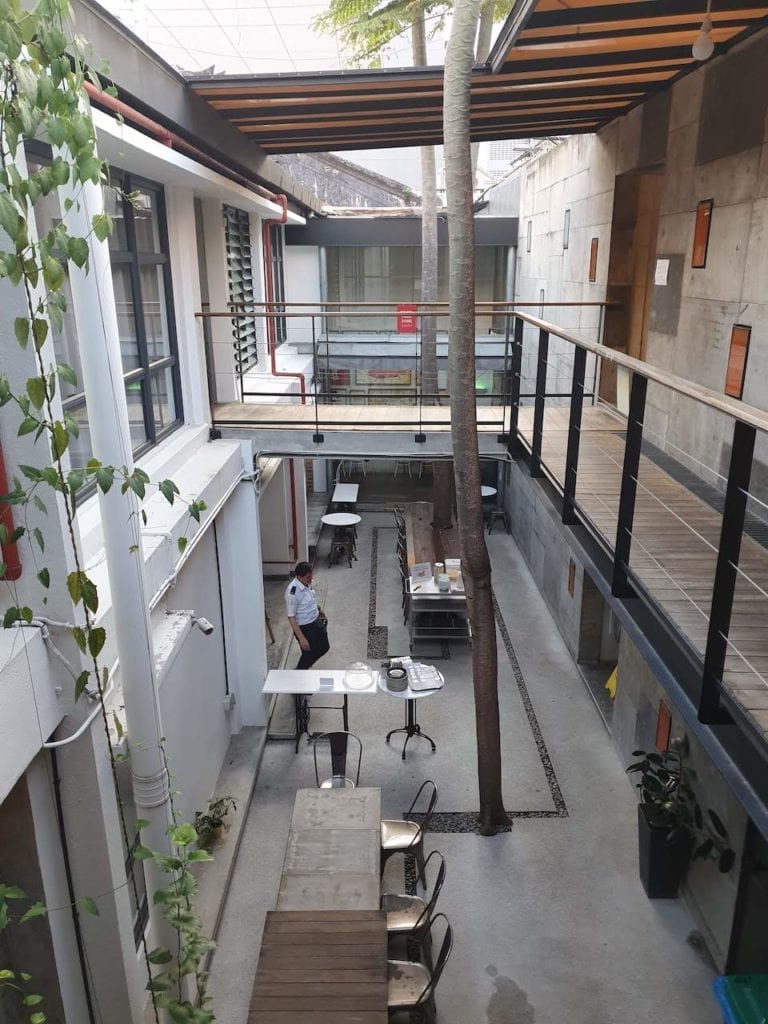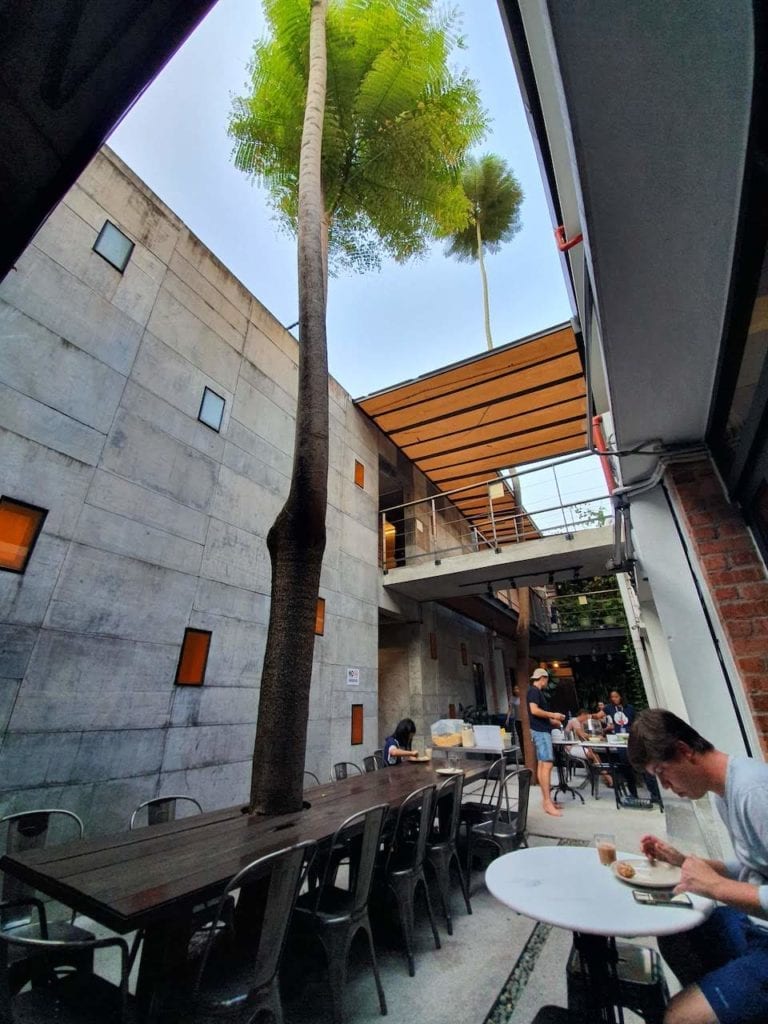 Step 4 – Where is the Thai Embassy in KL & Penang?
Kuala Lumpur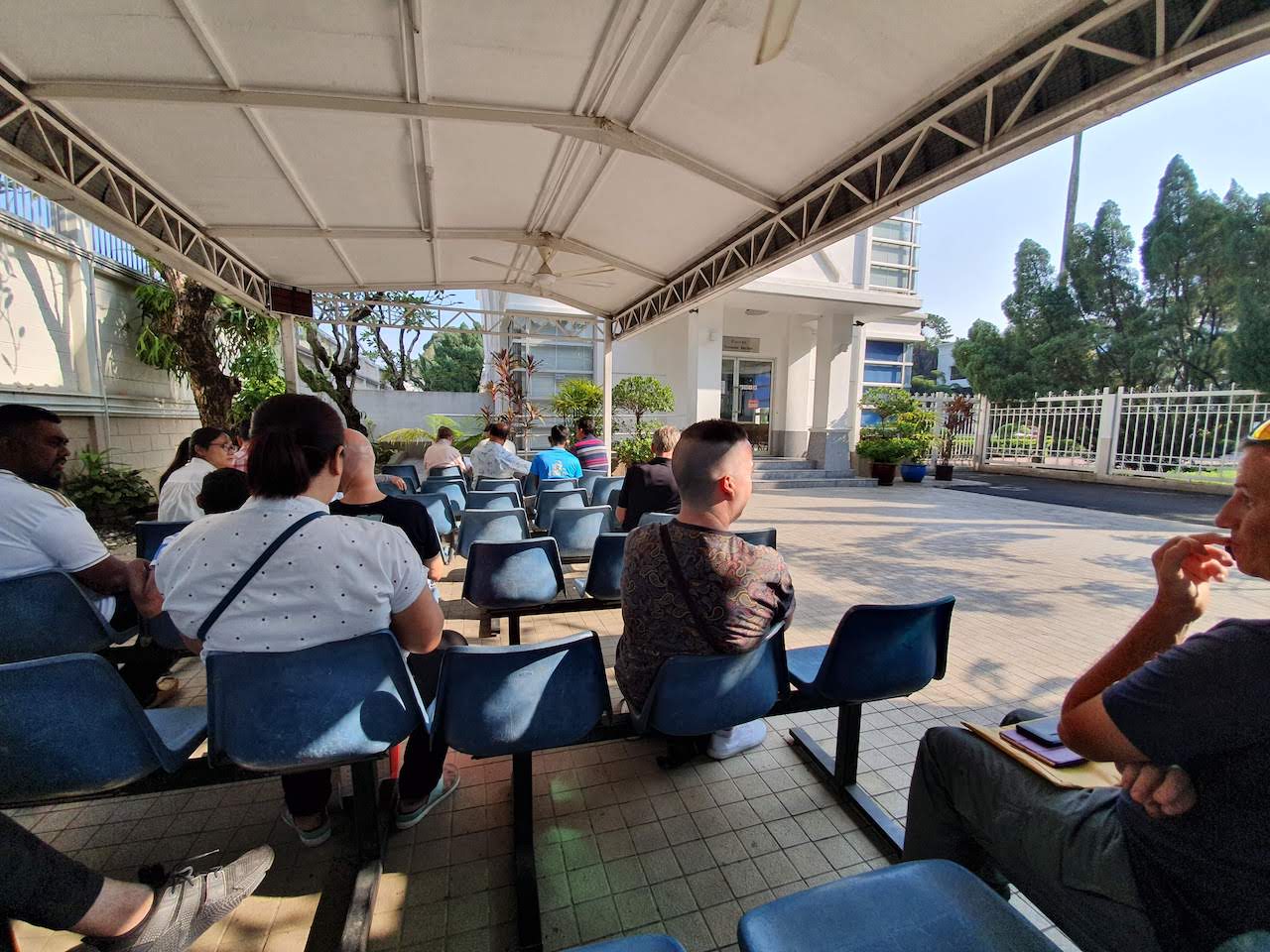 Penang
For the application:
The embassy opens at 9:30. They suggest to be there approx. 20min earlier. If you take a GRAB, be aware of rush hour time in the morning. Normally it takes 15min from BackHome Hostel. Plan 30-45min instead of 15min.
Leave the Hostel between 8:30 – 8:45. It's better to be early than too late.
Bring your appointment number (SMS) and all necessary visa documents and cash to pay the fee. Costs for the application: RM150.
Pickup:
Usually on the next day from 14:30 – 16:30. You need to make a new appointment here: Visa collection(scroll to the bottom)
Even though I showed up on time(my appointment was at 15:30 and I arrived at 15:00), my number was already called even before my official appointment. I only noticed that in the SMS link that I received, that included the appointment number. So I had to sneak myself in front of another person to get my Visa. My assumption is that it takes much less time to pickup a visa than the system actually calculates, so it helps to show up really earlier than necessary.
Again, you will receive a new SMS with a link to your appointment number. In there, you will also find the number of the counter when it's your turn.
Step 5 – DONE!
To be honest, don't waste money on flights just to come to Malaysia for the Visa but actually take some time to explore the country as it is beautiful. That's the whole purpose of a visa run: to use it as an opportunity to see new places. If you decide to go to KL for the visa run, make sure to checkout the Skybar on the opposite site of the twin towers. You can't really say you've been to KL if you haven't enjoyed the Petronas Twin Towers ;). What's better than watching the sun set with a cold beer in your hands in front of the towers?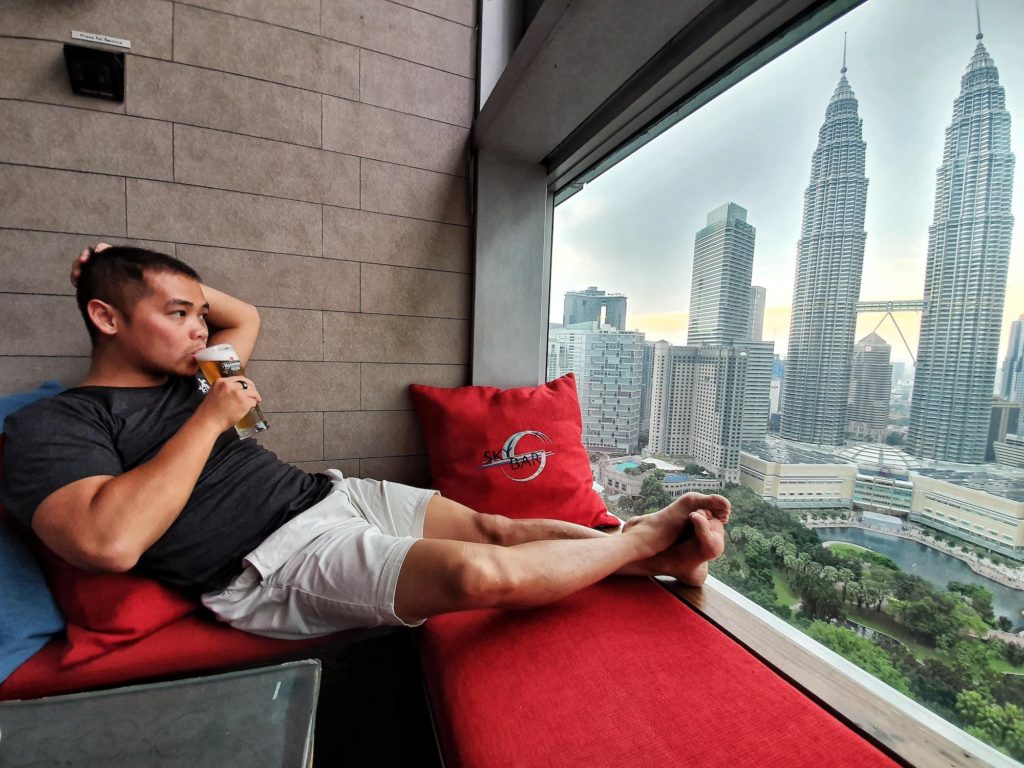 PRO TIP: go there around 17:30 as it becomes more packed around 18:00. This way, you will more likely get a window seat to enjoy the view and the sunset.