October to December 2021 – Life Update & Getting settled in Bansko Bulgaria
In my last update of 2021, I recap the last 3 months of settling down in Bansko Bulgaria after moving from Vietnam.
In my last post, I shared a little bit of my uncertainty and probably discomfort after moving back to Europe from Vietnam. At first, I wasn't sure if I made the right decision, but now looking back after more than 3 months living in Bansko my feelings have changed and I'm pretty much settled in a good way.
Needless to say, I want to share with you what I've been up to in recent months and how life is in a country that is not on most peoples radar.
Here we go, this is the last update for 2021 before we enter a new world.
Bansko – Hunting for apartments & getting settled
When I first arrived, the weather was pretty good. On average 20-25°C. I could run around in a T-Shirt and shorts without sweating like crazy in Vietnam. I love the temperature in Europe in late summer.
I spent the first few days apartment hunting like crazy. Although I have looked at more than 10 apartments, I never felt really great about them. There were always some compromises to make and the quality of apartments was a bit "simple".
Coming from Asia where many apartment buildings are fairly modern and come with room cleaning, rooftop pool, etc, this was quite an adjustment but I took it as a challenge to reset my expectations. This made me realize how lucky I was in recent years.
Here is a small selection of apartments I looked at.
Most apartments come furnished. However, as you can see, it's pretty basic. In the end, I'm not gonna complain as apartment prices where in the range between 200-250€ / month on average. What can be said about apartments in Bansko is, that they are not well insulated. So it happens that heating/electricity bills can go up in the winter and even surpass the monthly rent in some cases.
It took me around 2-3 days to find an apartment and agree on a date to move in. Meanwhile, I stayed in a small guesthouse in the city center and checked out the "infamous" Coworking Bansko.
Coworking in Bansko
This co-working space has made quite a name for itself. I heard about it before I started traveling 4 years ago from people like JohnnyFD who came all the way from Thailand to checkout what this co-working was all about. Matthias & Uwe, who are the founders of this first co-working space in Bansko, are from Munich & Salzburg. Since I lived in Munich at the time, my ears were more receptive to listen to their story.
The reason why Coworking Bansko is standing out so much is the fact that they're not situated in a fancy location like others. No beach, no big city, no fancy real estate. Just a simple and cozy setup in the heart of a small ski-town town. Coworking Bansko is a great example that you can build a great business everywhere and still attract people from all over the world. Their biggest strength is community building and often it happens, that you might even find a Coworking Bansko stickers in other countries like Egypt.

I have been to many co-working spaces in the past and I can confirm that Coworking Bansko is really the first co-working space that feels warm and welcoming. Too many co-working spaces lack the sense of a strong community because they're seen more as a property investment. Most owners don't engage in day to day activities and leave it to employees to manage.
In contrast, Matthias is in the co-working space every day and creates events for members every week! I can tell that he likes to spend time with members and enjoys bringing people together. Here are some examples of weekly events: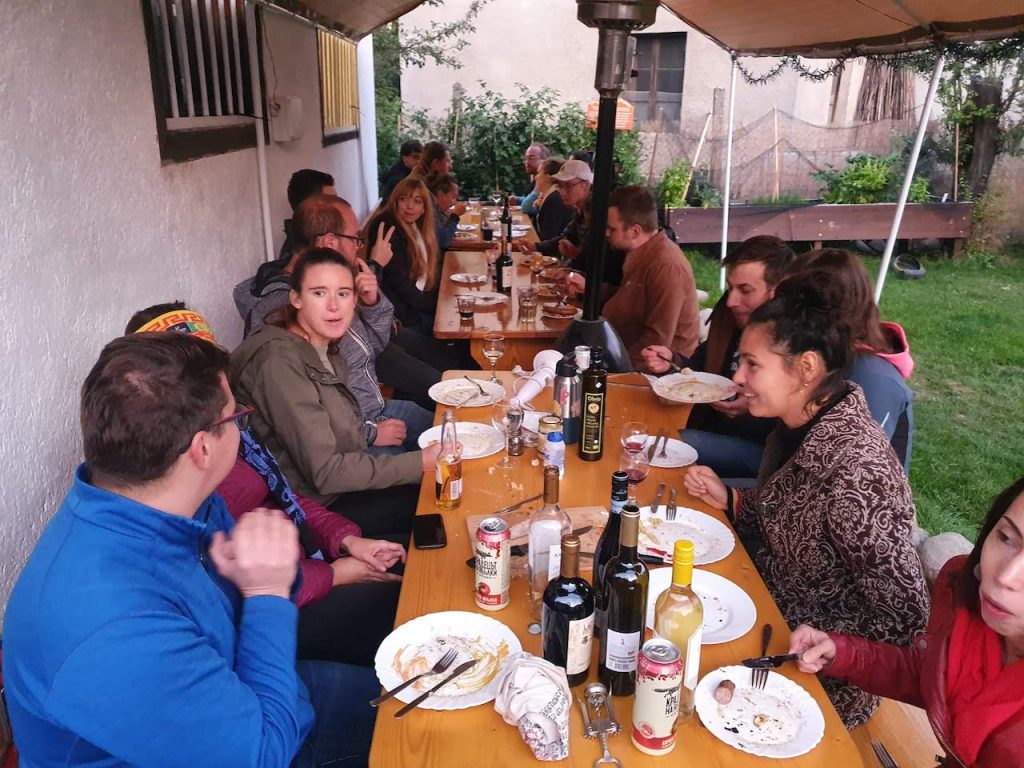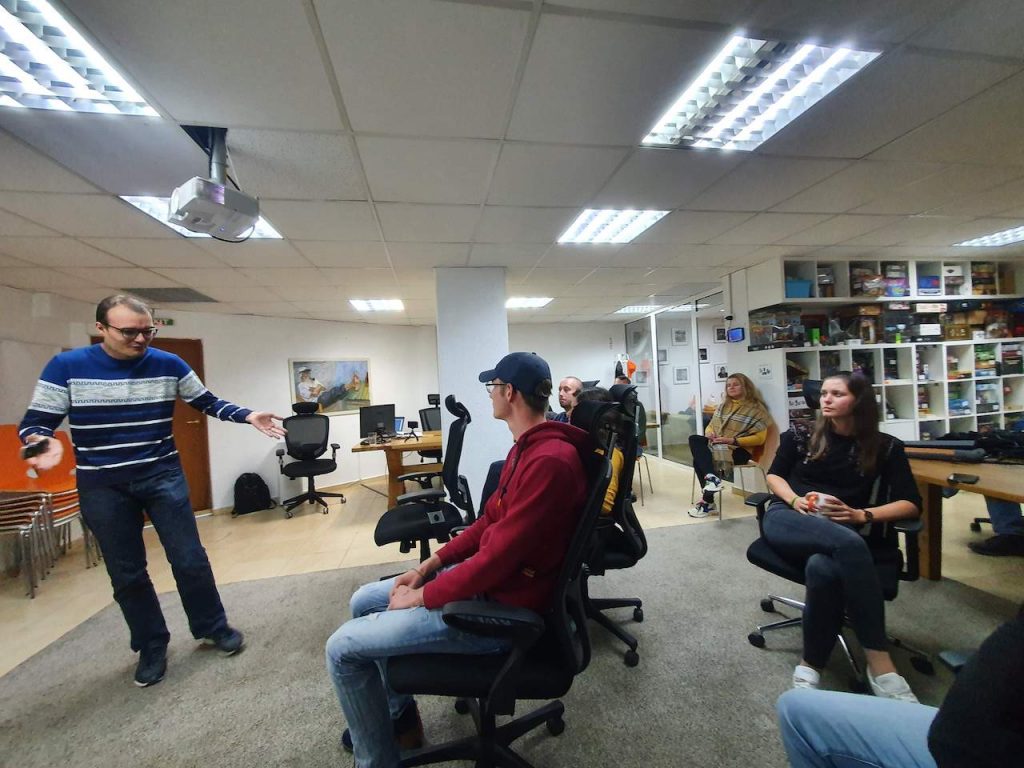 To be fair, there are a few other co-working spaces in Bansko, but I haven't checked them out myself to have a fair comparison. I admit that my opinion is a bit biased since Coworking Bansko was the first one I heard of I and didn't feel like signing up for multiple 💁🏻‍♂️.
Quality of Life in Bansko
A lot of people asked me why I chose Bulgaria. To be honest, it was the easiest to reach from Vietnam.
Besides that, Bulgaria is in the EU and therefore easy to travel to if you have an EU passport, like in my case. What most people don't know is that Bulgaria as become a popular nomad base in recent years. And for a reason: the living expenses are very low compared to other European countries. It is also easy to setup a business and take advantage of the low tax policy. 10% Corporate and 5% income tax? That's a no brainer!
If you just start a business, this can make a huge difference. But what's even more impressive are the apartment prices, especially in Bansko. From what I've seen, current prices for an apartment range between 35.000€ – 40.000€! A big chunk of people I know here bought an apartment in Bansko. Would you rather pay 40.000€ to own a place or >500.000€ like in most western European countries?
But how is life in Bulgaria besides low taxes and cheap apartments? On an average, I spent 1000€ -1200€ for my total living expenses, which is a very generous amount. But you can definitely survive with 200-300€ less I believe. From that point of view, this is very similar to Vietnam. When eating out, meals are more expense. There is nothing that can beat a 35.000VND Pho soup in Vietnam (1.40€).
But what really enjoy is the style of restaurants here. It ranges from fancy to really old and rustic/charming.
On average, I would say that I spent between 6-8€/meal when eating out. This is reasonable amount, but since I moved to Bulgaria, I also started to cook more at home. This is because of my newly found routine:
How to stay healthy & fit in Bulgaria
In the last 3 months, I put a lot of attention to my health and fitness. While living off a vegan diet in Vietnam, I experimented with a more protein heavy, low carb approach in Bulgaria. Since I don't want to repeat myself, I just link to another article where I share my experience and results of going low-carb for 2 months.
Since Bansko is fairly small, I found myself cycling and walking more than I'm used to from Vietnam. In Vietnam, there aren't proper side walks and it was more convenient to get a round with a scooter. However, in Bansko, I'm walking or cycling every day.
In addition, I joined a fantastic gym called Fitbox with a nice view from where I could see the season changing: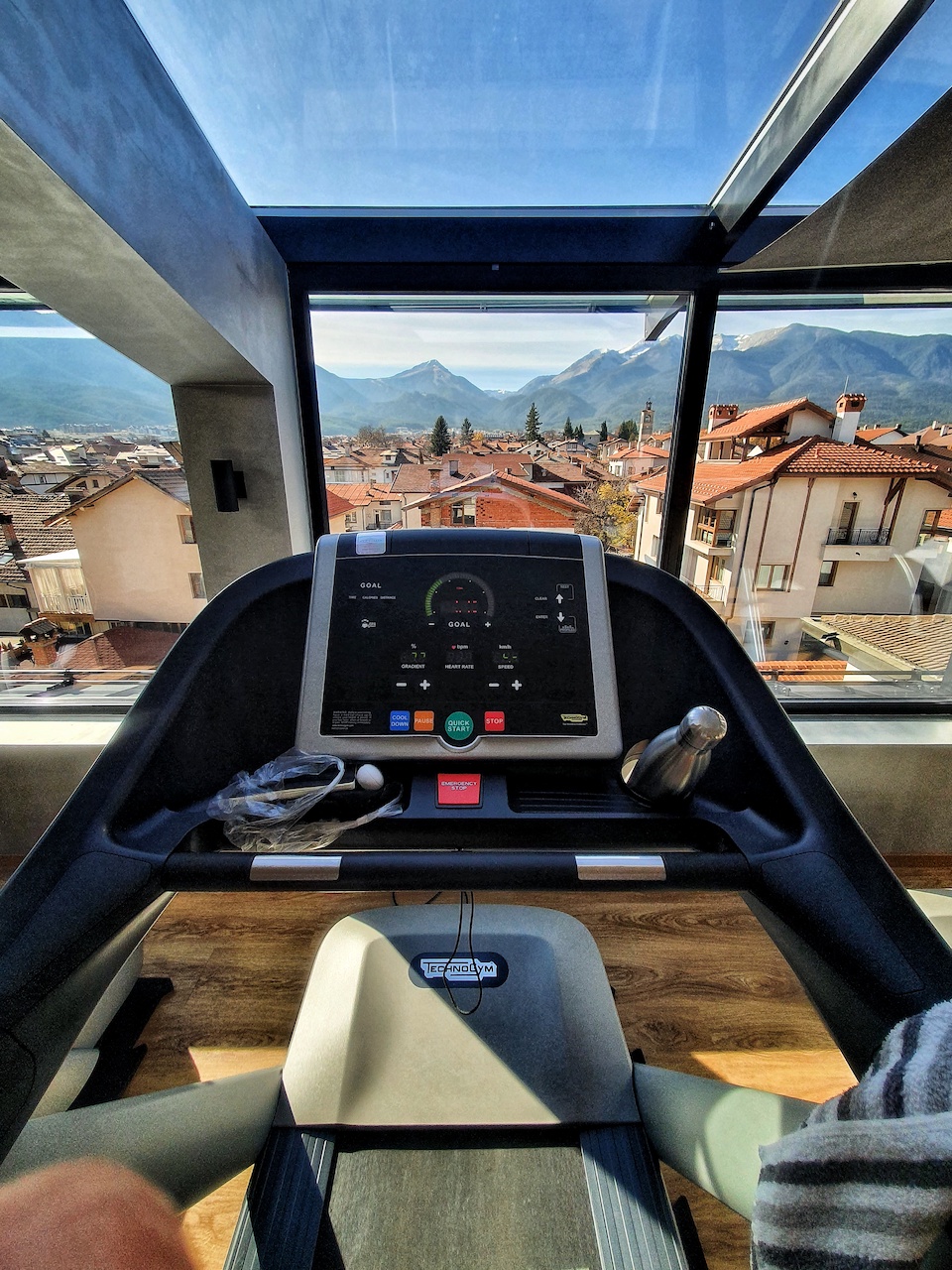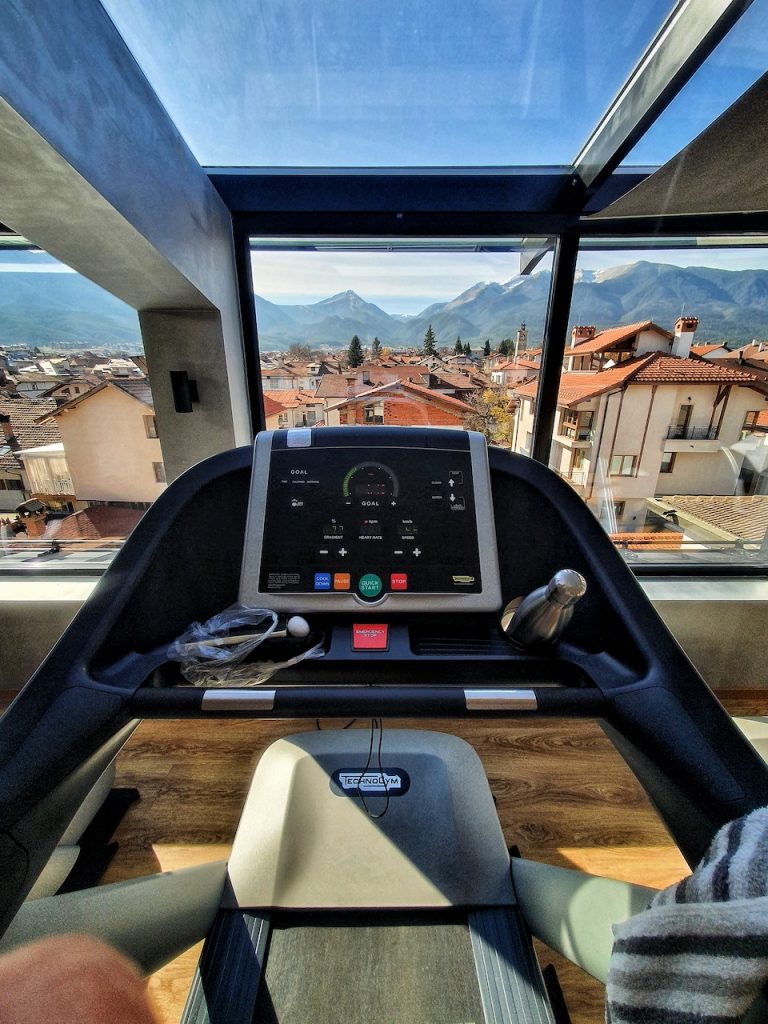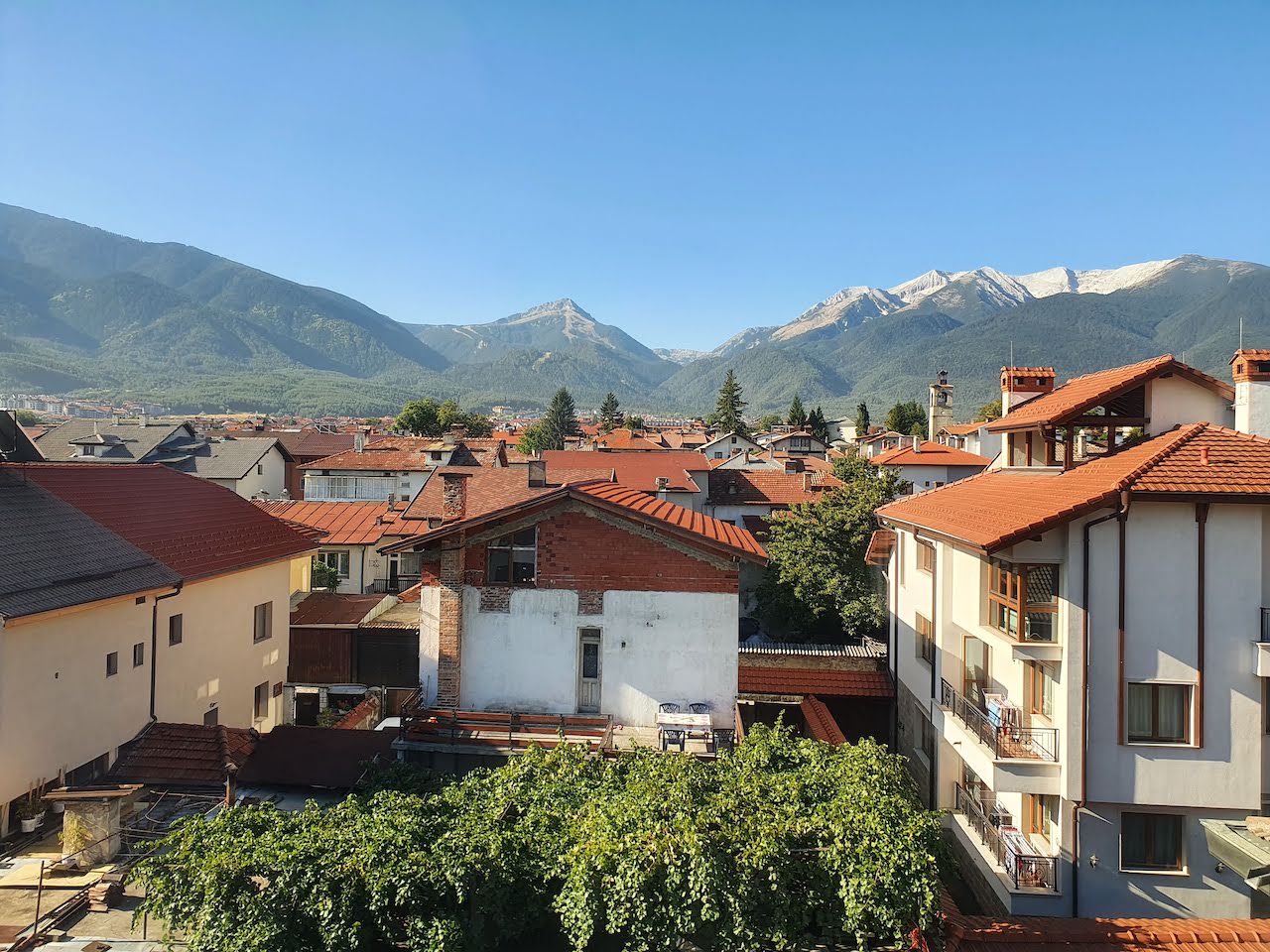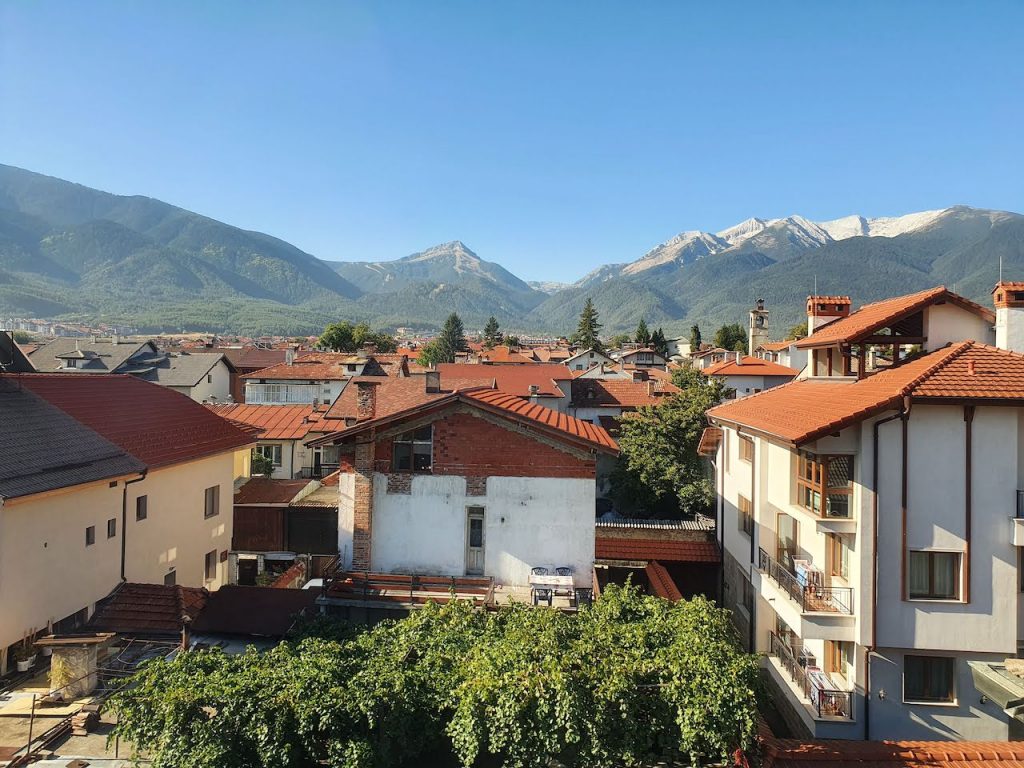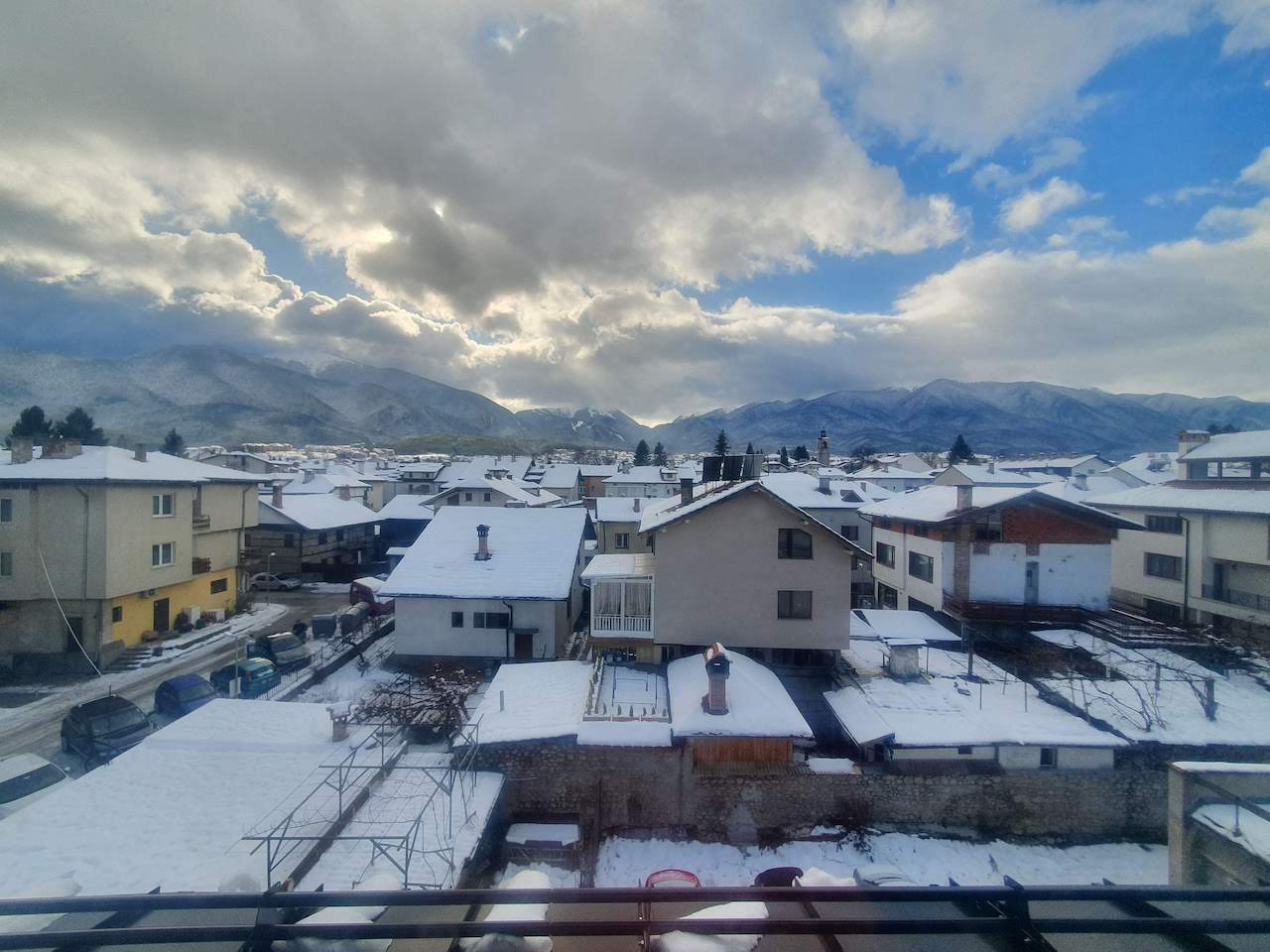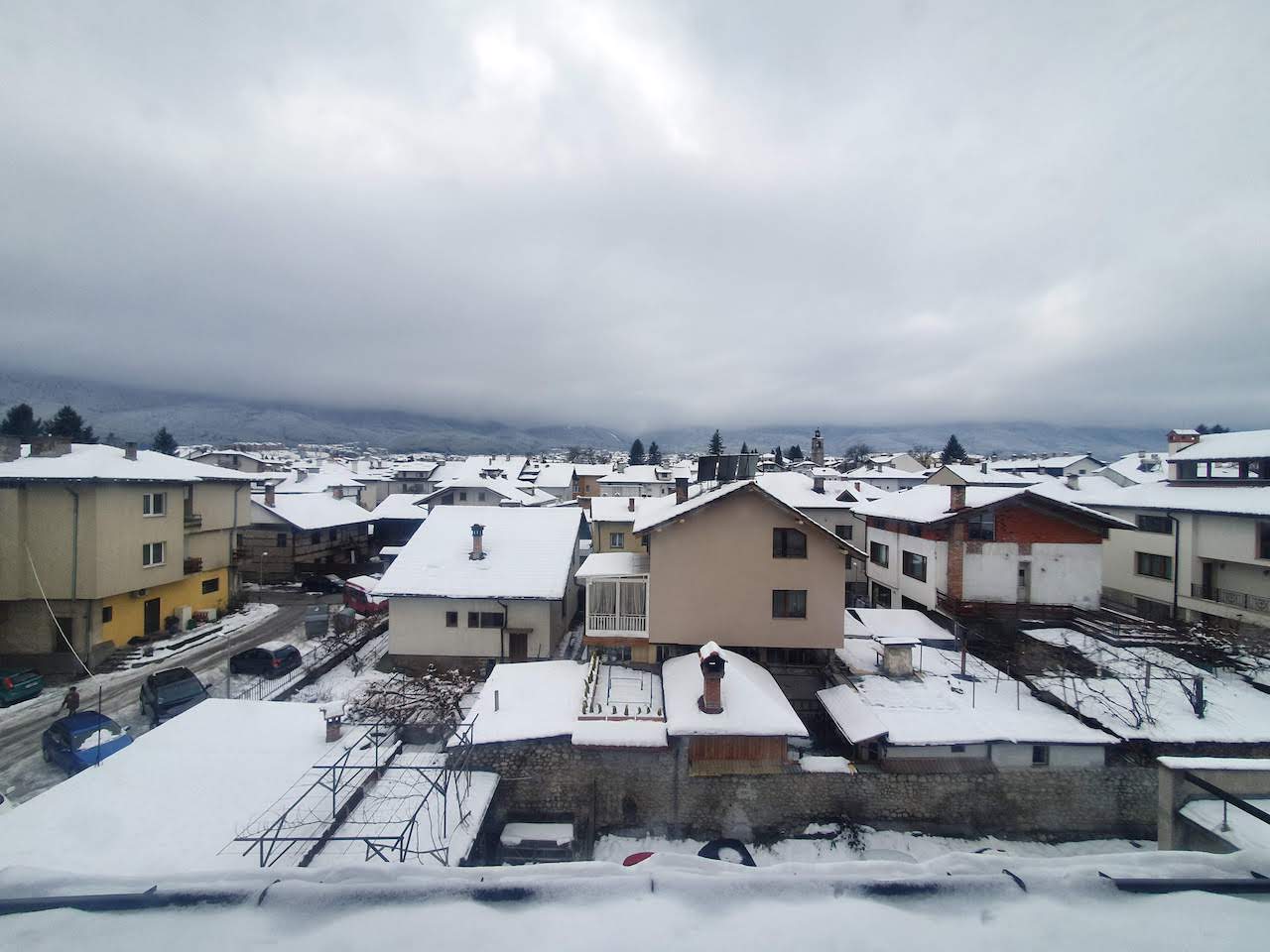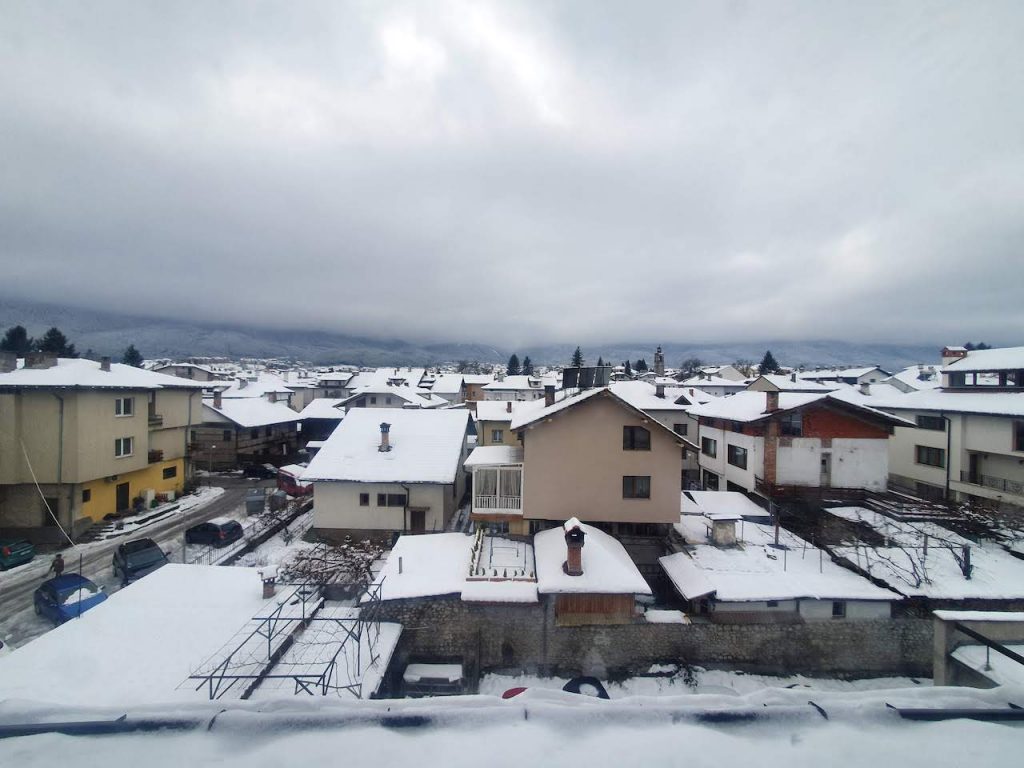 I really didn't expect Bansko to have a proper gym and I really enjoy working out at Fitbox. People are super friendly and devices are always clean. What I love the most is probably the punching bag.
My health routine was pretty simple:
Gym 3-4x/week
18h-20h Intermittent Fasting
2 meals a day
sometimes even OMAD (one meal a day)
low to no carb
high protein, fat
lots of veggies
minimum sugar
90% dark chocolate/nuts when snacking
I made a lot of progress in the last few months and hope to be able to sustain it as best as I can. Here is the result after 3 months: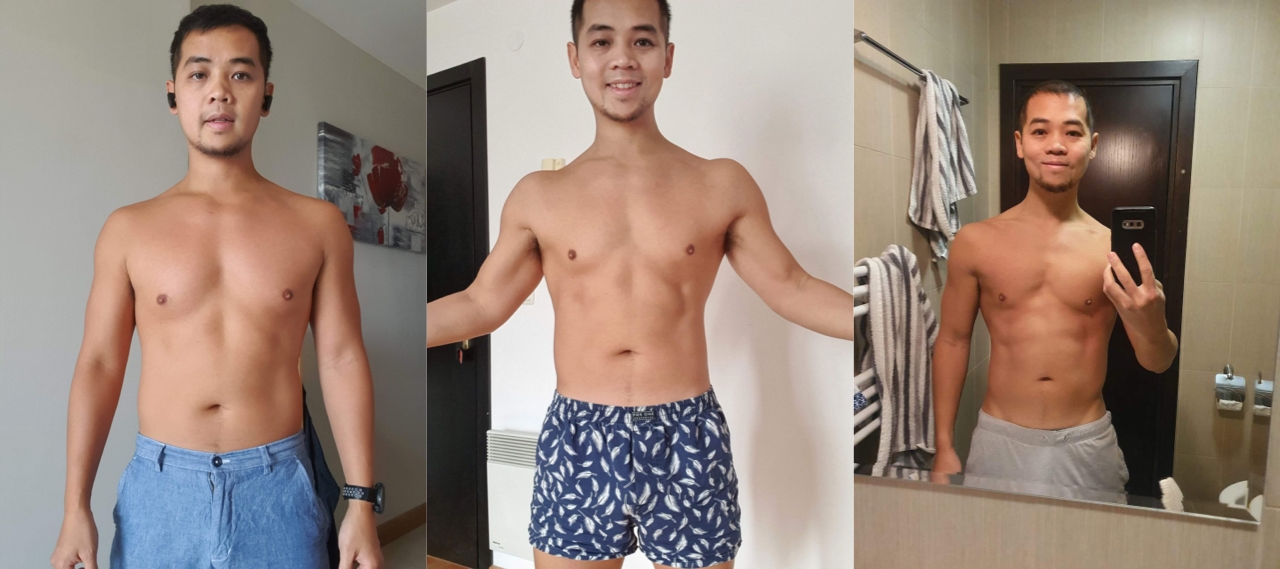 Personal Development & Business
The last 3 months was also going great in terms of personal development and business. If you have been following my previous updates, then you know that I joined a coaching program called TCP back in March this year and extended for another year until next spring.
I can't explain how much my thinking has changed in such short amount of time. While I thought the program was pretty expensive when I first joined, I now feel it is cheap and worth every penny. The amount of learnings I had that put my life on a completely different trajectory and will lead me to making more money in the future than what I invested with the program.
With that being said, I seriously believe that EVERYONE should go through TCP to improve their lives. Ever since I joined, I started noticing much more how most people create unnecessary blocks in their mind by telling them self-limiting stories over and over again.
What I really like about this program is that it's not just focused on business but improving life as a whole by including spiritual teachings. When tackling life holistically, every aspects starts to fall in place at some point and gets in flow.
Since the start of the program, I felt that I live life much more at ease. As a result, I worry much less about money or my business and take things as they come. I also don't let negative energy impact my mood and set boundaries more clearly.
I've seen this personally in the way I run my business. In the last weeks, Q4 hit and eCommerce is going great in general.
While in the past, I would worry about shipping times or customer feedback, I would now just let it flow. All my products are shipped on time and I had no negative feedback nor complaint this season.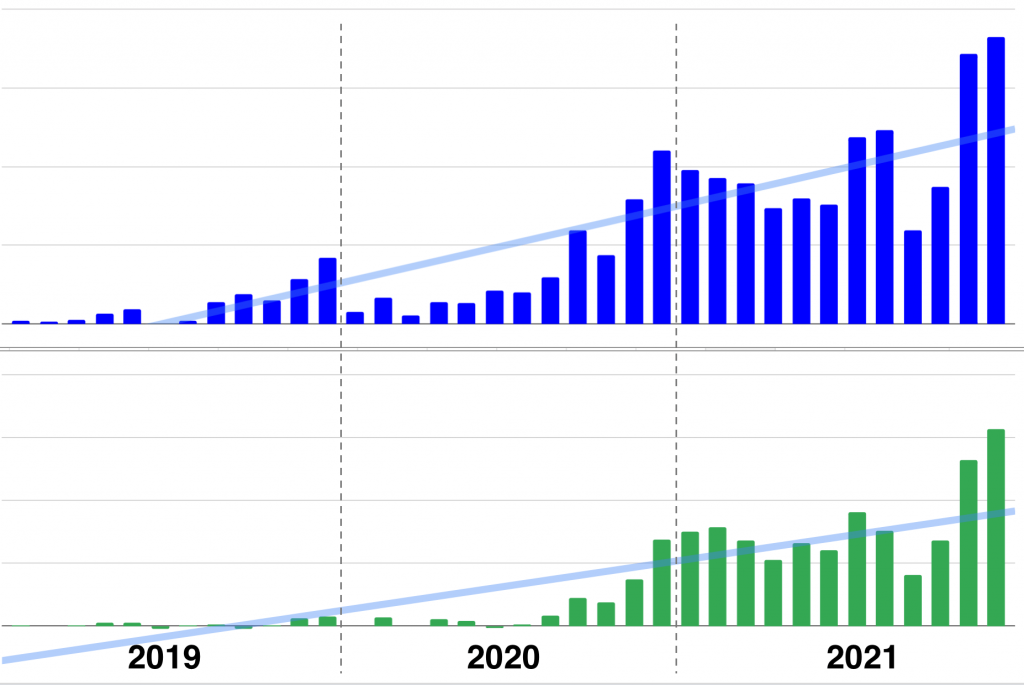 What's for 2022?
I'm getting really excited about next year as I think that the whole Covid situation will be resolved in some way. We are 2 years into the pandemic now and I feel that there won't be another winter like this as we can already see how people react to endless lockdowns and vaccinations that don't seem to hold up to their promises. I'm very confident that we are entering a bright future that will surpass our expectations.
Regardless of everything that happens in the world, I rather focus on things in my control. And so I'm looking forward to 2022 because I'm finally reuniting with Andrea after being apart for more than 6 months now. Further down the road, I'm looking forward to travel with Andrea across Europe and experience all the goodness that this continent has to offer.
I already started to create my vision board for 2022, did you start yours? 🙂