December 2018 – Portugal Travel Report
This is my first travel report since I left Munich last month to become location independent. The purpose of the travel report…
This is my first travel report since I left Munich last month to become location independent.
The purpose of the travel report is to document my personal location independent journey rather than being a full travel guide.
My goal is to give you updates every month about my whereabouts and what I'm up to. In the future, I plan to include simple income reports as well, that will help me to stay accountable and keep track of my online income and expenses.
If you find this interesting, then let me know in the comments. If you are busy and don't have much time to check my blog every month, you can also sign up for my personal newsletter at the end of the page and I will notify you.
My first destination was Portugal because I have a friend living there who I met during my time in japan.
I always promised to visit, but haven't managed to do so in 7 years. Portugal was just a stopover before going home for Christmas. My "real" nomadic journey actually starts in January when I go to Thailand for the Nomad Summit and start my location independent endeavors.
It was such a weird feeling leaving the keys of my apartment in the mailbox behind and going to the airport with the thought of not coming back any time soon.
But on the other hand, the feeling was also somewhat freeing because I suddenly realized that could go wherever I want and do what the heck I want without worrying about my "stuff at home".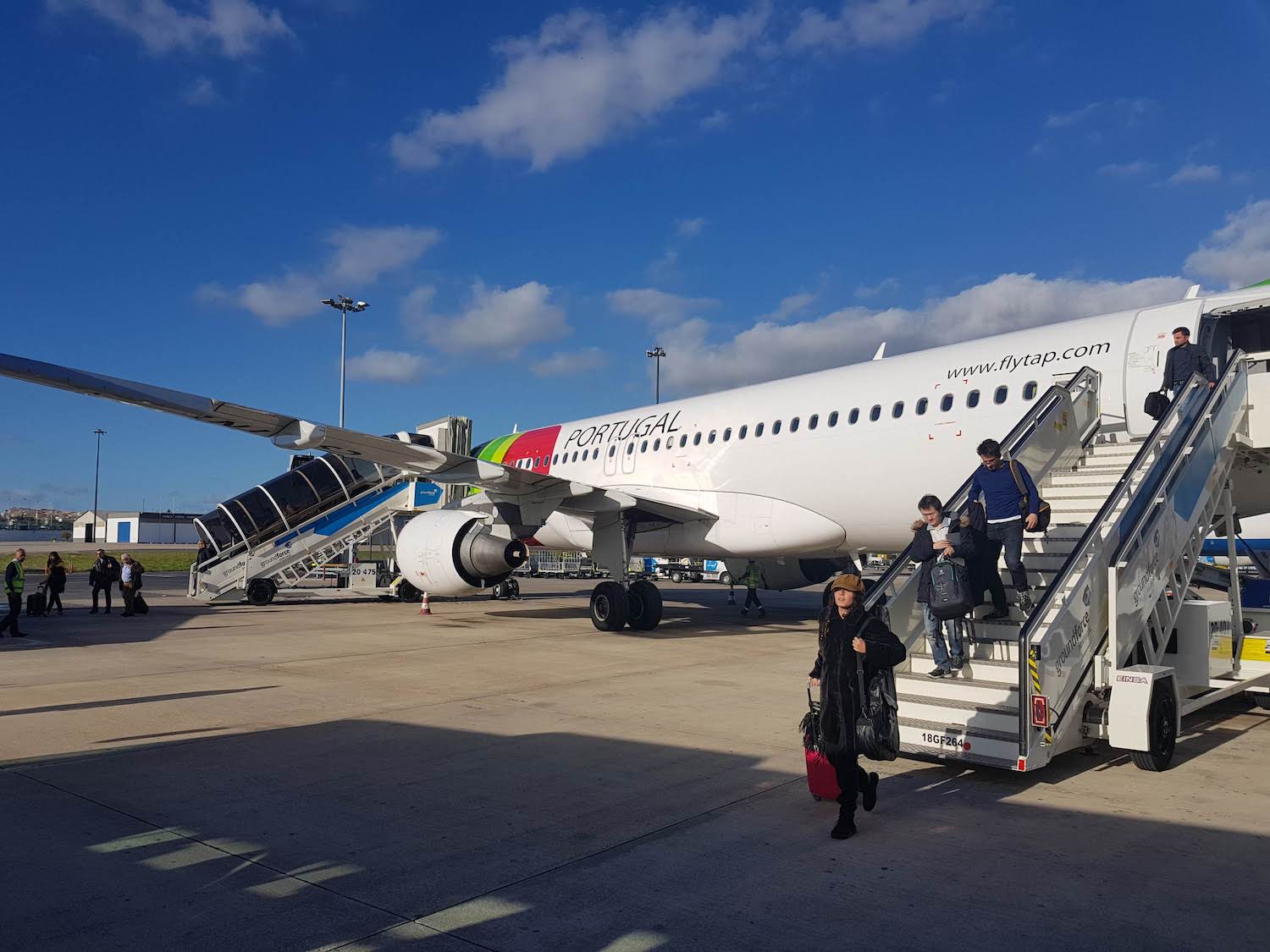 However, at the same time, it was also a bit scary for a moment thinking about not having a place to go back "just in case". A feeling that I need to learn to adjust to…
I never plan all my destinations upfront in detail but rely on the opinions of locals and other travelers that I meet along the way. Here is a simple map what areas I've covered during my stay: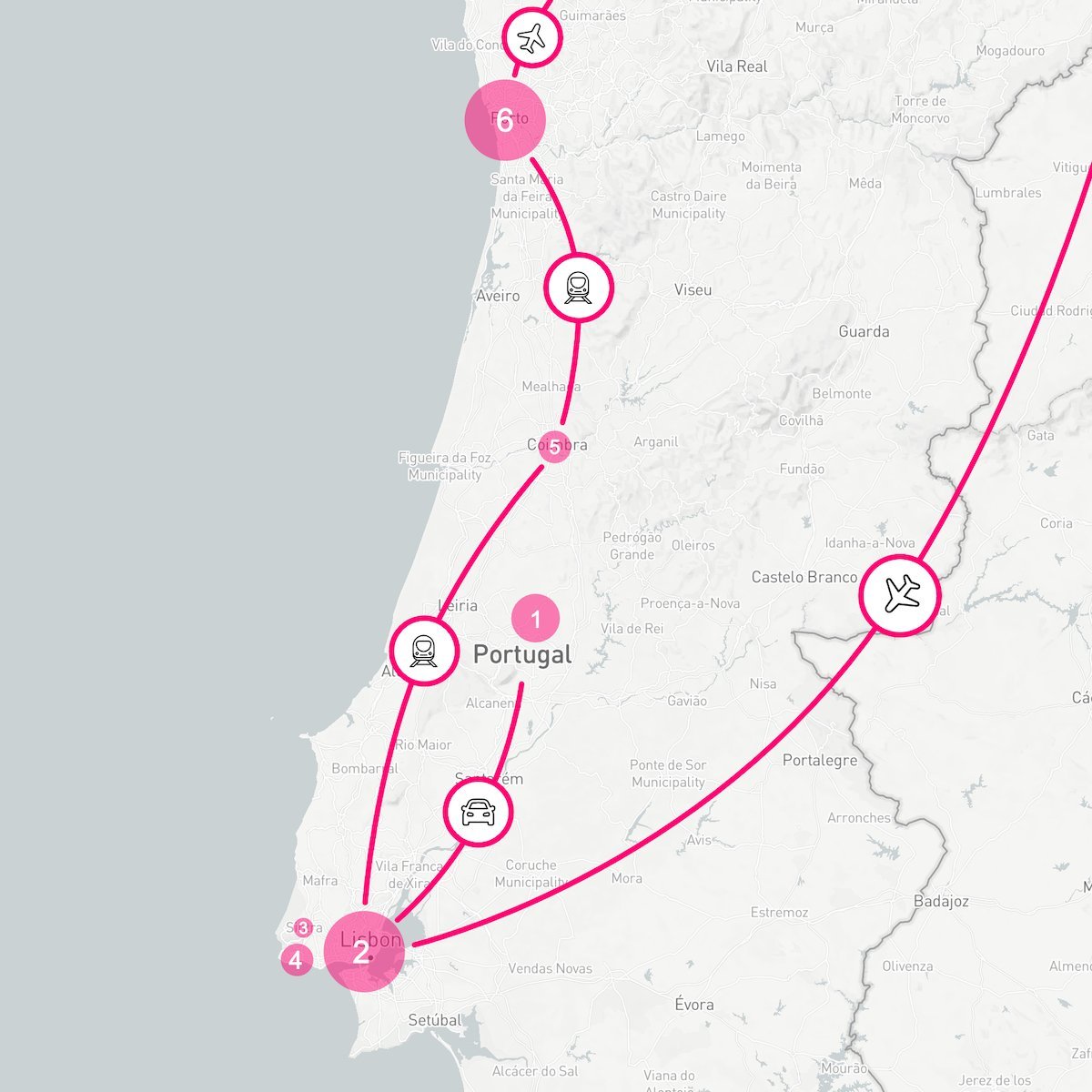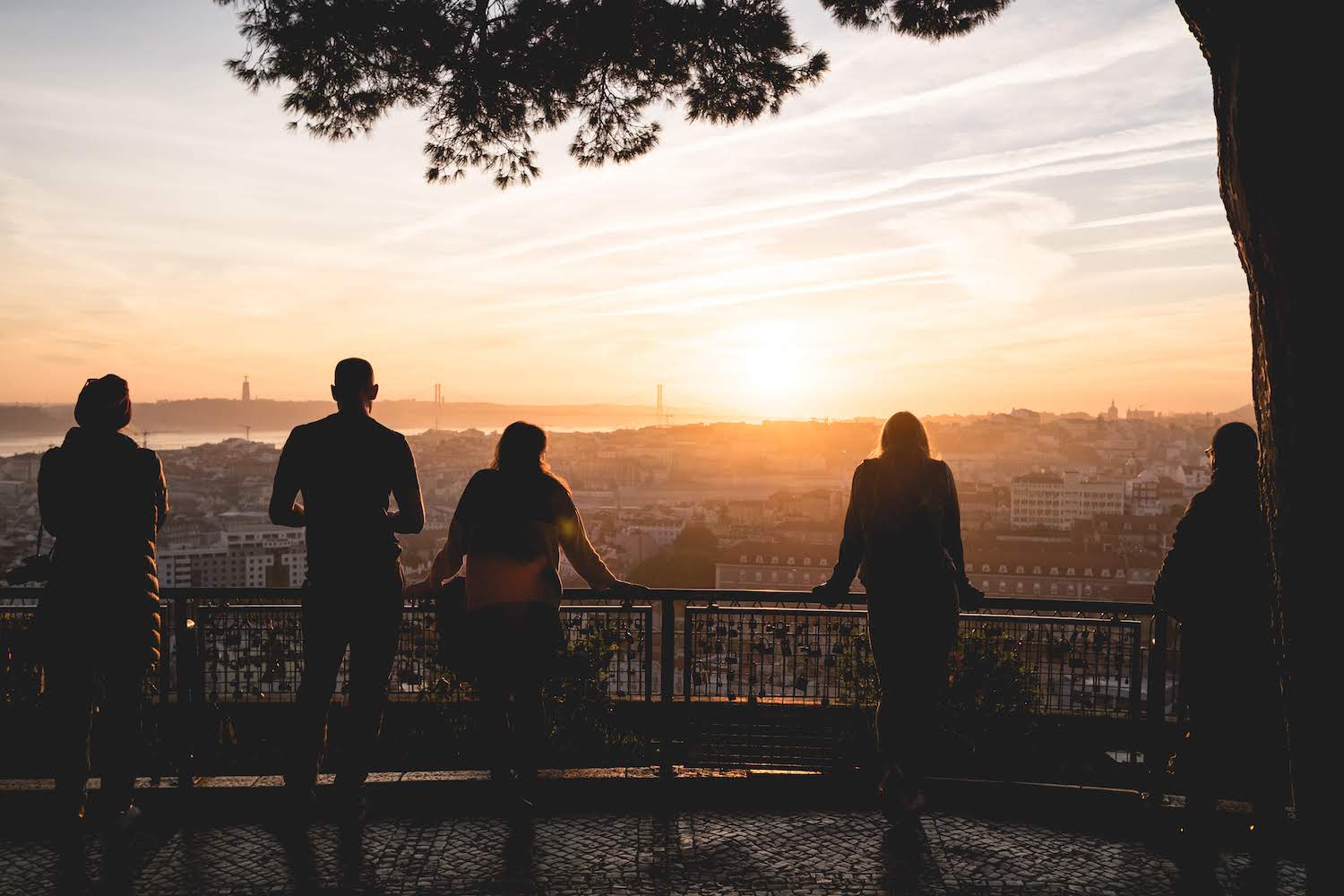 Arriving in Lisbon
I arrived in Lisbon in the late afternoon. I took the metro to the city center and looked for a nice coffee place to wait for my friend finishing up his work.
The transportation system in Lisbon really surprised me at first because I didn't expect Portugal to be that "modern". Sorry peeps, I was just very naive.
The ticket machines were quite easy to understand and buying a ticket with a credit card was not a big deal. I really liked the use of a simple paper card that can be topped up and reused. Other cities use plastic cards instead that are more durable. However, as a designer, this thin paper card made me wonder what else you could do with that kind of technology that is almost a commodity and so cheap to produce.
While in other countries you pay according to the length of your journey, in Lisbon there is a fixed price. The trip to the city center cost me around 1.45€ which I found totally reasonable (compared to Munich -> Airport = ~11€). I really love the simple ticket system in Lisbon:
€1.45 – Single Fare
€6.15 – 24-hour unlimited
travel, which includes all Lisbon buses and trams
Having more ticket options automatically means that you have much more complexity when making choices and when you're a tourist, you would just get lost. For that reason, I really appreciated the simple system.

I was super lucky with the weather in Lisbon and enjoyed watching the sunset from a hill while enjoying some sandwiches and the excellent coffee.
As a coffee lover, I have to say that the coffee in Portugal is really good. I never loved drinking italian espresso because it's too strong for me. But in Portugal, the espresso felt much more rounded, less strong and thick. Perfect for me.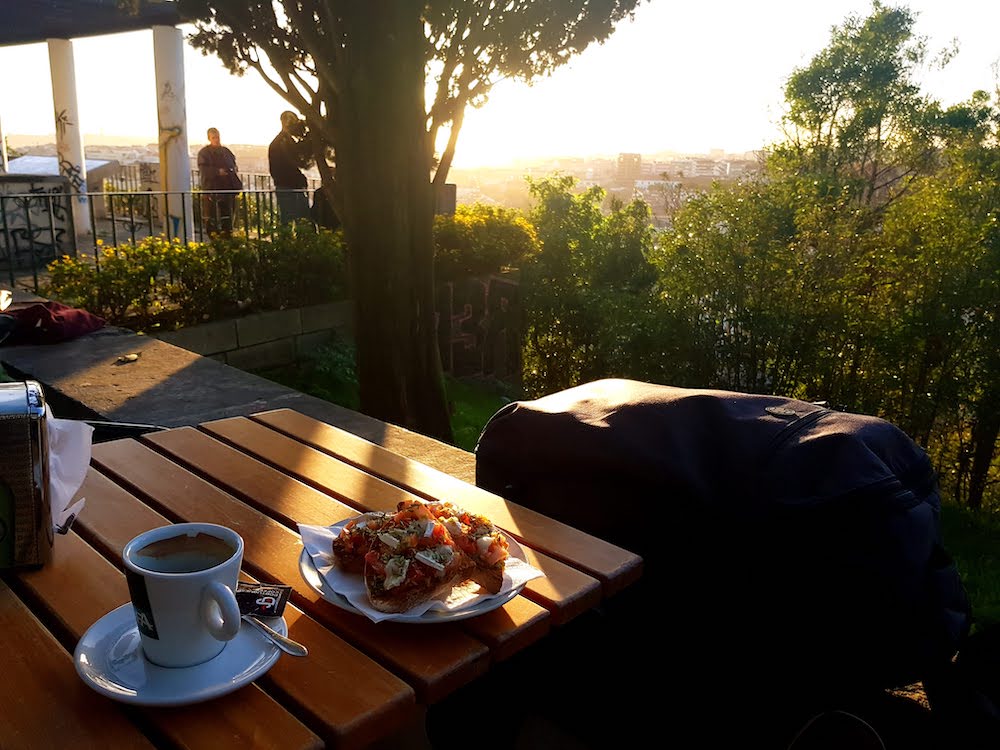 Portugals Country Side
I didn't spend the first days in Lisbon though. After meeting up with my friend in the afternoon, we immediately went to visit his family in the country side. It was great to see life outside the big city and getting to know his closer friends circle. It was his 30s birthday and we spent a lot of time drinking and eating 😀 I had a very warm welcome from everyone and afterwards it felt like I've known them for years.
We also visited a bar in a close village and funnily, on Saturday night, there was not much going on. It wasn't of a big surprise to me that the owner, a 20-something year old, has never seen an asian coming to his bar before. Since I was some sort of a celebrity, he offered me to get drunk with him but I friendly declined. Lol.
On our way back to Lisbon, we made a short stop in Fatima which is a Catholic pilgrimage site. The town itself is fairly small and the main "attraction" is really just the sacred site with its church and the Basílica de Nossa Senhora do Rosário.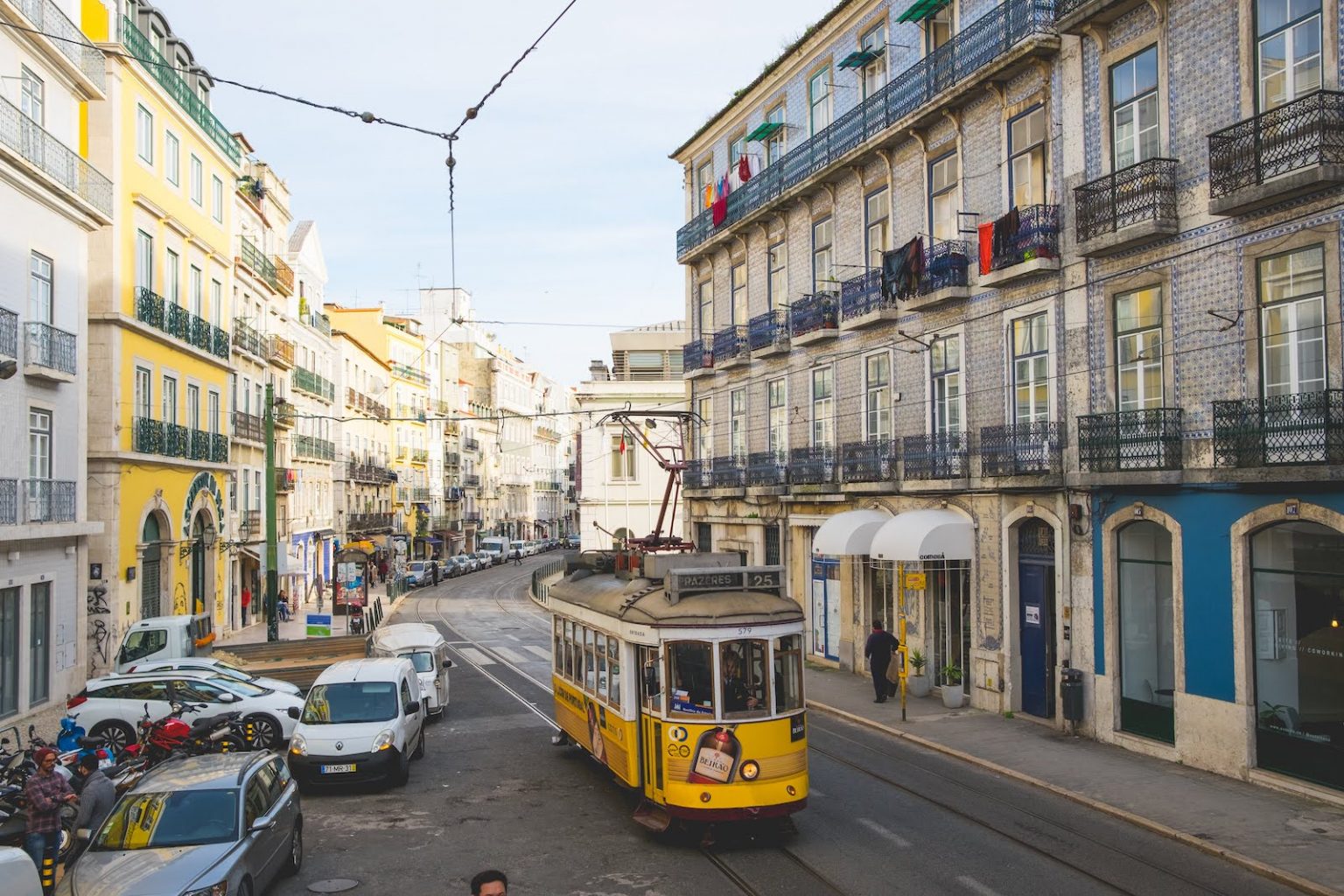 Exploring Lisbon
Back in Lisbon, I started to explore the city while my friend went to work during the week. Luckily, he had a guest room for me to crash so I had less pressure to rush through all touristy attractions.
Lately, I have become more distant from tripadvisor as my go-to source for my travels. Even though it's the second most visited travel website in the world, I feel that the views and ratings are getting less reliable and the website just more bombarded with ads.
Instead, I use the google trips app to see where the most relevant spots are on the map to plan my days. I would take one area at the time and just start walking and explore on the go. For restaurants though, I still rely on google maps and local opinions.
For Portugal, I highly recommend to search for cheap local restaurants on google maps and check that most reviews are written by locals (hint: look at the "translated by google" label).
This really helped me to find some small gems that are not overrun by tourist like it happened to me with previous trip advisor recommendations. Another tip: if a restaurant has a hand written menu in Portuguese only, then it's a good sign in most cases 😉
FREE Wifi almost everywhere
What I really loved about Lisbon was that almost every coffee place had decent WIFI. On average, I would get around 30-40mbit down which totally makes checking out funny cat gifs on the laptop a pleasant experience ? But in case you like to do some serious work, it's totally possible as well. Especially because of the low coffee price, you don't even have to spend a ton. You only need to watch that your laptop battery is fully charged because most places probably don't have power outlets.
Don't use UBER to explore the city
This is not because it's inconvenient but rather because you really don't need it. During my stay I never thought of using UBER because Lisbon is quite well connected with buses, trams and metro. Because the town is not that big and streets are small (especially ALFAMA district), you can explore everything by foot. Especially during rush hour in the morning and evening, with UBER you would be stuck in the traffic anyways. Save the money and treat yourself with nice wine and food. Or use the shared bike and scooter services.
Checkout the LIME Electric Scooters
Instead of using UBER, you should definitely give the electric scooters a try that are distributed across town. It's not the cheapest option to get around but definitely the most fun way to explore the city. It cost 1.00€ to unlock a scooter and 0.15€ added per minute of use. Especially if you are traveling with friends, it can be a fun way to get around. I think by law, everyone using the scooter is supposed to wear a helmet. It's clearly stated in the app but quite frankly, no one gives a damn because not everyone is carrying a helmet around all the time.
Taste Portuguese Pastry
Besides the high amount of carbs you get in the traditional food, this is probably the second biggest reason for my weight gain: the fantastic Portuguese pastry. I really tried, but couldn't resist a single day from having coffee and some sweet Pastel De Nata. Because everything is very affordable, you will never eat only one but probably two of these egg tarts pastry.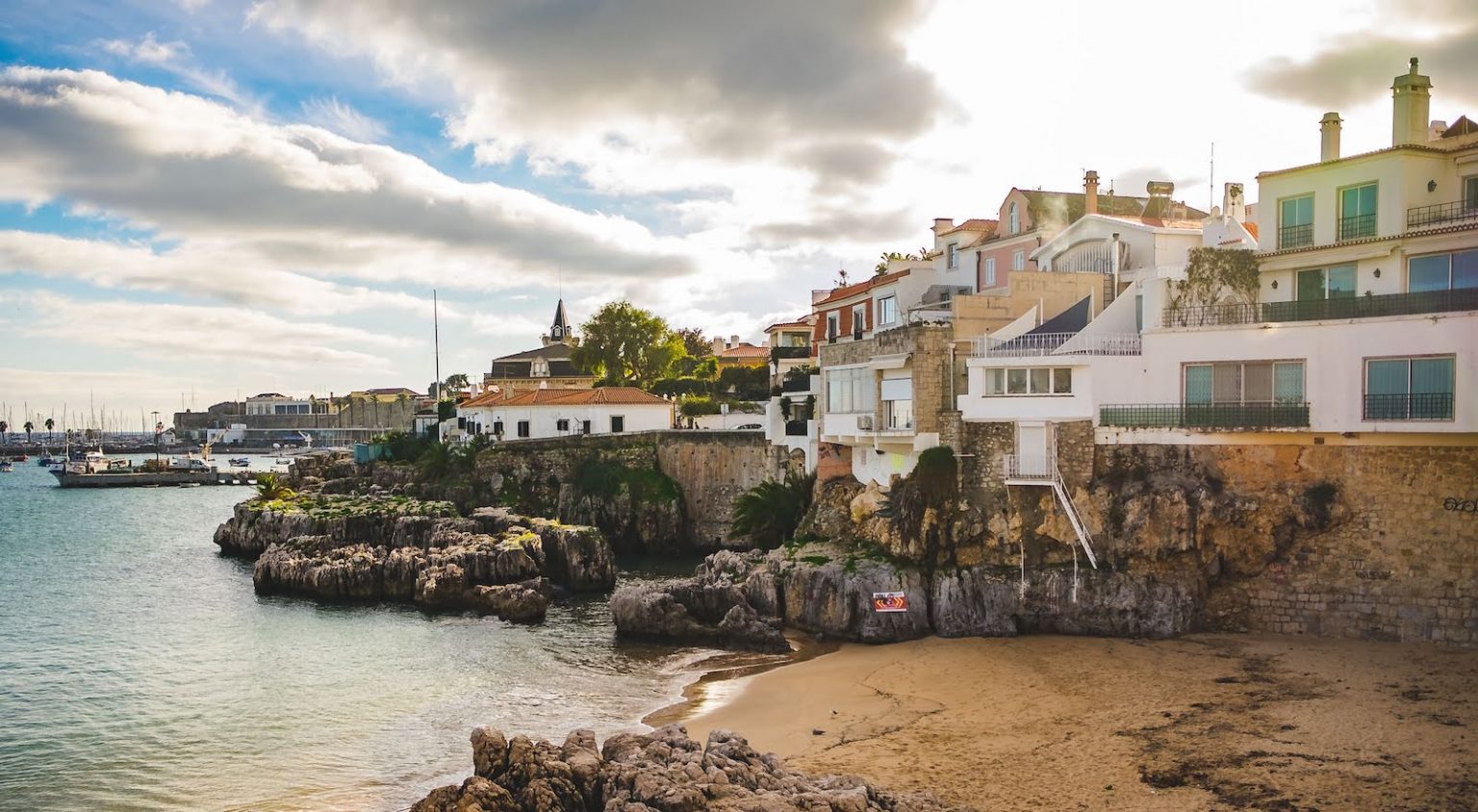 Exploring Lisbons Surroundings – Sintra, Cascais & Cabo da Roca.
Sintra and Cascais places are quickly to reach by train and perfect for day trips.
Sintra is a lovely small area with a romantic atmosphere to it. Because it's situated on a small mountain you have this old medieval feeling to it. Unfortunately, I haven't managed to go up to the Pena Place because we went to Cabo Da Roca on the same day.
On the contrary, Cascais is located near the ocean and offers beaches and nice coastal walks. It's considered to be an area for slightly wealthier people but I think that's the case for any city that is near the coast. If you have a nice beach closeby, there is just no way for real estate prices to stay low.
Another interesting location in the west of Lisbon is the westernmost point in Europe called Cabo da Roca. It's approx. 30 min from Sintra and reachable by bus or by car. It's not a place where you hang out a full day but the cliff landscape is still beautiful enough to go for a walk.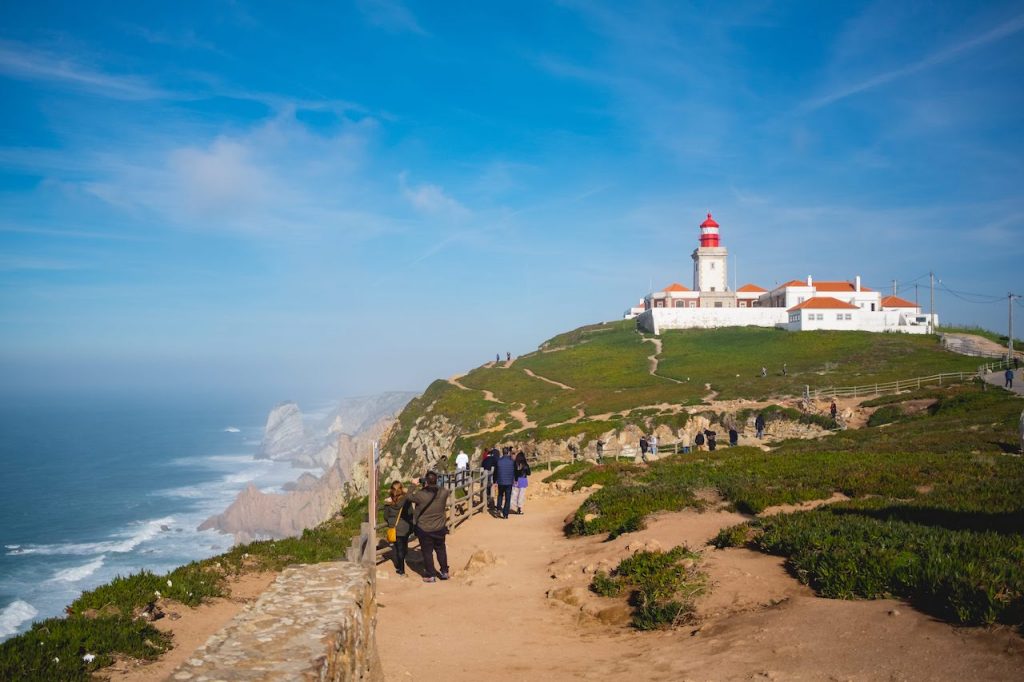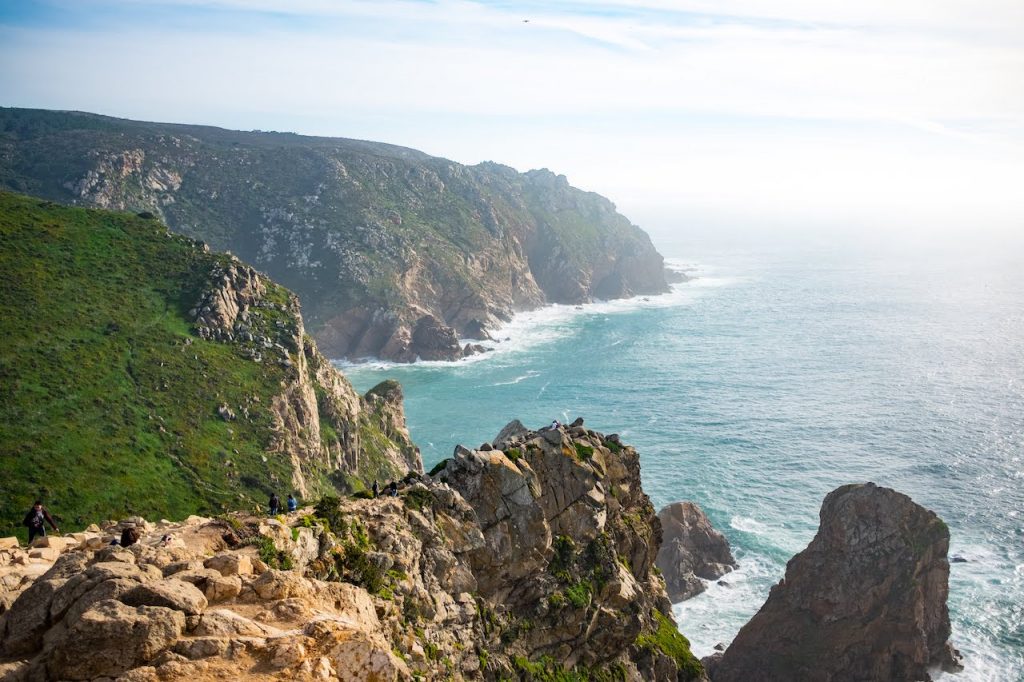 Coimbra
After almost 2 weeks in Lisbon, it was time for me to move on and explore some other places in Portugal. I took the train to Porto and made a one day stop in Coimbra.
My solo journey started at the Oriente Station which was constructed as one of the center pieces for the Expo '98 and designed by Santiago Calatrava. In general, the area around the station is very nicely designed and I can totally recommend visit, taking a walk and enjoying some food and drinks near the water.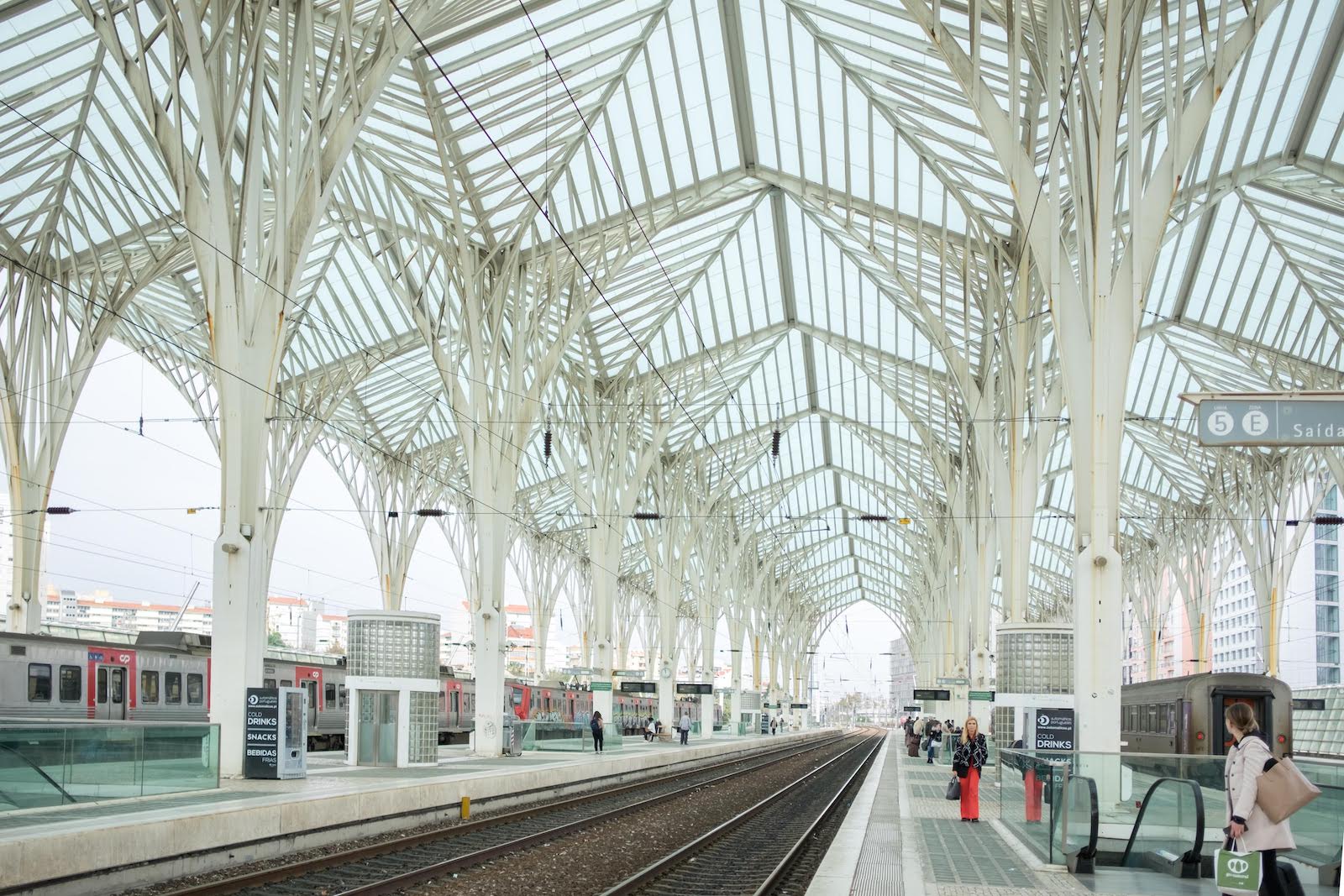 Booking the ticket through the CP website was surprisingly easy and considering that I selected the most advanced train (the Alfa Pendular, AP), also fairly cheap (23€ one way). After registering on the website, you can also download the App through which you can access your tickets.
The train ride itself was unspectacular. The onboard Wifi was pretty much useless but with a travel time of around 1:45h, not life-endangering yet 😉
Coimbra itself wasn't that interesting to me to be honest. It's a medieval town in the center of Portugal with a very old University. No wonder why most people you see on the streets are in the range of 20-25.
And besides the university, there isn't actually much to see. If you are a philistine like me, then 1 night is probably enough to see the most important things and get a vibe for the city.

Final Destination – Porto
Coimbra isn't that far from Porto and a train ride takes approx. 1 hour.
Porto is considered as the second biggest city after Lisbon. In the past, I heard many people referring to either Lisbon or Porto as the Chiang Mai of Europe: a place with cheap living costs and great infrastructure that is perfectly suited for digital nomads. Another reason why I had to visit Portugal.
I've seen photos from Porto before with it's iconic Iron Bridge and colorful houses build along the river and couldn't wait to get there. I wanted to get a feeling for the city and quite frankly, see if I could move there for a couple of months.
Usually when we work in a full time job, we never really have time for extended vacations. So it happens that we visit a country and rush through as many places as we can in order to make it "worthwhile". But as a result, we travel with such speed that we don't really appreciate the places to the fullest.
I did this way to many times in the past so that I now stay at least a week in one place. But even that is pretty speedy. Because of my christmas schedule, I could only spend around 10 days in Porto. I booked a stay in a hostel, but would definitely look for an apartment next time when I stay longer.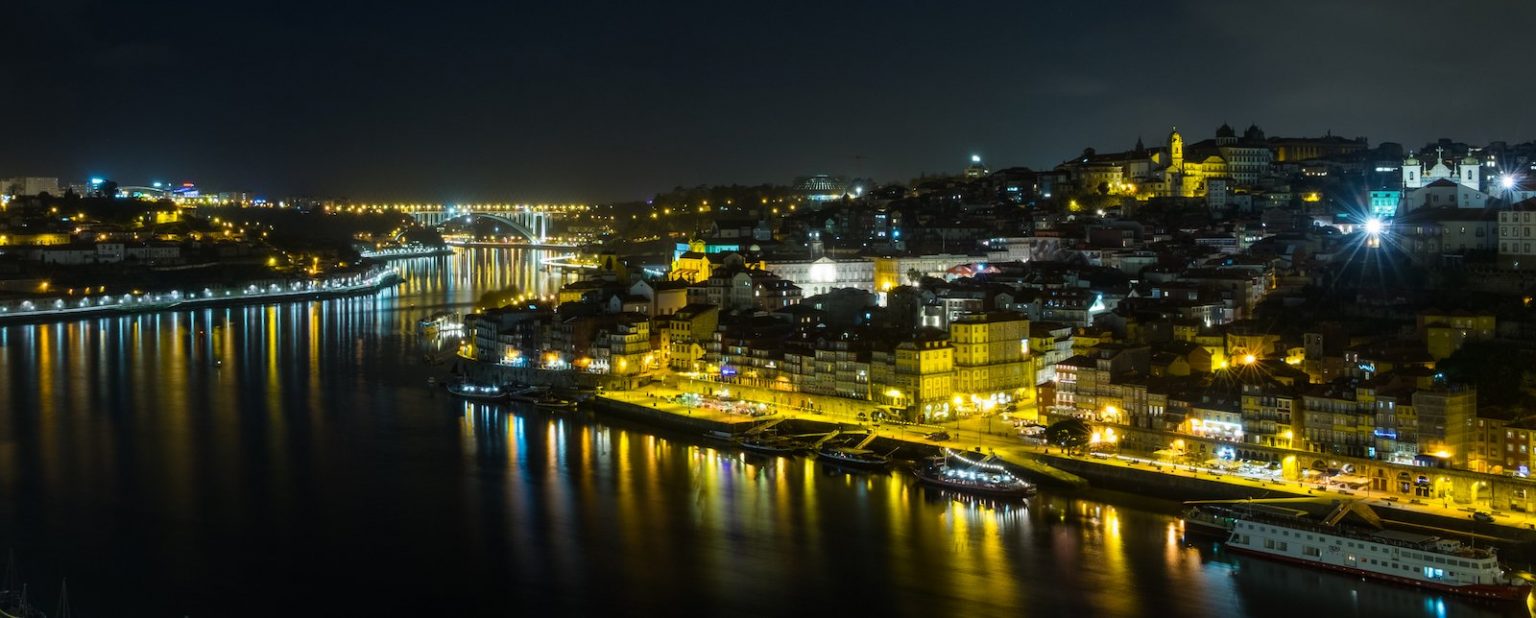 The city was build on the hilly landscape on both sides of the river and is connected by multiple bridges. Because of geography and location you will constantly find yourself snapping photos no matter where you go because there are so many interesting viewpoints. The city center itself is relatively small and you can reach any destination by walking. Streets are very narrow, covered by cobbles and there are many hills, so you better leave your high heels at home.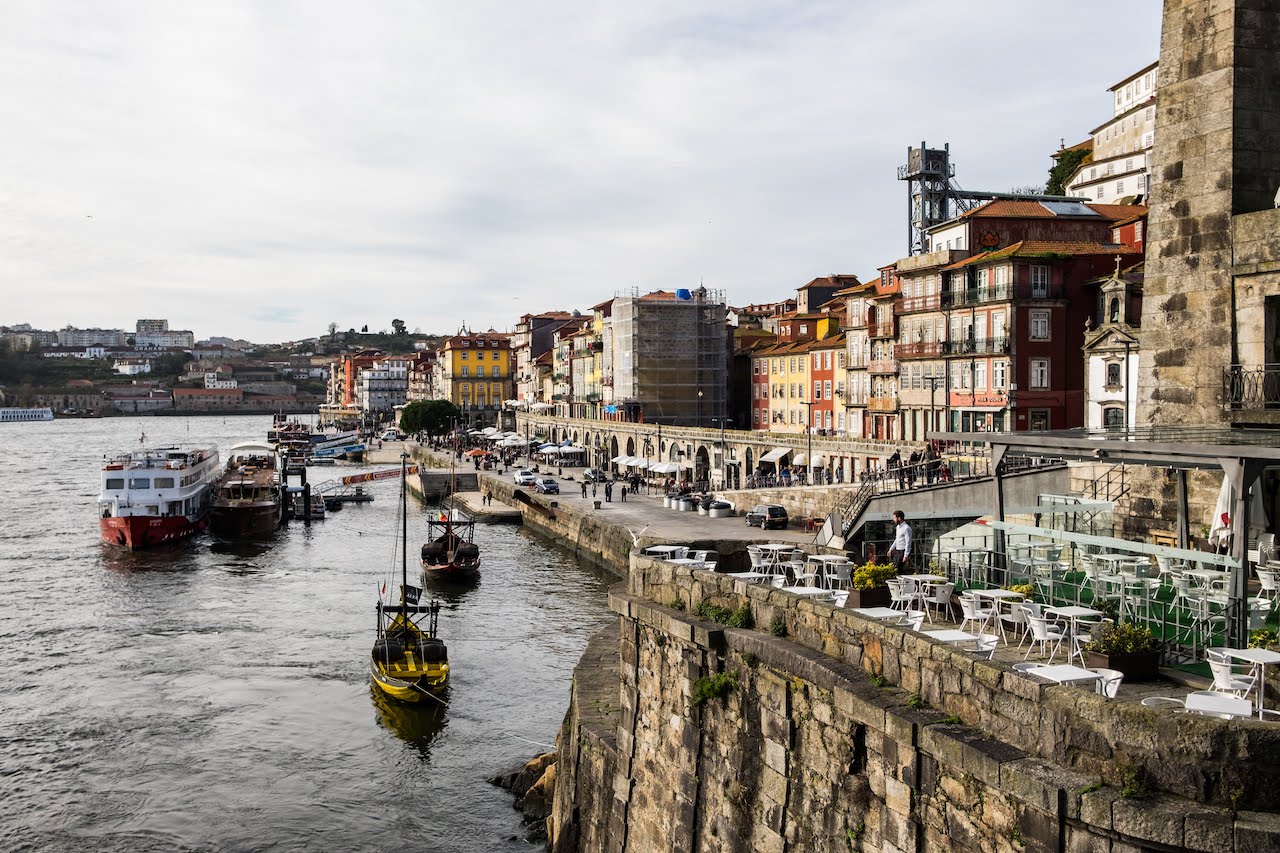 Visit the wine cellars
Probably the most important thing to do in Porto are the wine tours. In the summer, you can do a full day trip to the Douro Valley and see the wine fields. Because I arrived in the winter, I only visited the cellars. The famous Port Wine is more sweet than the usual wine. This is because the fermentation process is stopped after about 3 days so the sugar cannot fully transform into alcohol. In addition, a special clean brandy is added to the wine for fortification purposes. This increases the alcohol amount to roughly 20%. The wine is then stored in oak barrels for many years to fully unfold it's flavour. I paid 16€ for the tour at the Ferreira Cellars. It's a 30 min walk through the cellars with a wine tasting in the end.
Summary & Cost breakdown
In total, I spent almost a month in Portugal traveling from Lisbon to Porto. Visiting Portugal during the winter months may not be optimal but there is still a lovely vibe to catch. I had a good time overall and enjoyed visiting Lisbon and Porto when everything is less crowded.
In total, I spent almost 1000€ during these weeks with eating out all the time, having coffee and breakfast every day, also including all the transportation costs from Munich, train rides to Coimbra and Porto and a flight back to Berlin. As you see, it's quite the affordable country.
Because I spend the first week with my friend and didn't have to pay for accommodation, 1000€ is not 100% representative. However, if you calculate around 15-20€ a night for a hostel stay for one week, then you would end up close to 1200 – 1300€. For a full month, I would plan around 1500€ to be on the good side of living.
Here is my cost breakdown:
Accommodation: 30 * ~15€ = 450€ (Hostel stay)
Breakfast: 30 * ~5€ = 150€ (espresso + pastry + sandwhich)
Meals: 30 * (10€ * 2) = 600€(local Lunch + Dinner)
Total: 1200€
If you look at the numbers, you can see that I calculated very generously for the basic things. I didn't include transportation cost because it varies too much on where you come from and where you want to go.
If you are in Europe, then finding return flights for under 300€ is an easy thing to stay below the limit of 1500€. If you are on a budget, you can totally make it under 1000€ if you reduce your meals outside and limit your pastry consumption. It's probably also healthier.
To sum things up, I will definitely come back for another visit and stay longer next time because I just love the coffee culture and the atmosphere in general. The internet speed is decent and co-working spaces are almost in every big city. This makes remote work and networking so much easier.
Have you been to Portugal yet? Or planning a visit in the near future? Let me know your thoughts in the comments.