How to maximize your Productivity on an Airplane
Every time I'm traveling, I feel like I'm much more productive than usual. I totally get excited when I arrive at…
Every time I'm traveling, I feel like I'm much more productive than usual. I totally get excited when I arrive at the airport and finally can take out my laptop.
Of course this is due to the fact that I'm in vacation mode and my happiness level is just through the roof (which definitely helps productivity).
But what I also found is that the time frame between leaving a city and arriving in another one offers the perfect condition to be productive.
In this article I want to share with you why you are more productive on airplanes and how you can apply these principles even when you're not traveling.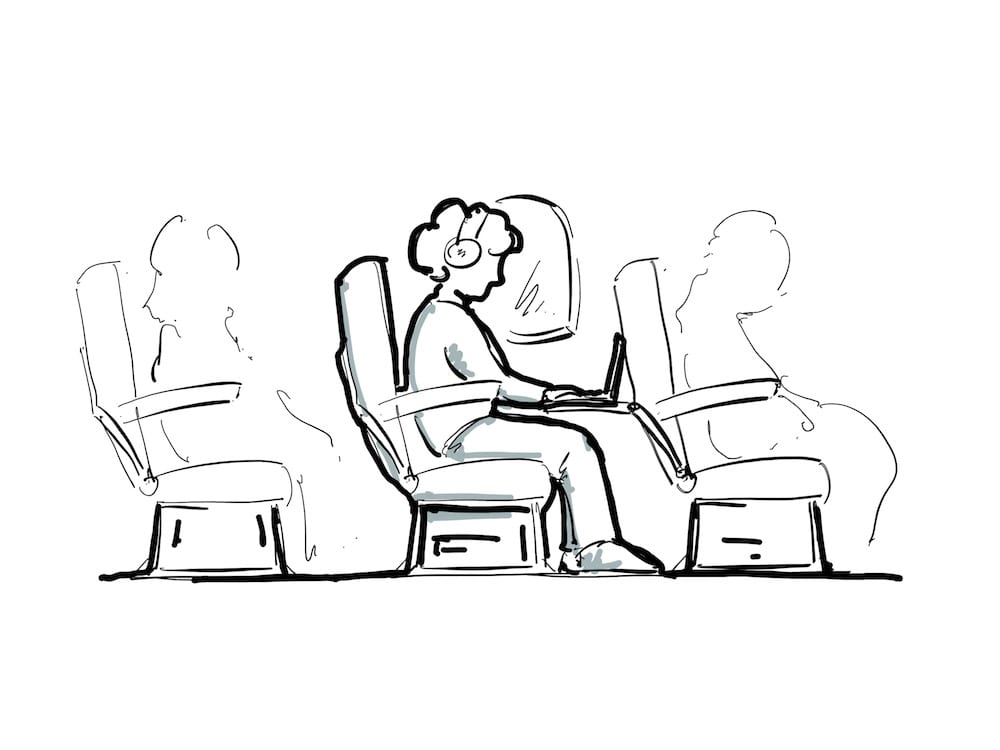 1. The space limitation helps to stay focus
If you are not traveling in business or first class, you probably have to deal with the space limitation of the economy class.
The tables are small and you won't have much space around you.
However, this limitation is very helpful because it allows you to only work with one device at a time.
For instance you cannot use your laptop and Tablet at the same time which helps you to really focus on one task and get it done.
For that reason, whenever you want to get work done, think about beforehand what you want to accomplish and choose your tools accordingly. Don't bring your entire office but be selective. For instance, during my last trip to Vietnam, I decided to focus on writing and therefore only brought my iPad along.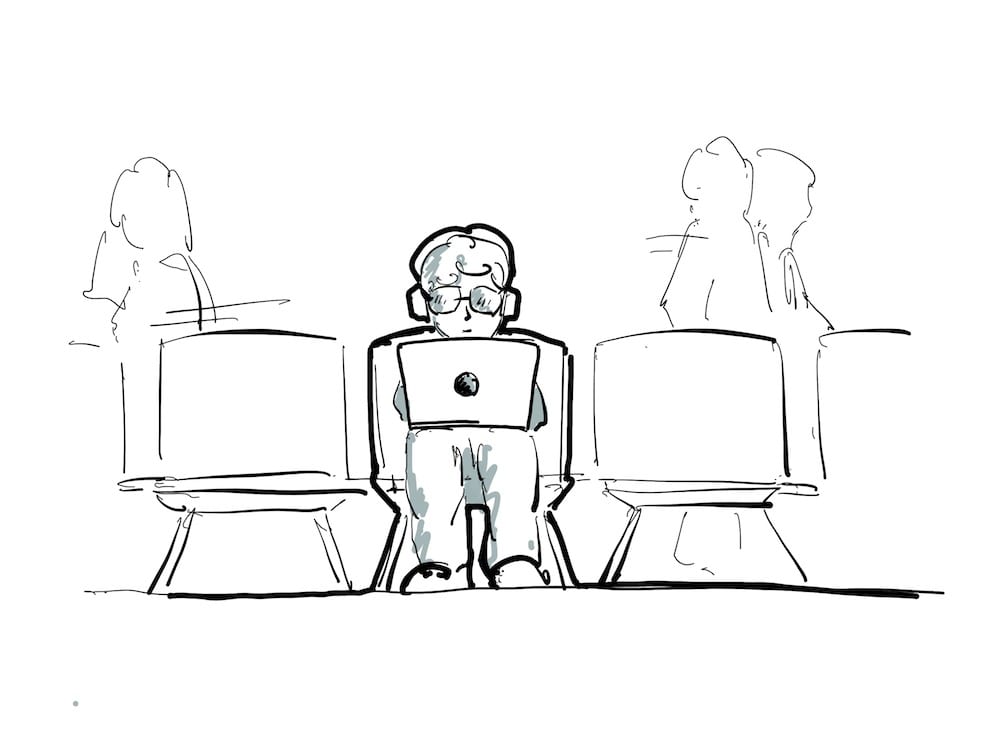 2. A supportive, non-distracting environment
Another wonderful thing that helps productivity on airplanes is the "boring" environment. There is not much you can do while on the plane. Watching people sleep, going to the toilet or reading the 20 year old safety pamphlets. Sure, on long distance flights you have some entertainment on tiny pixelated screens.
But in general, the surrounding is pretty much static. Additionally, the constant background buzz of the plane can be hypnotic and boost concentration. Noise cancelling headphones definitely help to cut off from your surrounding.
How can you apply this to your daily life? If you are not traveling and work from a coffee place, look for a quite corner in the back. Most waitresses pay more attention to customers that they can see and therefore tend to distract them more than necessary. It also helps to go to the second floor if there is any. This will minimize getting distracted by watching customers walking in and out.
And for the ambient, Spotify also has some wonderful ambient sound playlists that helps to focus. If you are not into ambient sound and not sitting in a coffee place, check out Coffitivity that mimics ambient sound.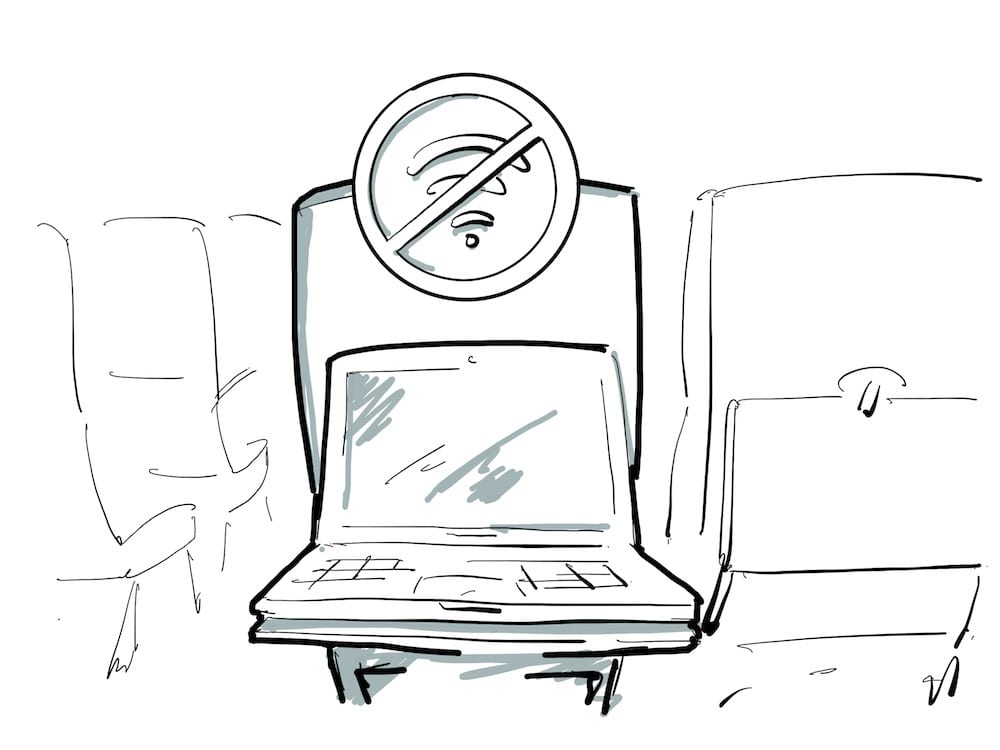 3. No Internet that distracts
We live in a wonderful time where free wifi hasn't made its way into airplanes yet. At least not with a reasonable speed. You can purchase wifi connection but most of the time it's very slow and very costly.
However, this is a huge advantage because there is no email popup, no WhatsApp, no FB Messenger, no Instagram or whatsoever. The silence is beautiful isn't it?
If you want to get work done, here are a couple of things you can try:
get rid of all your messenger applications on your desktop (no Whatsapp, no FB messenger, etc)
shut down your email app so you wont get distracted by popups, check only every 2 hour
use Focusapp that blocks from distracting websites
disconnect from Wifi if you don't need it for your work (if you write a lot, here is a nice app that let's you purely focus on writing: Ommwriter)
Turn off your smartphone and put it into your bag ( most messages are not important anyways)
use Toggl for timetracking, set a time limit in which you want to get your work done
Turn off notifications from your browser
I personally use all strategies myself, also because I got inspired by reading Deep Work. This book highlights the importance of highly focused work in our knowledge economy and distracted world. You may want to check it out if you want to create an advantage for yourself in the future.
4. A deadline that counts
Because you know that your flight only last for a specific time, the motivation is higher to finish your work in that timeframe.
But not only the time on the plane counts, but also the time while waiting at the gate for boarding can be used productively.
What you can do while waiting to board the plane:
plan your work session = split your work into smaller chunks (if you're in the air for 11h and only have 1 big task, it feels very overwhelming)
because most of airports have free wifi, you can access and download all necessary materials to prepare your work session
with Spotify Premium, you can download ambient music playlist for focused work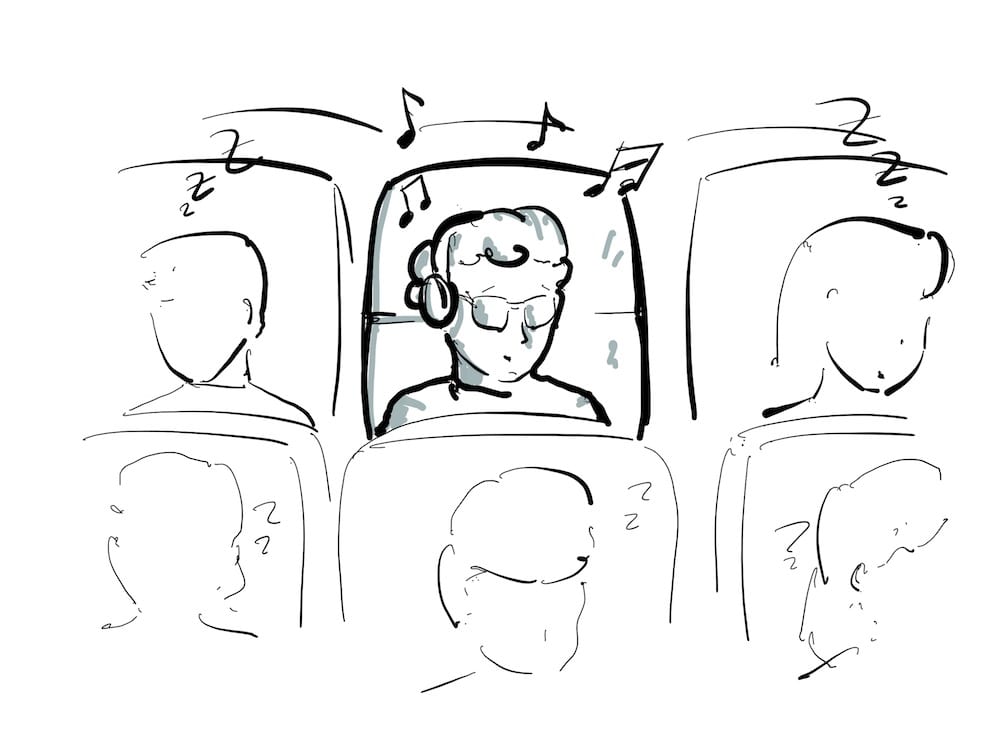 5. Permission to be unsocial
It is amazing how you get the permission to be unsocial on airplanes. People tend to not talk to each other even though sitting right next to one and another for hours.
Many are too focused on going through the entire movie list of the entertainment system anyway.
And it's totally fine not to make friends every time your travel! It helps you to focus on your stuff.
Compared to working from a coffee place, flight attendees also won't distract you like waitresses unless you need anything. Airplanes are the perfect place to be totally unsocial. Take advantage of it!