September 2019 – Travel & Income Report
Another month, another update on my nomadic journey. The end of September marks the end of rainy season in Chiang Mai….
Another month, another update on my nomadic journey.
The end of September marks the end of rainy season in Chiang Mai. Since a few weeks, the short downpours in the evening and occasional storms are getting less and less.
To be honest, I'm a little bit sad, as I enjoyed walking around the city when it's cloudy and not so hot.
Now, the temperature is going up to 33-34°C, from previously around 30°C (trust me, it's a difference!) and the sudden influx of tourists is definitely noticeable. It is also getting harder for me to find free spots at my favorite coffee places, so I spent most of my time working from home.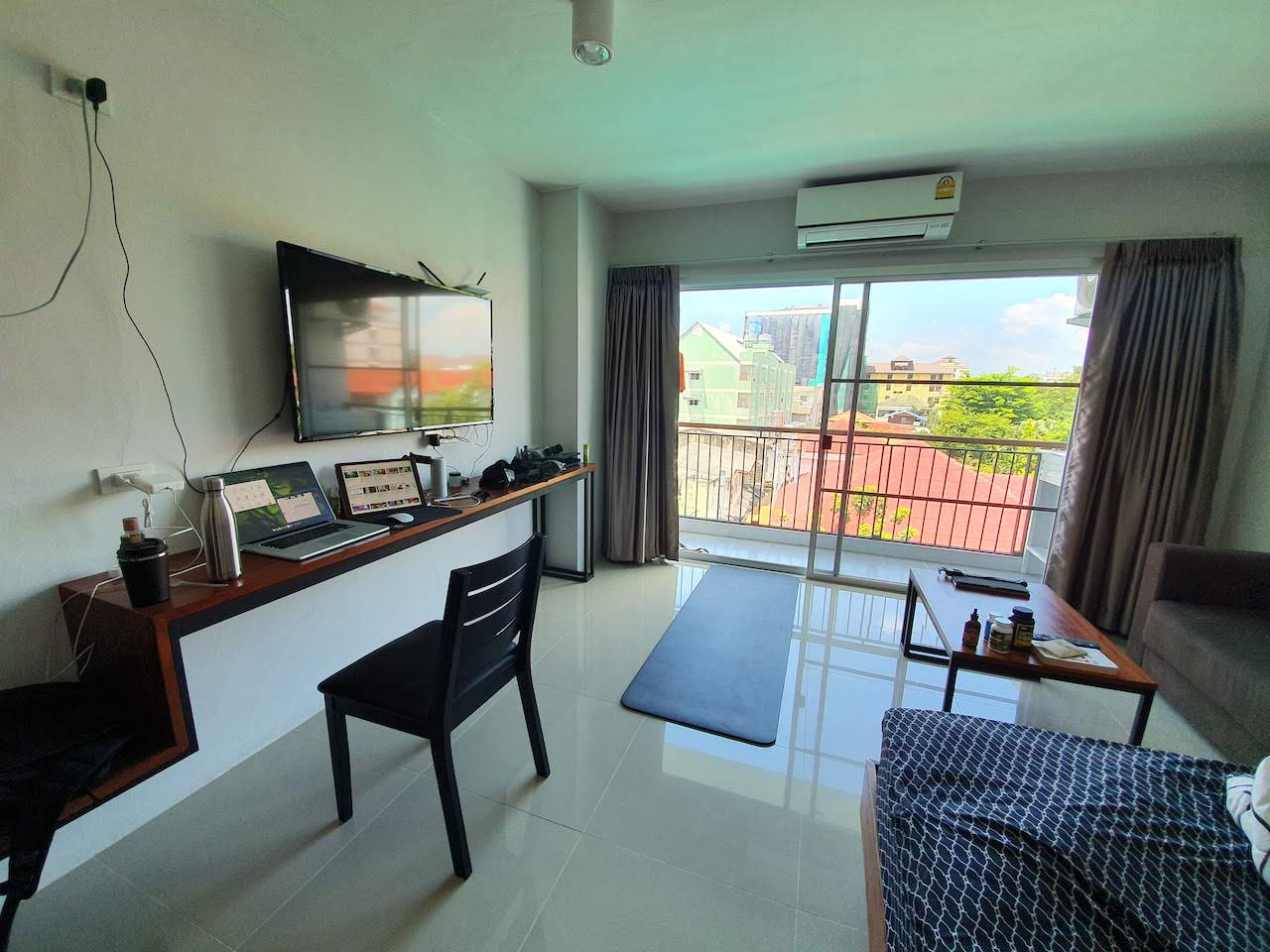 Since the beginning of September, I opened my schedule for client work and luckily received a steady stream of work ever since.
As I already mentioned in my last travel report, I expected September to be another quiet month.
However, I don't want to bore you with work updates. Here are the nuggets of the previous month:
A weekend trip to Pai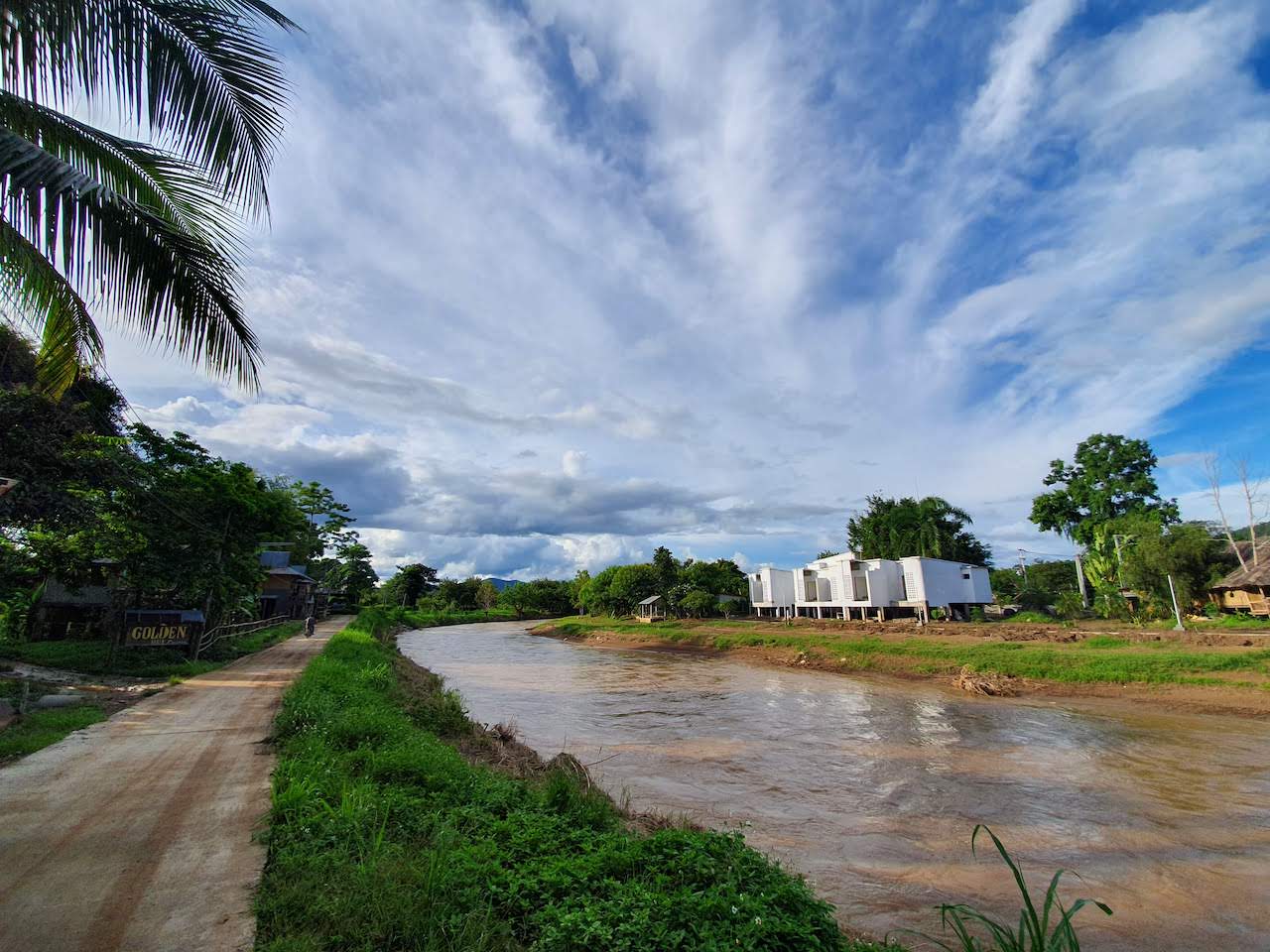 Going to Pai was definitely the highlight of the month. Honestly, I never thought about visiting Pai because I heard from many people that it's a hippie town and people just go there to get stoned.
I'm not a big fan of hippies and neither do I like to take funny substances, so I never had the urge to go to Pai. The thing that actually convinced me was the cheap bus ticket for 200 baht (~6€) … and my girlfriend who pressed me to get out of the city for a change instead of working all weekend: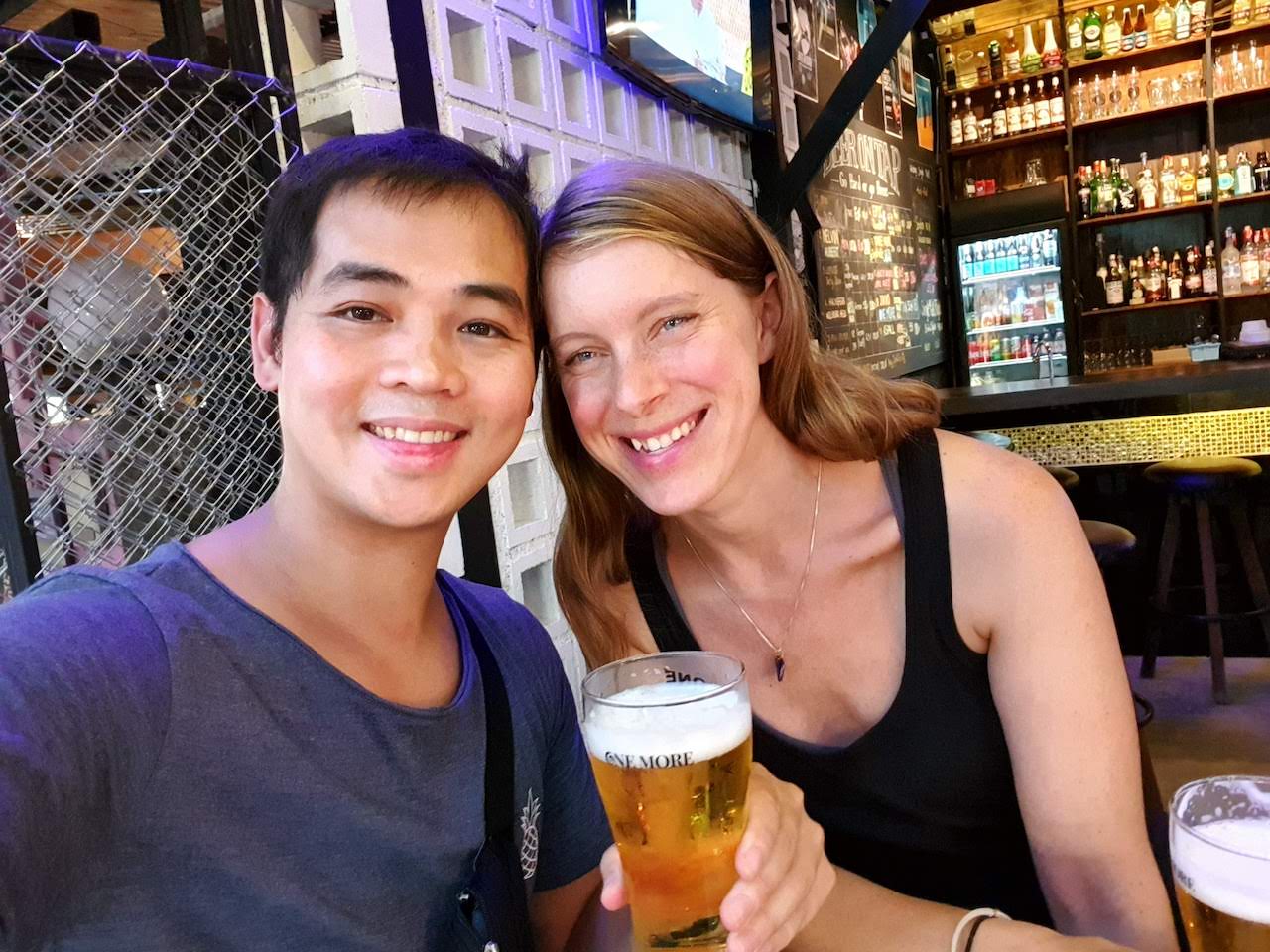 In hindsight, I have to admit that it wasn't as bad as I thought.
To be honest, in the end I really started to enjoy the chilled atmosphere and the creative vibes. Since we only had a weekend, we didn't go outside the city to do all the touristy things.
In the past, I always felt the urge to check off the most touristy places because of FOMO. Everything that was recommended on tripadvisor or that I've seen on instagram. I felt the need to visit the same places and take the same photos for the sake of doing it.
I feel that I'm not alone and sense that we all travel with a slight scarcity mindset because we believe we will never come back to the same place. It's a little bit sad because then, traveling just becomes a numbers game. How many countries have you visited? Did you take photos of every touristy spot available? Have you tried all the restaurants recommended by people on facebook?
Traveling becomes so much easier once we stop rushing from one experience to the other. But we need to change our mindset and travel with abundance. Life is not too short and we can always come back if we enjoy a place.
Having only one full day, we decided to be OK with just lying around and being lazy. So we walked around and explored what the small village had to offer.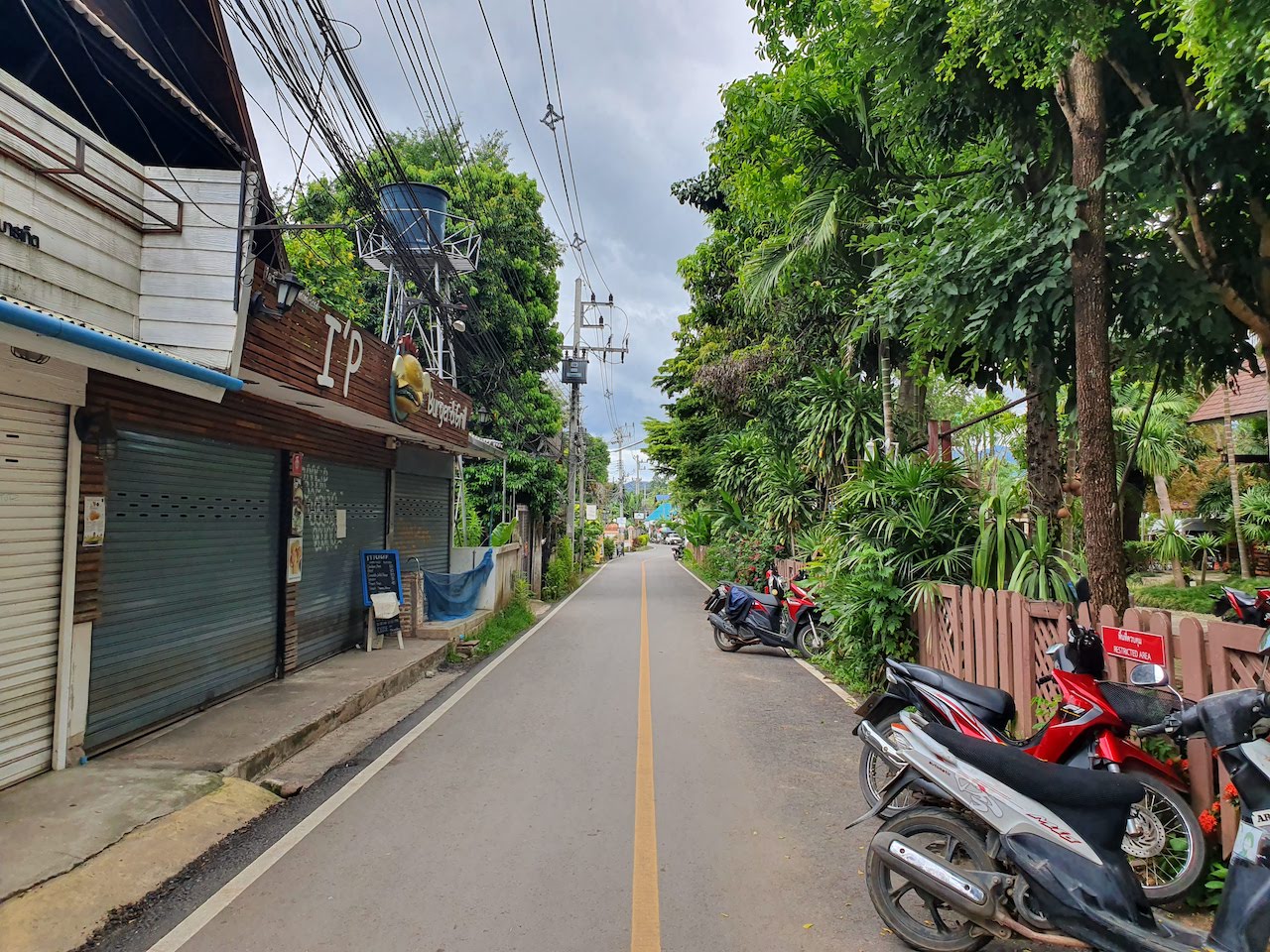 Coffee places in Pai were super lovely and to my surprise, Pai has a lot of vegan places. Well, I take it back. With all the hippies in town, it's not really surprising to be honest 😉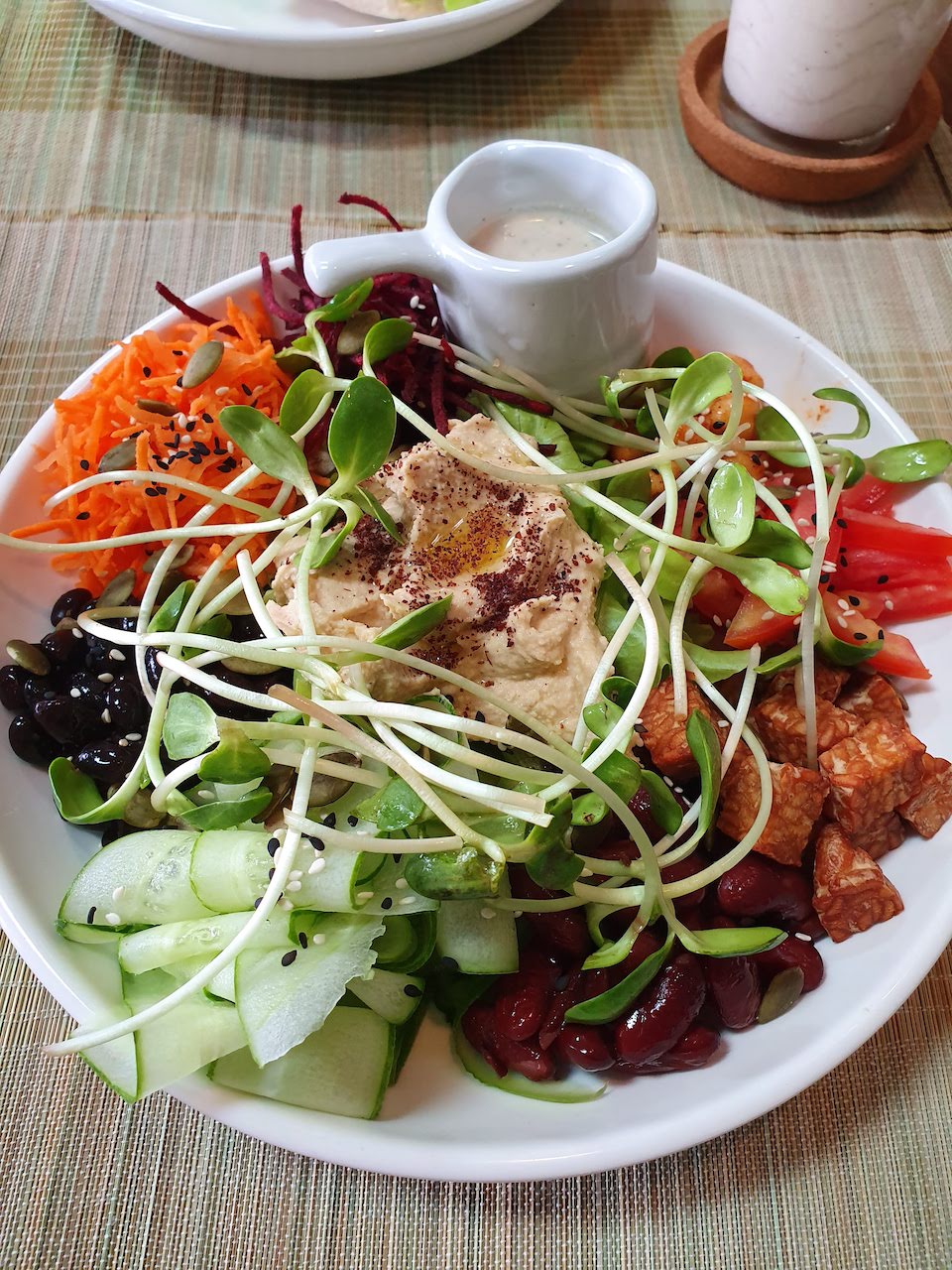 Besides hanging out at coffee places and stuffing our face with delicious vegan food, we had a lot of pool time as well. It was great to catch up with my reading list and just taking a slow approach on life in general.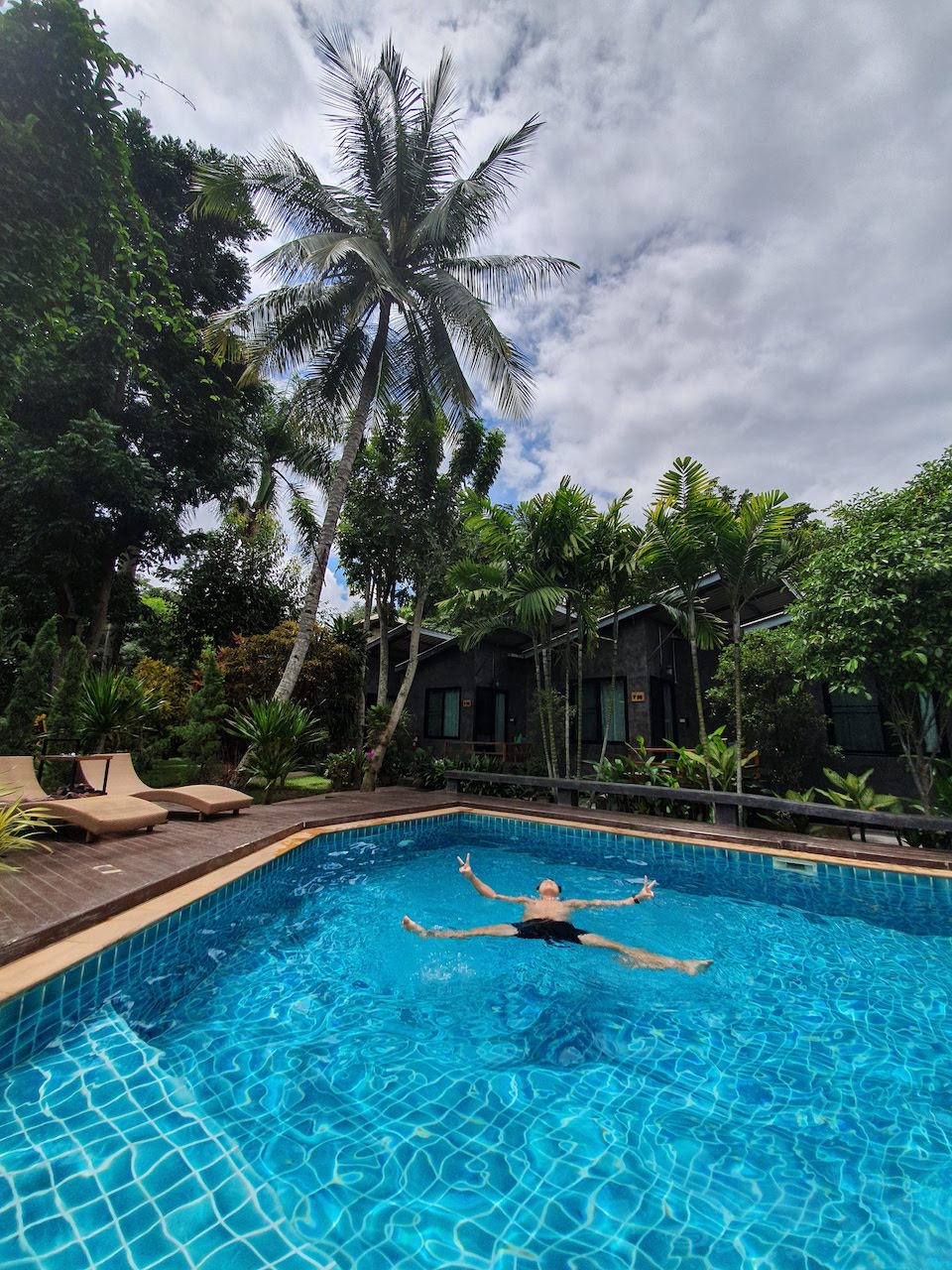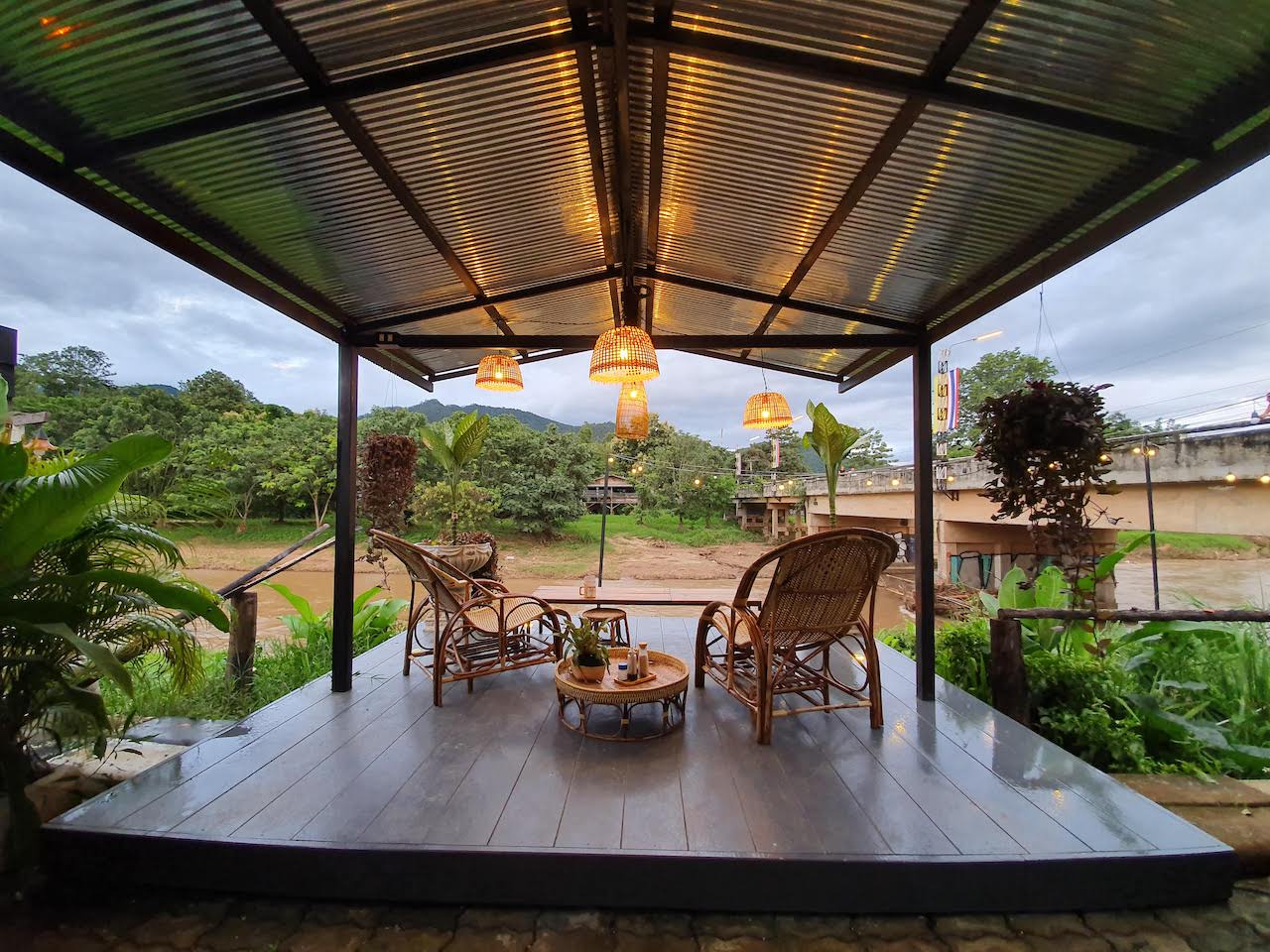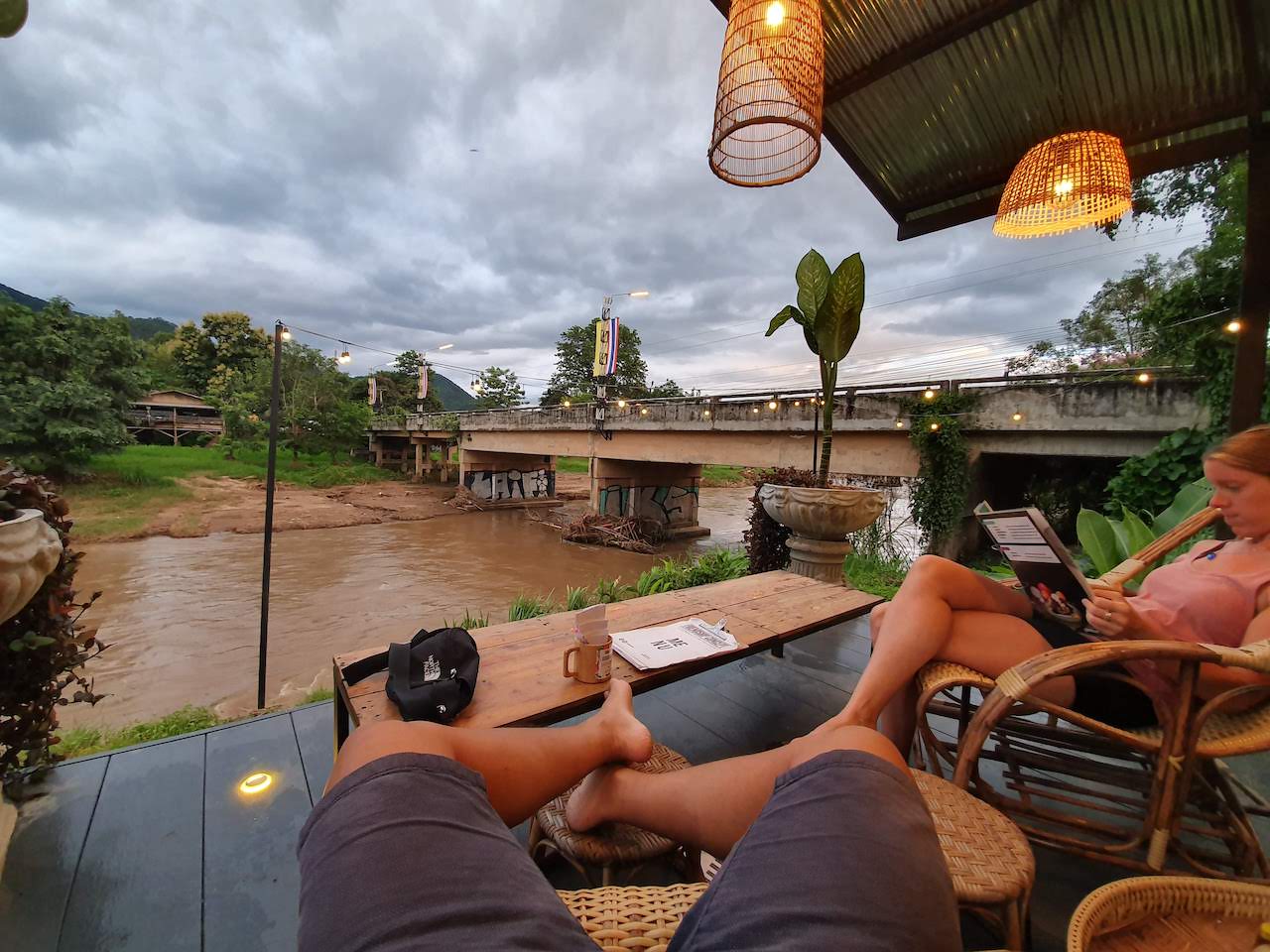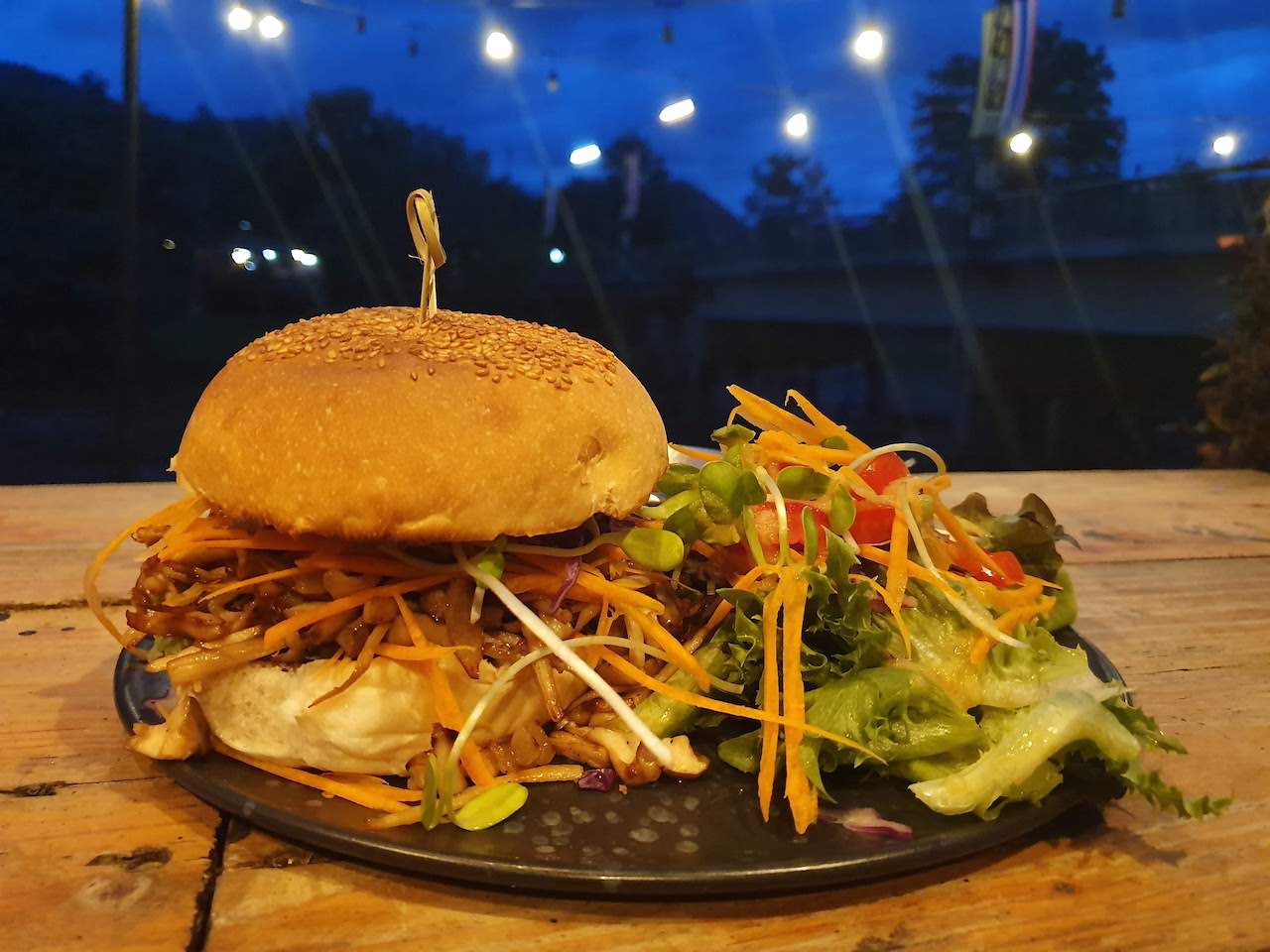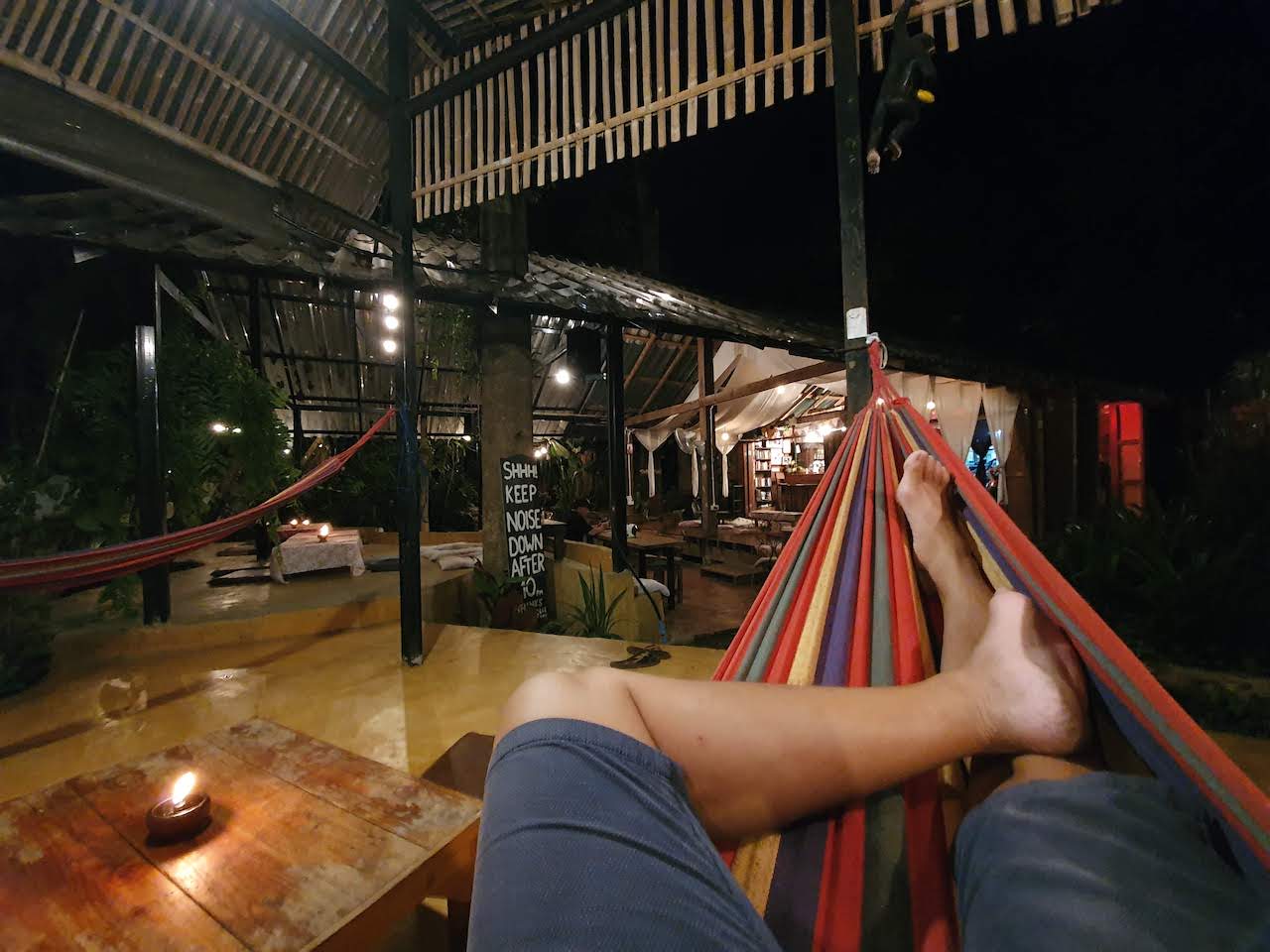 So after all, it was a great experiences and I feel more positively tuned towards Pai. I will make it back at some point for sure.
The thing I really hated though, was the 3 hour long curvy bus ride up there. Anti nausea tablets are highly recommended. Are just take a plane. Pai has an airport! (expensive though)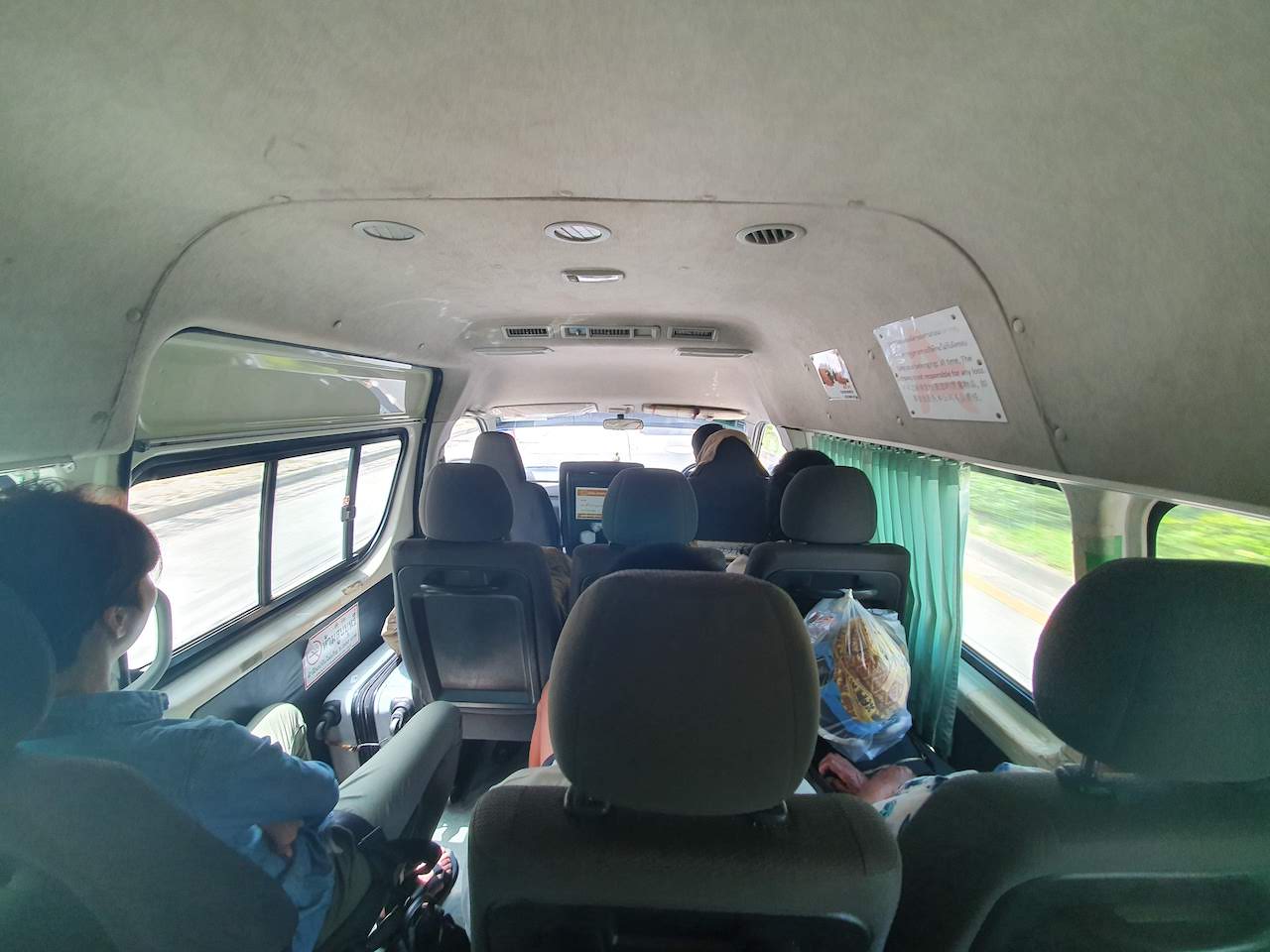 Oh, one last thing I would like to share:
I really like how the thai population is getting more aware of the single use plastic problematic. People in Pai in particular seemed to have more awareness around the topic and to our surprise, we found this little neat setup at the entrance of the food festival: A banana leaf press station that produced sustainable food bowls.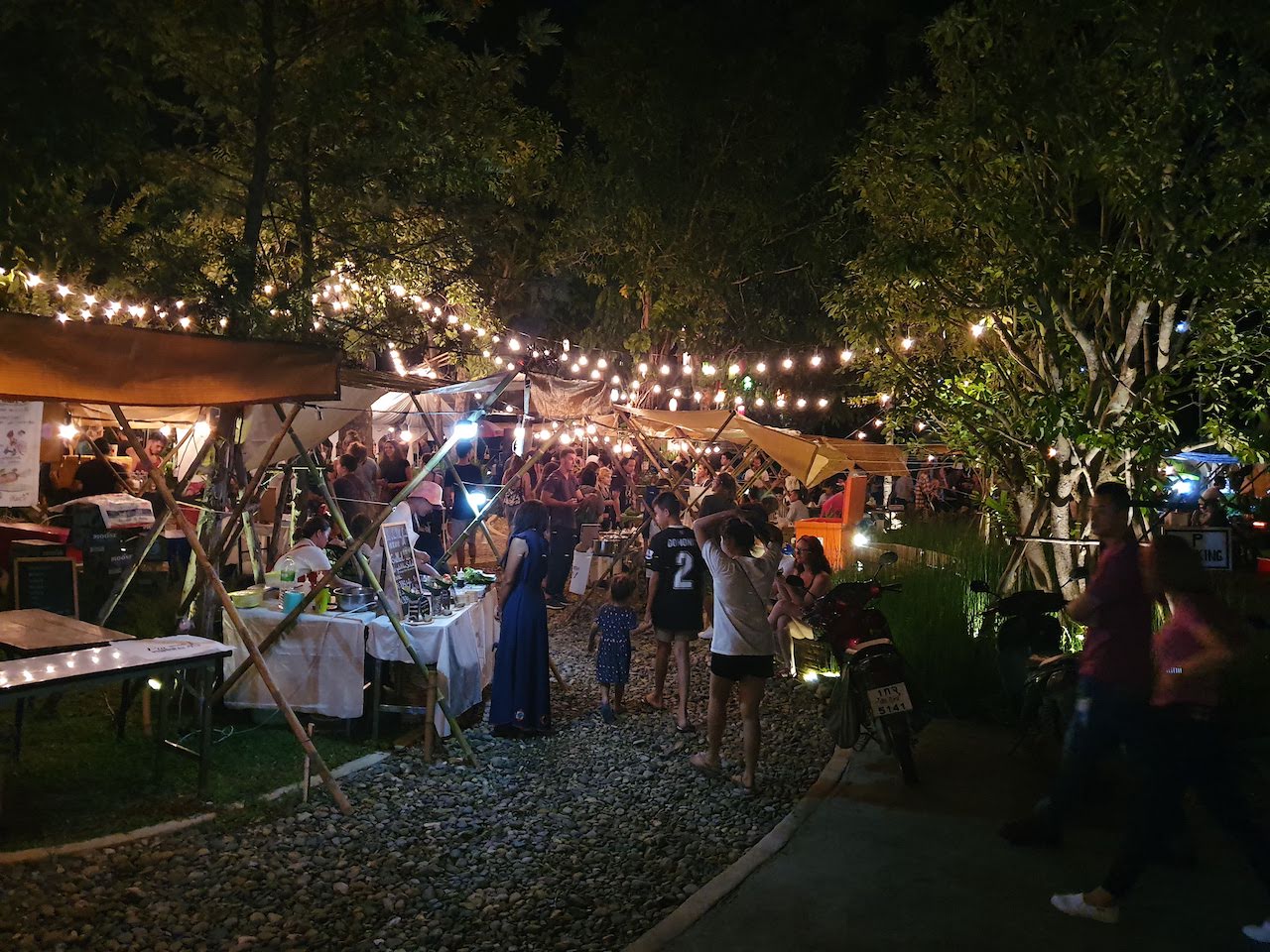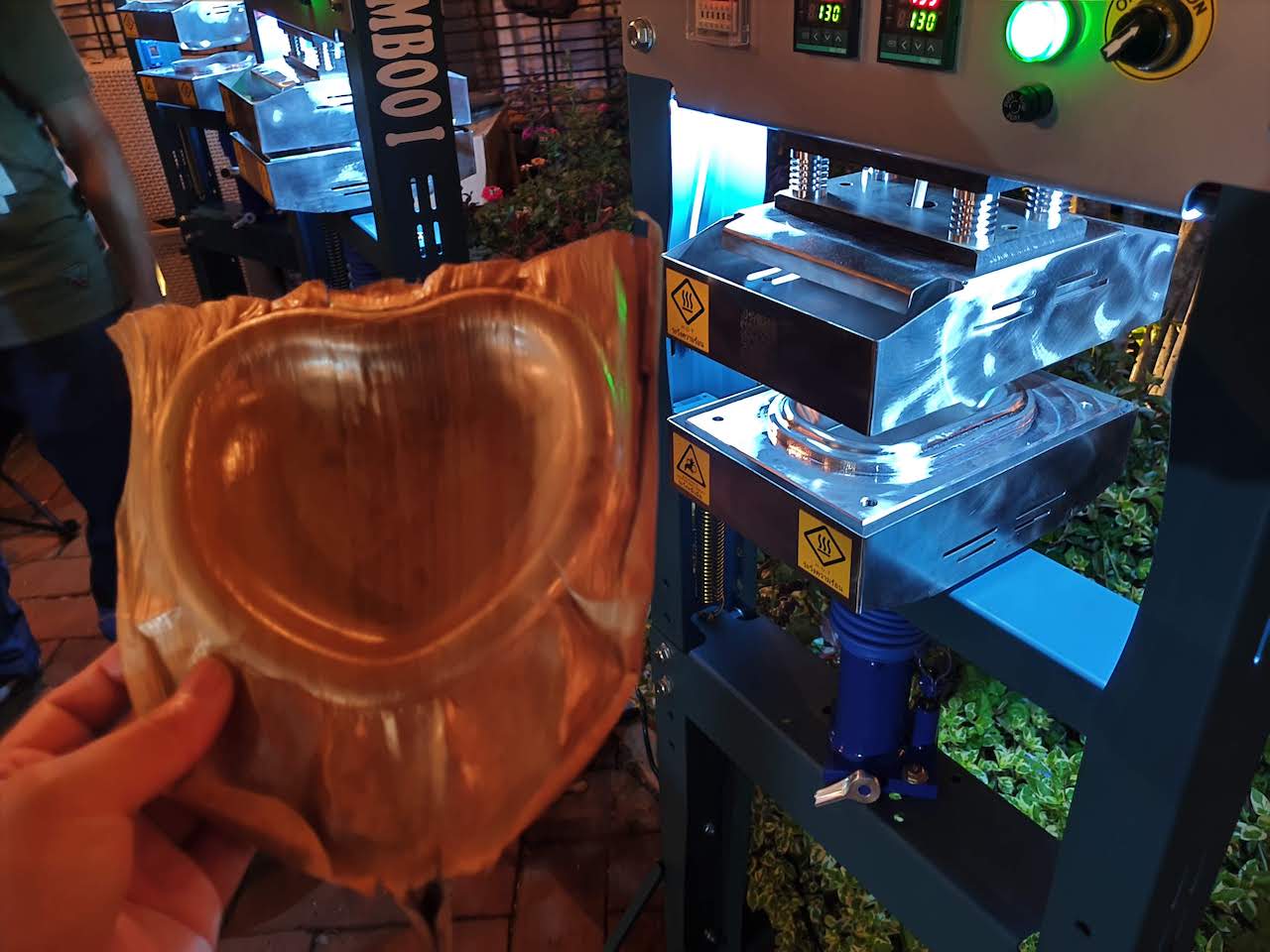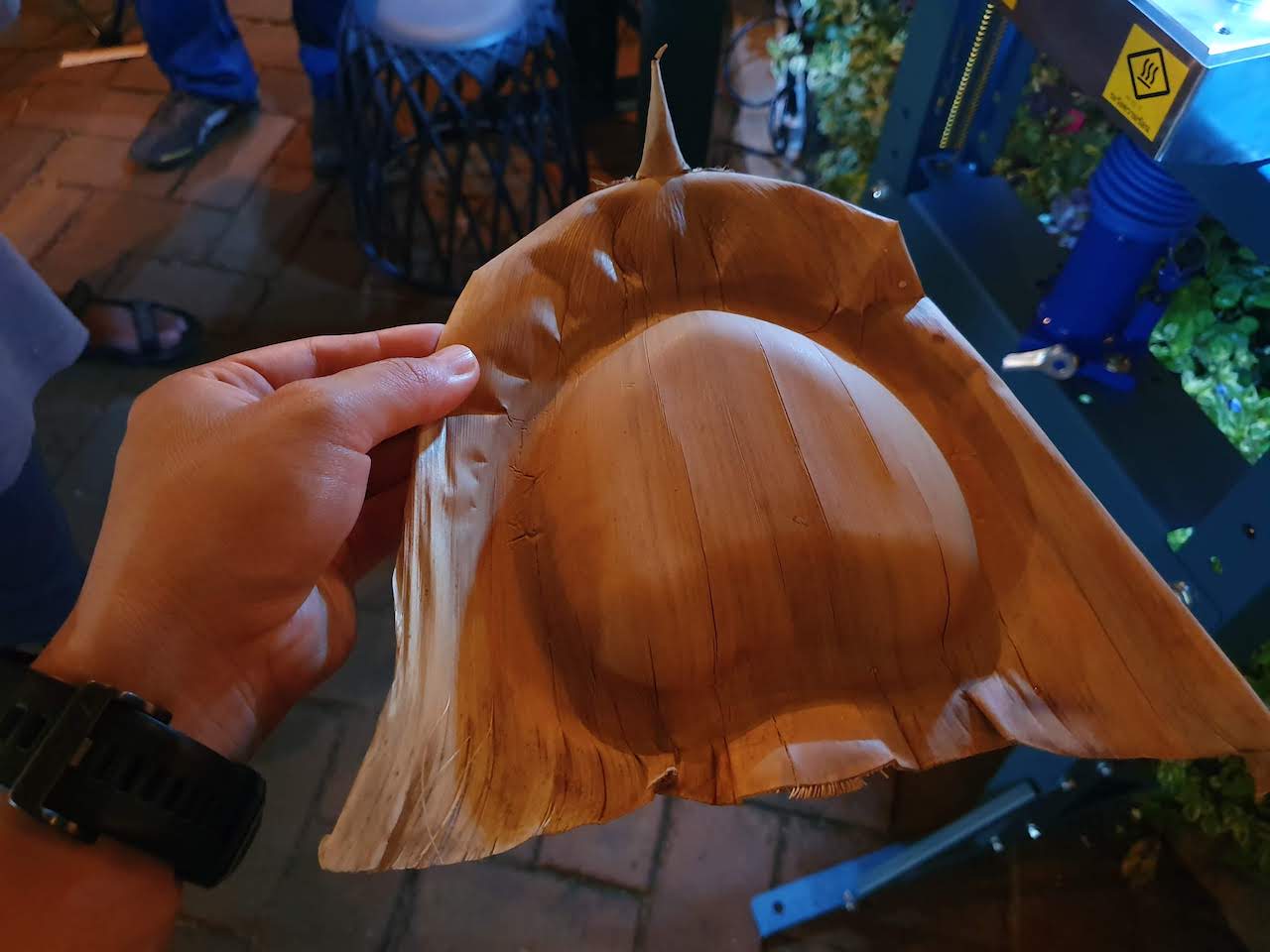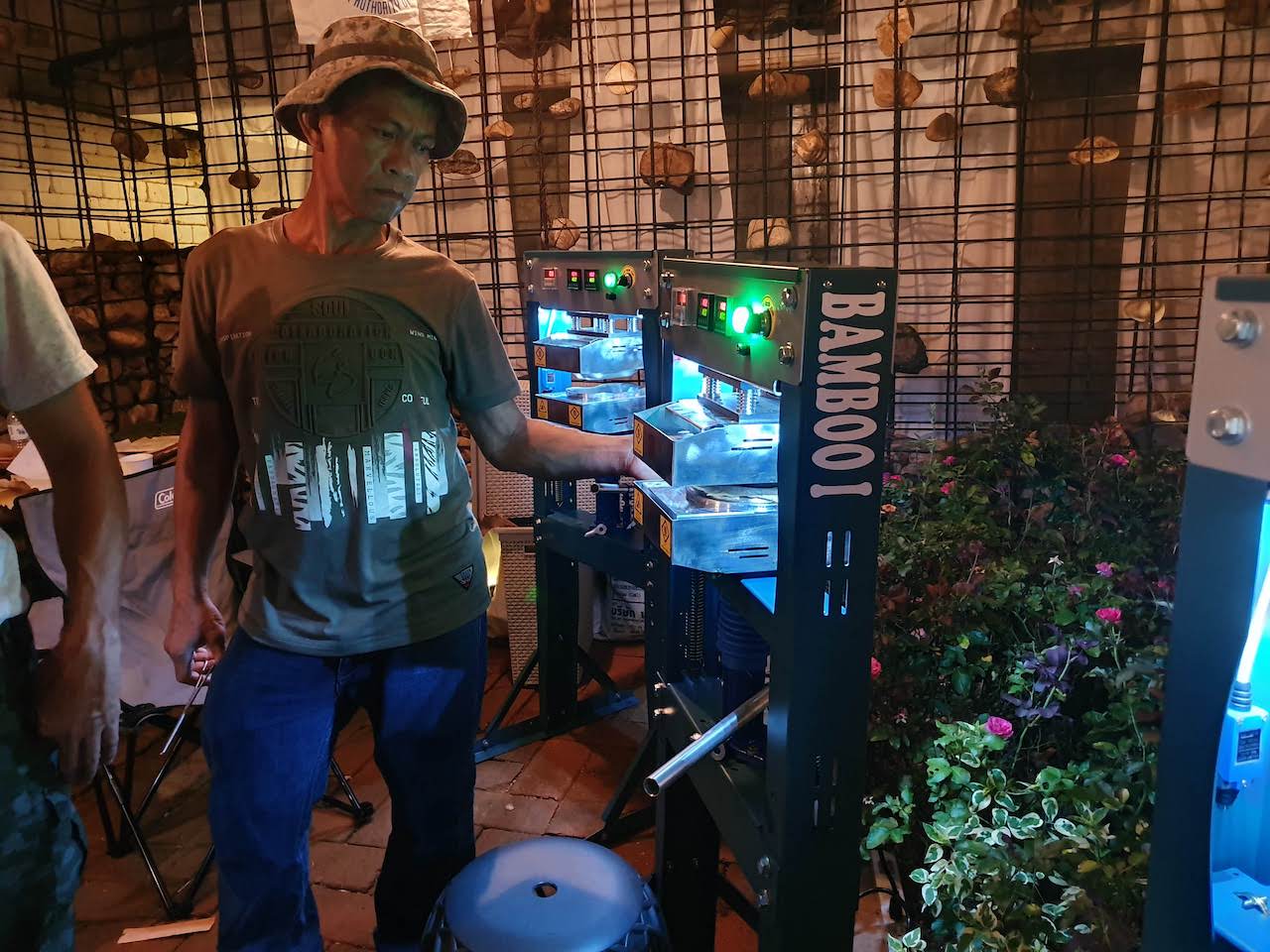 It's such a brilliant idea that could reduce the amount of single used plastic at street festivals tremendously. I hope it will become more wide spread.
Visiting the dentists
After almost a year of traveling, I felt like it was finally time to take care of myself and visit a dentist. Since I'm paying a decent amount for medical insurance every month, I thought I might as well make use of it.
In my entire life, I almost only had one dentist, so it was a huge challenge for me to overcome my fear of letting someone foreign looking into my mouth.
In Germany, all sorts of doctors have very high standards of hygiene and I was a bit scared about Asia.
Luckily, Thailand is ranked very highly internationally when it comes to medical treatment. I got some very good recommendations from friends and actually really enjoyed the process.
Here is my take away:
Making an appoint is not a pain in the ass like in Germany. I messaged the clinic on facebook messenger and they asked me if I want to come the day after. Wtf? AT home, it would have taken me a few calls only to get someone on the phone and wait a few more weeks to get a free slot.
The waiting time is very reasonable. I arrived, filled out some personal information and waited for not even 5min until it was my turn. Got on the chair, the doctor took a quick look, did some cleaning and filling. IN and OUT in less than 30min.
Hygiene was totally acceptable
Dentists speak good english
very friendly service in general
Recommended dentists in Chiang Mai:
Dental 4U Chiang Mai
Dentalworld
( this one I went to check for Invisalign bracelets. Turned out it cost the same as anywhere else in the world, since they All get the thing manufactured from one supplier: Align Technologies. What a great monopoly to have…)
Masterminds
Another thing I finally started was to form a mastermind group. Some friends of mine were back in town and I made some new friends, in particular a guy who also uses the same business model as me.
Together, we decided to have weekly meetups and talk about business and personal development related stuff. If you aren't familiar with a concept of a mastermind group, which was popularized by Napoleon Hill in his book Think and Grow Rich, here are things that we discuss in our mastermind:
What's the current state of business?
Did we achieve our goals from last week? If not, what was the blocker?
What are Goals for next week?
What are skills we want to learn?
What skills can we share with the team?
Long term goals, short term goals
What do we struggle with right now, can anyone help?
General Life hacks
For me, it's great to finally have people, besides my girlfriend;), to talk business with. I have been in my own bubble for a long time and need someone to kick my butt.
Since everyone has a different business setup and skills, we can compliment each other and move forward more quickly.
I'm super excited. Since we just started the mastermind at the end of September, time will tell how effective it is.
Online Business
Ok, let's continue with my online business.
Man, what a smooth segue.
September has been another great month. As I shared with you in my last report, August has been about coming up with new design ideas.
In one month, I created over 100 new designs for my POD business. The focus for September was to launch these products.
While I had around 90 products at beginning of August, my catalog now counts more than 230 products. I realized that I can repurpose the designs I already have and put them on different products. This reduces the workload immensely since I don't need to come up with completely new designs and research new niches.
This helps me to expand my product catalog more quickly, increase my exposure and offer my customers more choice.
Since the end of August, I also started to use advertising. Though, it helped me to get a few sales, I honestly lost money during the hole process.
Here are my stats for September: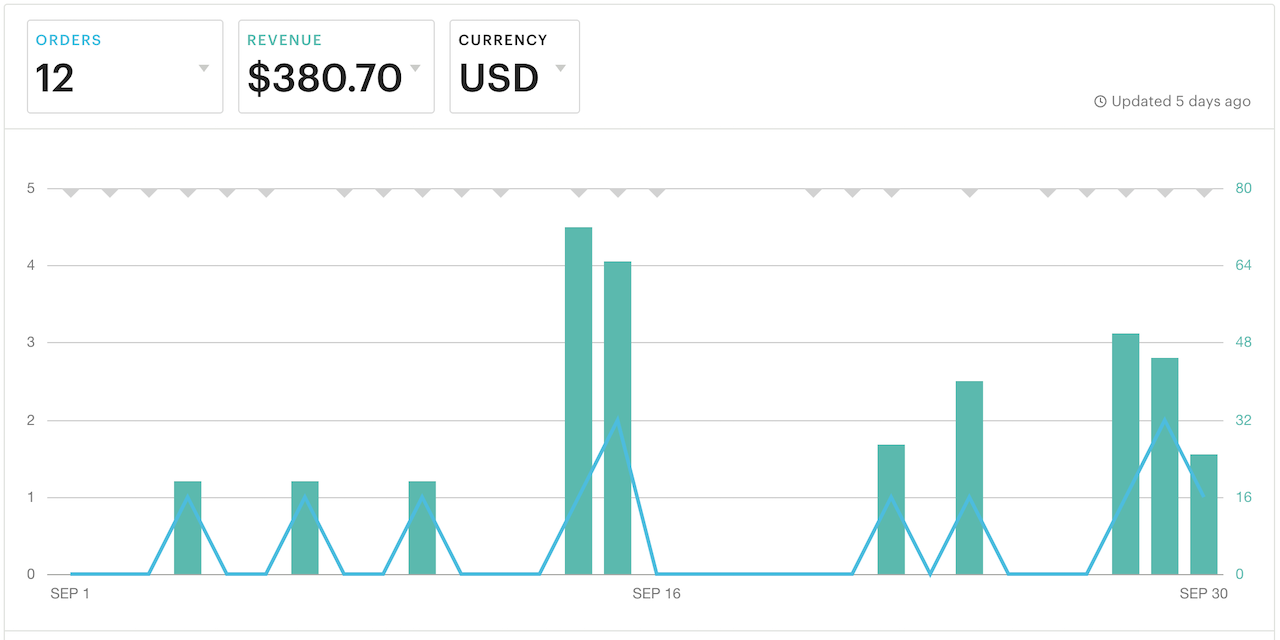 Here are my stats for August & September for comparison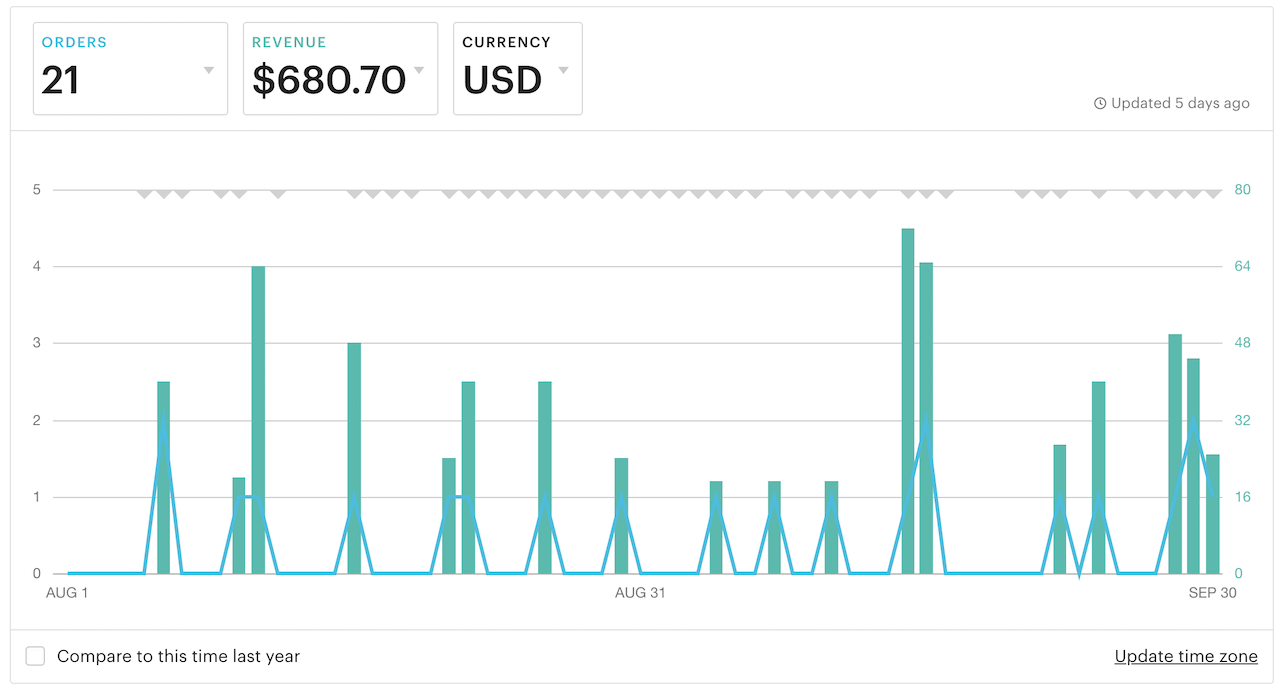 Revenue for 2019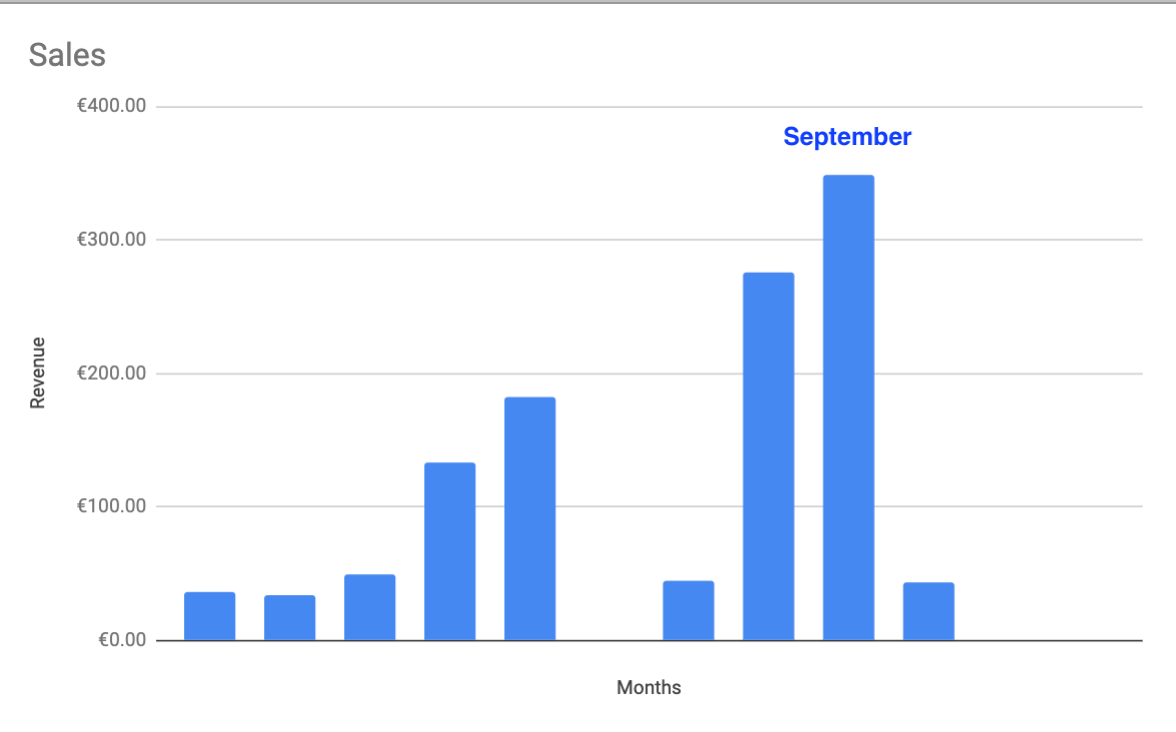 My takeaways
Etsy made the decision to combine their internal Promoted Listing with Google Shopping into a combined ad platform called Etsy Ads. The new platform uses an algorithm to determine where to show your products. On Etsy or on Google. Sadly, the algorithm is a total failure. With almost no control and transparency, some sellers paid over 1.50$ for one click, while previously only 0.08$. In extreme cases, I saw a guy paying over 9$ For 2 clicks! Yep, this is when you let technology do all the work for you.
As a result, I experimented only 30 days with it, with a budget of 10$ per day.
I paid around 145$ to generate a revenue of 190$. This is no where profitable and I wish you could see the tears in my eyes.
Nevertheless, the best thing I took from the ads debacle are the statistics. I know what keywords buyers used to find my products, how many views it took to get a click and which items performed best.
This is a tremendous help in the long run to understand my customer base.
For October, I set my daily budget to 1$ / day to see what happens and increase my product count at the same time. Target is 300 products at the end of the month to get ready for Q4.
Holy mama, I can't wait!
Expenses
When I looked at my expenses for last month, I was actually a bit surprised. I didn't expect to spend as much as last month, since I didn't do any extensive shopping sessions on Lazada. Yet, I managed to spend the same ?
But then I remember that I went to Pai, which was almost 100€ for a single weekend. Also, I had my first utility bills coming in since I moved into my apartment in August which added up quickly.
Nevertheless, I managed to stay under 1100€ for one month, which includes weekend trips and going out and eating out every single day. Not bad after all.
Here is quick breakdown: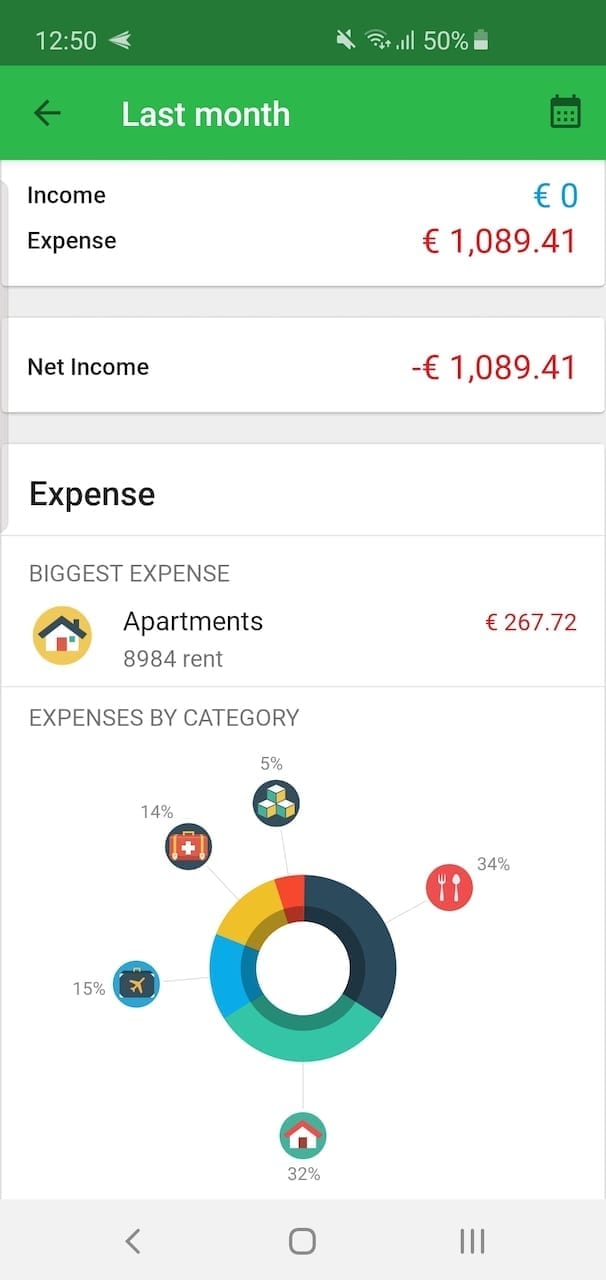 What I've been experimenting withContinuing my sleep experiments with one radical change:
No Coffee!
Gosh, I can't tell you how tough it was and still is. Especially coming from someone who's first business was actually a coffee maker.
I really have a love and hate relationship with coffee.
I love the smell.
I love going to a coffee shop Saturday morning and doing some reading.
I love getting a coffee after lunch before getting back to work.
I love the process of mixing my coffee with coconut oil and soaking up the smell.
Coffee has a special place in my heart, yet I hate how much the caffeine effects my overall stress level.
As a result, I decided to go cold turkey and replace coffee with matcha tea and water. I tried so many things before to optimize my sleep, but was always a little bit hesitant to turn my back on coffee. It wasn't easy though.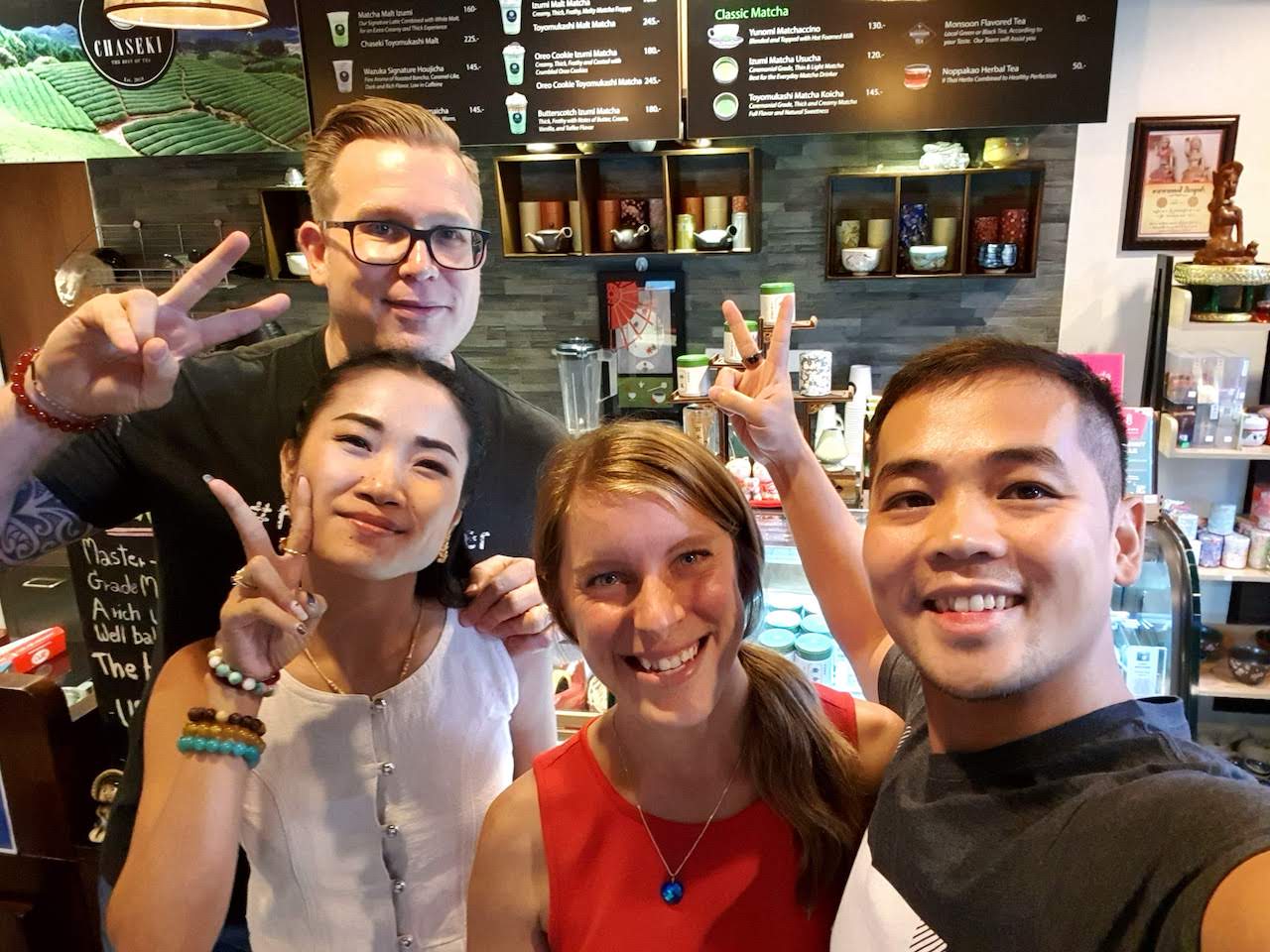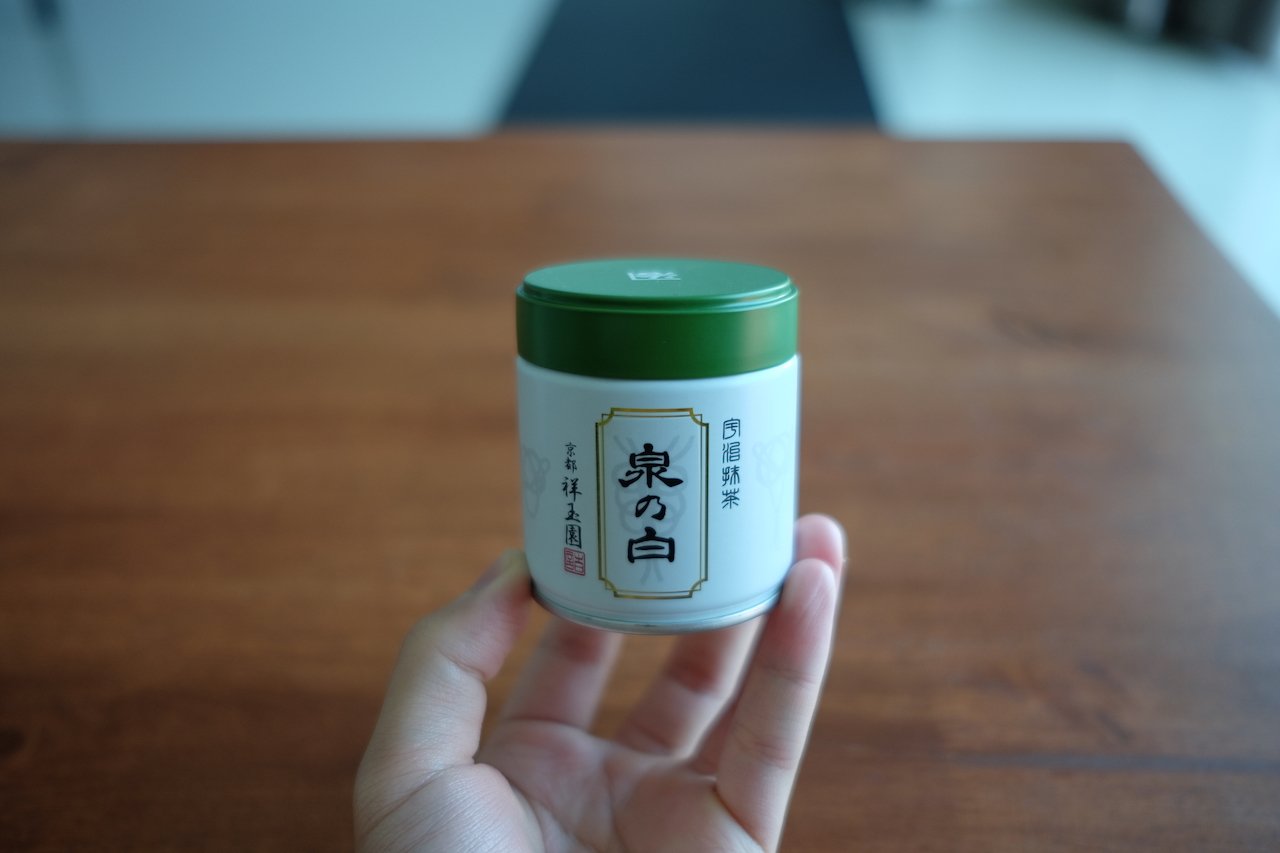 Armed with my new matcha supply that cost me half a fortune, I started to mark all the important dates of my journey in my calendar to track my progress: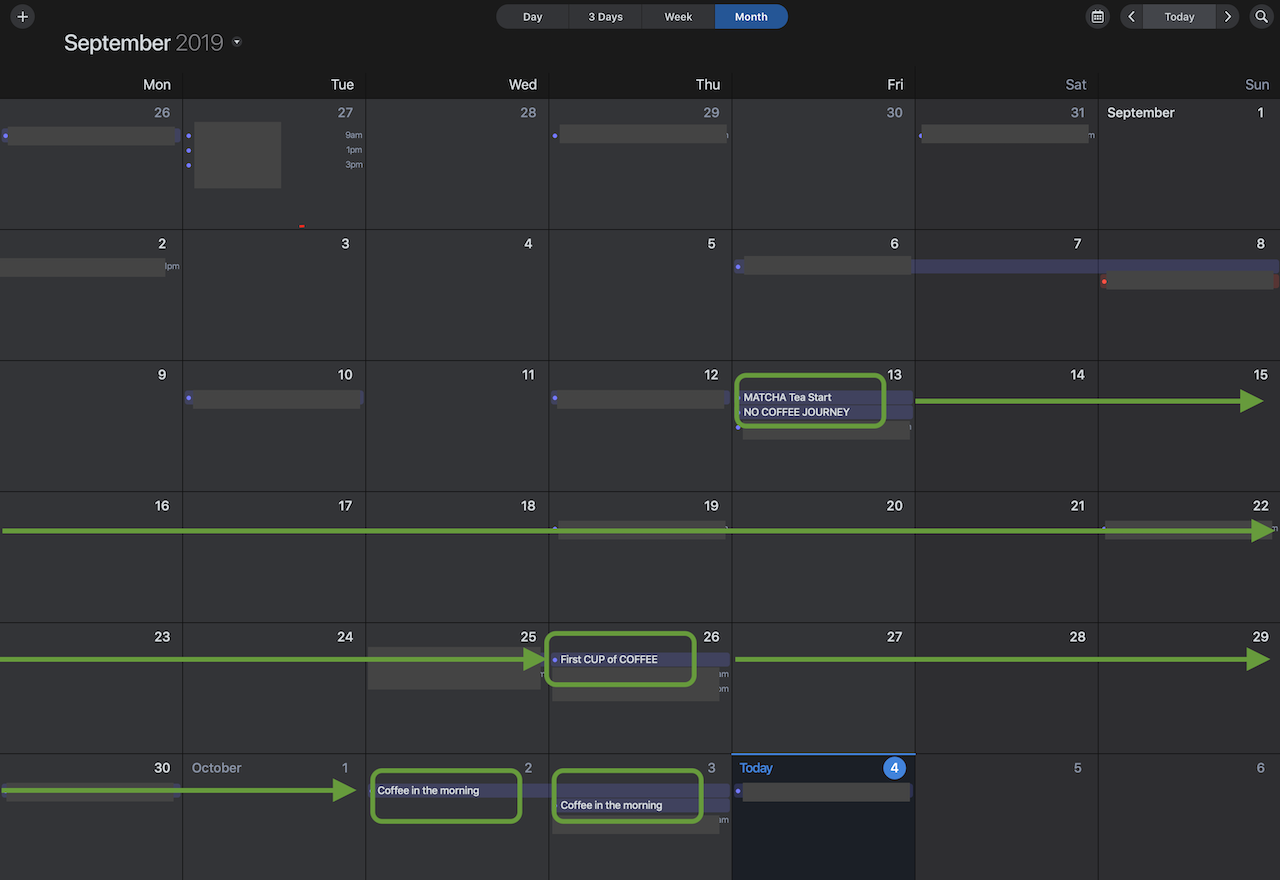 As you can see, I managed to go without coffee for almost two weeks but then got weak. In my defense, I'm still trying my best to choose matcha tea over coffee. At least until I run out of matcha.
But when I had coffee, I only had one cup a day in the morning.
So, what difference did it make?
Honestly, I subjectively felt a small difference:
My wake ups during the night became less. I felt like I was sleeping through the night more consistently
I got tired in the evening faster which helped to fall asleep easier
I had slightly more energy throughout the day. I guess it's because of the matcha tea L-theanine that releases caffeine more smoothly.
These are my observations so far. Long term impacts will show through my Oura ring but I need more time to collect data.Wrapping upOverall, September has been a good month. I'm happy to be back on track with client work and actually making some income. Sales of my business are going up which helps the algorithm to rank higher and I feel that I'm getting healthier every day with the experiments that I've been doing.
I'm also looking forward to October from a business perspective as it marks the beginning of the shopping season and people in my mastermind can't stop talking about it.
Honestly, as I'm just setting the foundation this year, I'm not expecting for anything mind blowing to happen and I'm more in the run to crush it next year. But who knows. You will get some updates very soon.