Thailand – Recommendations & Cost Breakdown For Newbies
A big Sawadee Krap from Thailand! If you follow my Instagram, then you probably know that for the last couple of…
A big Sawadee Krap from Thailand!
If you follow my Instagram, then you probably know that for the last couple of weeks I've been exploring the Land of Smiles.
In my last post I shared that I just quit my Job in order to focus on my side hustles and why I chose freedom over security.
After my job ended, I decided to take a short break and travel to asia.
I love asia for several reasons:
traveling around in asia is super cheap & simple

I love asian food and the food culture

asian cultures are very similar so I feel at home

everything is super cheap, you get more for your money

the landscape and nature is mind-blowing

the weather is almost always nice

I don't need to pack a lot of stuff, only t-shirts, flip flops and shorts
Why Thailand?
Reason #1 – A paradise ran down by tourists
Thailand has always been a mysterious country for me.
For one thing, you always associate this country with sex tourism and ladyboys and for the other it is one of the cheapest travel destinations regardless of the heavy tourism and the incredibly beautiful beaches.
It is also most likely the first country to get hooked on backpacking. Everything is so affordable and easy to travel that tears of joy run down your face when you pay 1€ for a good Pad Thai or book a flight for 30€ to fly across the country.
For that reason Thailand is considered as one of the top destinations in asia to relax, enjoy the good life and get away from all the annoyances that we have to deal with in daily life.
The downside is of course that it doesn't feel very authentic anymore because everything is focused on the tourist industry. But that's what globalization brings with it.
For that reason, I had to see it myself to make my own judgement.
I always heard from other people how bad it is and most of the time I tend to avoid spots that are too busy so I've never been in Thailand myself.
So I decided to give it a shot this time and see what all the rumors are about.
This article will be focused on my travel experience and what I have been up to for the last few weeks with cost breakdown so you can get a feeling of how much things cost here. It's just too good to be true 😉
I will not go into the details of what you can do in each area because this is already covered in countless travel blogs.
Reason #2 – A cheap country to start your location independent business.
The second reason is probably my main excuse why I chose Thailand over something else: Chiang Mai in Thailand is considered as one of the biggest Digital Nomad hubs in the world.
I've been looking into this topic for a while now and follow people on youtube such as JohnnyFD or Chris the freelancer who are based in Chiang Mai.
Also the infamous Co working space, Punspace, where many Digital Nomads get started is located in this Northern City of Thailand.
I wanted to see what makes Chiang Mai so attractive to foreigners also for the reason if I would consider moving to Chiang Mai myself.
I believe that this topic deserves an own chapter so I will create another article with focus on that.
Alright, let's get started.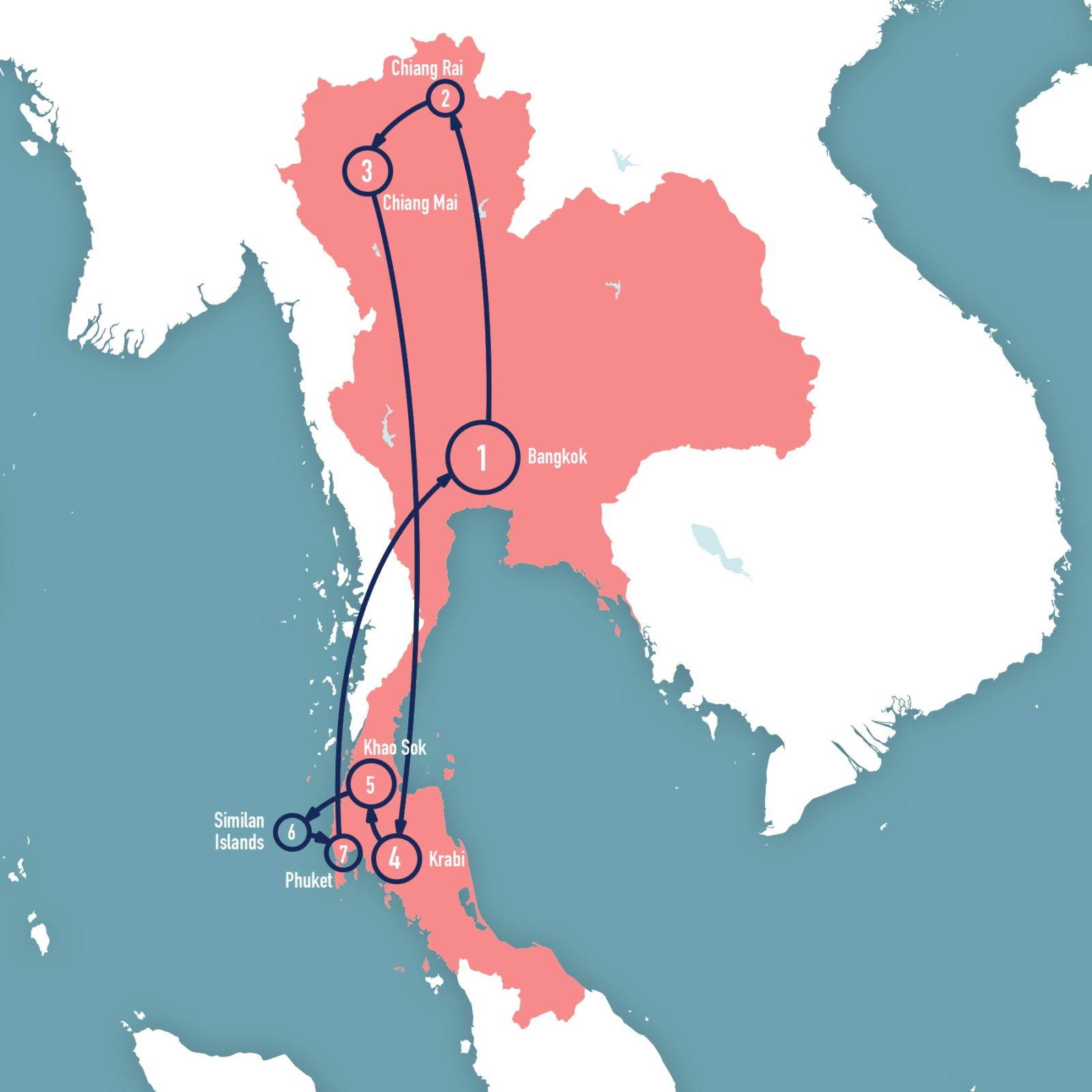 Bangkok
Like most travelers, I started my journey in Bangkok after arriving at the International Airport which name no one can pronounce: Suvarnabhumi.
I didn't plan to spend too much time in Bangkok because I knew that I would come back before my travel ends.
I booked a cheap hostel for the first three nights, which was enough time to do the most touristy things so I can cross them off the list.
Because I only had 2 full days in Bangkok I mostly spent my time walking around in the city center and visiting the main attractions like the Wat Pho and the Grand Palace.
Getting around in Bangkok is fairly easy. You can get around by Bus, Taxi, Motorbike Taxis, Uber, Tuk Tuks or use the Metro.
There are several train systems connecting the main parts of the city. Even though the first train system was established in 1999, all the systems seems to be quite up to date and easy to understand, even almost 20 years later.
If you have ever been to big asian cities you would know that they all have one thing in common: They are big, loud, dirty and chaotic.
I didn't expect Bangkok to be any different and wasn't surprised when I arrived.
Opinions about Bangkok are quite divided. Many people dislike the city because of the reasons mentioned above. But then there are others who just love the vibe and diversity of the city.
But then most people only stay for 3-4 days and build their impression based on that.
They don't really take the time to explore the different parts of the city. If you ever visit Bangkok, give it a chance and try to explore a bit more.
Cost Breakdown
Airport Rail Link to City Center: 1.20€ !!! (45baht)
Hostel: 7.00€/night (250 Baht)
Average meal incl. drink : 5.50€ (200 Baht)
Coffee in Shopping malls: 2.70€ (100 Baht)
Bus: 0.25€ (9 Baht)
Chiang RaiMy plan was to visit the north at the beginning of my journey and then move towards south.
Usually I would have taken a train or a night bus to travel from one place to the other. It not only keeps travel cost low but also can be an interesting experience and opportunity to meet with other people.
Unfortunately by the time I wanted to book the tickets(12go.asia is the best platform!) everything was already sold out so I took the plane from Bangkok to Chiang Rai.
Chiang Rai is the biggest cities in the north of Thailand and famous for probably one thing: The White Temple.
I was happily surprised to see that the city was fairly quite and not much filled with tourists yet.
Prices for food and accommodation was more than reasonable: I payed 550 baht per night (~15€) for a private room with queen size bed in the center which I consider as a great deal. Meals were available for an average of 40 baht (~1€)
What I really liked about Chiang Rai is the local atmosphere. I really loved the night bazaar with live music and the food court.
The White Temple was a bit outside of the city so I rented a motorbike to be a bit more independent. Tours to the temple from the center started at 1800 baht (48€).
The price for a motorbike rental was 200 baht a day(5.5€). You don't need to be a genius to do the math.
Cost Breakdown
Hostel: 15.00€/night (550 Baht) for private room
Average meal incl. drink: 4.00€ (~150 Baht)
Motorbike Rental: 5.50€/day (200 Baht)
Gas: 1.65€ for full tank (60 Baht)
Mango Sticky rice: 2.70€ (100 Baht)
Entrance White temple: 1.35€ (50 Baht)Chiang MaiThis one was a personal highlight for me.
Chiang Mai was a destination I definitely had to visit for the reason I mentioned at the beginning of the article.
I took the bus from Chiang Rai to Chiang Mai for around 10€ and arrived 3.5h later.
I found a really nice hostel directly in the center which just opened 2 months ago.
The owner, a young 23 year old girl, had a background in architecture and you can tell that the hostel was designed with intention.
From all the hostels I've been too, none of them had such a clean aesthetic to it. Maybe it's just because of my design and architecture background why I loved it so much.
A big part that also contributed to my wellbeing was the friendliness of the staff.
Everyone was super nice and luckily I could connect with them also on a personal level. We had a lot of fun together and they give me the sense of being home.
I really enjoyed Chiang Mai as a city though. I didn't really felt that I was in a less developed asian country. This city has such a good infrastructure and I can totally see why foreigners would move here:
Lots of things to do in and outside the city

the airport is very close so you can get away very quick and fairly cheap

many westernized facilities

renting an apartment is cheap and requires less bureaucracy compared to other countries

great coffee shops with fast internet connection

very affordable restaurants
Unfortunately during march and april it is not the best time to visit the north of Thailand because farmers start to burn their fields and prepare for the next season. The air quality can reach dangerous levels that can cause severe health issues.
I personally didn't feel that much of a difference compared to Bangkok. I guess it hasn't fully started when I arrived in early march so I was lucky.
All of the touristy things that Chiang Mai has to offer, I didn't do any of them. My main purpose for visiting was to get a feeling for the city and potentially connect with likeminded people. But more on that in an upcoming article.
Cost Breakdown
Hostel: 10€/night (360 Baht)
Motorbike rental: 6.70€ (250 Baht)
Cinema: 3.50€ (190 Baht)
Foodcourt meal incl. drink: 2.00€ (80 Baht)
Punspace Co-Working 1 Day Pass: 6.00€ (225 Baht)
Krabi
After staying almost 2 weeks in the northern parts of Thailand I felt that it was about time to get some fresh air.
I took a flight from Chiang Mai to Krabi for about 74€. If you are in Thailand for the first time and going to Krabi: Krabi Town is not the main area which many people tend to mix up. It is actually Ao Nang which is the main area with all the restaurants, hostels and beaches.
As I already expected, the south of Thailand is so much more touristy compared to the north. This also reflects in the prices which is almost double from what I paid in Chiang Rai/Mai.
The other thing that was obviously more annoying are the people trying to sell you stuff and talking to you all the time…You need a taxi? You want food? Where do you go?need a place to stay?
Some of them were so annoying and blocking my way so I just wanted to punch into their face.
The first days I spent at the beach to relax a little bit. Railey and Phranang beach are just wonderful places to be. Unfortunately I underestimated the sun and got heavily burned on the back. I always thought that my asian DNA would give me a slight advantage but I probably lived in Germany for too long.
Besides wonderful beaches there was not much to do in Krabi itself. Island hopping is very popular but I was not keen on getting on a boat filled with loads of other tourists.
Instead I rented a motorbike and went to the Tiger Cave Temple – a temple sitting on top of a mountain that has a slightly misleading name.
If you were hoping to to see any tigers there then you would be greatly disappointed.
No tigers as far as I could see. Only 1240 steps to overcome if you want to get a panorama view on Krabi Province.
And on top? Just another big ass buddha.
Cost Breakdown
Hostel: 16€/night (600 Baht)
Longtail Boat to Beaches: 5.35€ return ticket (200 Baht)
Motorbike rent: 5.35€ (200 Baht)
Gas: 1.60€ (60 Baht)
Average meal incl. drink: 5.35€ (200 Baht)
Beer: 3.20€ (120 Baht)
Khao Sok
The beautiful thing about traveling without having a predefined plan is that you can make adjustments along the way and follow recommendations of other people.
I actually had no intention to do get dirty or do any hiking during my trip but Khao Sok National Park was recommended by some people that I met in Krabi.
The bus from Ao Nang to Khao Sok took about 3.5h and costs on average 350baht (10€) with an "air con" Minibus.
I stayed one night in the city and then booked a 2-Day tour to the park with overnight stay in a small bamboo house in the water.
Sometimes it's just great to get away from civilization and live with the bare minimum.
I didn't become a jungle expert after all, but definitely enjoyed walking bear foot all day and getting dirty and being all filthy 😀
Cost Breakdown
Hostel: 5.35€/night (200 Baht)
2 Days/1 Night National Park Tour incl. national park fee: 75€ (2800 Baht)
Beer: 2.15€ (80 Baht)
Average meal: 2.40€ (90 Baht)
Khao Lak
The last thing on my bucket list for Thailand was to dive with whale sharks in Surin Islands. I had great hope to shit in my pants while diving with gigantic animals.
Similan and Surin Island are supposed to be the best Dive Spots in Thailand and also belong to the best ones in the world with visibility of 30-40m, wonderful coral reefs and underwater wildlife.
I met wonderful people along my travels who were also interested in diving so we went for a Liveaboard experience with Sea Dragon: living on the boat for 3 days and diving all day (12000 Baht)
I have never done this before and thought it might be a good thing to try out something new.
However, the Liveaboard only went to Kho Bon and Similan Islands so I missed out on Surin Island this time.
We had 3 very intensive days of diving and I personally didn't expect it to be so exhausting.
This was our daily schedule:
6.30 – Get up
6:45 – Briefing
7:00 – 8:00 – Diving
8:15 – 8.45 – Breakfast
9:00 – 10:00 – Beachtime
10:15 – Briefing
10:30 – 11:30 – Diving
11:45 -12:15 – Lunch
12:30 – 13:45 Break
13:45 – Briefing
14:00 – 15:00 – Diving
15:00 – 16:45 – Break
16:45 – Briefing
17:00 – 18:00 Diving
Especially in rainy days with rough waves it is very hard for not trained people to cope with the environmental changes, wet – dry, warm – cold, low – high pressure, moving up, down & side ways while eating and digesting.
After 3 days I personally had enough and was happy to be back on land ?
Unfortunately I didn't see any big ass animals such as whale sharks but it was still a wonderful experience that I can recommend to everyone who is passionate about diving.
Cost Breakdown
Hotel : 16€/night (600 Baht)
Hostel : 8.50€/night (320 Baht)
Average meal incl. drink : 6.70€ (250 Baht)
Liveaboard 3 Days / 2 Nights All incl. : 321€ (12000 Baht)
Bangkok Vol. 2My journey is slowly coming to an end. In order to go back to Bangkok I had to fly from Phuket and decided to stay there for 2 nights.
Phuket is probably known as the most famous and most touristy area in Thailand.
I was not so keen on going there but found out that most tourists and party people actually stay at Patong Beach in the west.
Fortunately the bus from Khao Lak stopped right in the center of Phuket Town and I only had to walk 5 min to my Hostel.
Phuket Town turned out to be surprisingly charming. I really liked the old Town Quarter that reminded me very much of Georgetown in Penang, Malaysia.
It was also time to say good bye to my travel companions that I spent the last 10 days with. That's the sad thing about Solo traveling. On the one hand you have more freedom and always meet nice people, but on the other hand it is hard to split ways after spending so much time with each other.
Nevertheless we have great memories together and I hope to stay in touch with most of them.
Back in Bangkok
I spent my last few days in Bangkok before heading back to Germany. I took the time to explore the city a bit more and luckily I had an old colleague of mine showing me parts of Bangkok I haven't seen before.
As I mentioned earlier, I believe that everyone who is initially shocked from the city should give it another shot.
The city really has more to offer than Khao San Road, the Grand Palace or the Hangover Hotel.
Just spend a couple of days more and you discover new corners that are far from the tourist attractions that you learn to appreciate.
My quick summary
Thailand is a wonderful and very cheap country to get started with traveling

the North is more charming than the South (less touristy, cheaper, more relaxed)

the beaches are amazing and also amazingly crowded

easy to travel around with bus, train and cheap flights

there is a lot of sugar in the food and drinks (like many other asian countries)

great place to be vegetarian, less great to be vegan (fish sauce)

fresh fruits such as mango and pineapple everywhere!!!

fantastic hostels and hotels for little money

my greatest expenses were spent on accommodation and sightseeing with 65% of total costs while food only made up 20%
If you plan your trip to Thailand, here is a very generous estimation for 4 weeks traveling:
Flight ticket
(return)Accomodation
(15€/day)Food
(5€/meal)Sightseeing