August 2019 – Travel & Income Report
Welcome back to another monthly round up where I share the latest updates from my location independent journey. I'm back in…
Welcome back to another monthly round up where I share the latest updates from my location independent journey.
I'm back in Chiang Mai after a month of enjoying the heck out of life in Malaysia.
August was my second month with no client work and I used the time to push my personal projects forward. I wanted to get as much done as possible because I won't have much mental energy left once I'm back on client projects.
As a result, it has rather been a quiet month in terms of traveling and so I don't have much exciting adventures to share.
I talked to a friend recently and during our conversation he said: "I'm not the one flying around Asia relaxing on a beach" which made me chuckle.
A lot of people actually don't really get the full picture of what I'm doing but that's OK. Which is the reason why I'm putting together these monthly updates … even though I sometimes don't feel like it.
While it is important to share moments when life is great, it is even more necessary to also put lights on the moments when life is not glamorous so people get a realistic sense of this lifestyle. Sometimes I'm not motivated to write these articles and many times I don't even know what to share.
I ask myself what's the point of wasting my weekends on an article that no one is reading, but then I keep reminding myself that it's just all excuses.
So I created a shirt for myself that I'm wearing in the moment of writing this article….
One of the people I look up to is Seth Godin and he is talking a lot about the so-called "Writers Block" that a lot of people are complaining about.
But whenever he comes across people who are saying this, he simply responds: "Show me your bad writing…". This usually results in no comments.
The point of the story is, there is no such thing as a "Writers Block". People create this mental barrier for themselves to give them an excuse of not doing the work. But the truth is, there is not such thing as a writers block, but only a moment of bad writing or bad output.
Well, you would think that with his reputation it's easy for him to say, but then this guy publishes a blog post every single day and now has more than 7000 articles online.
If you get comfortable with the fact that you cannot always produce great content, then life becomes so much easier. And to be honest, most of the time what you produce will be pretty shitty. But producing shitty things is ALWAYS the necessary stepping stone to producing quality.
Shitty quantity will eventually lead to extraordinary quality.
Long story short, this is my excuse of producing a shitty, non adventurous monthly update 😉
Online Business
Let's start with my online business in this update because this is where most of my time went in August.
Quick recap: for those who still don't know what exactly I'm doing: I'm in the Print On Demand Dropshipping business (also POD).
POD is a business model, where you don't create your own products from scratch, but only the designs that will be printed on it. The designs can be applied on many types of products and the manufacturer handles the whole logistics of printing and shipping to the customer. So it's pretty hands-off.
The business model itself is nothing new and has been around for many years, but with technological improvements and many new rising online marketplaces in recent years, it just became so much easier to get started. Print on Demand is relatively risk free when it comes to upfront investments (this is what I've learned after moving on from Amazon FBA).
However, the POD business requires a lot of time investment. Because the barrier of entry is low, the number of new competitors is rising every day.
In order to avoid the race to the bottom with prices, it is important to focus on quality designs, storytelling and brand building (things that actually are important for any kind of business -> hint: Purple Cow by Seth Godin).
As a result, I spent a lot of time tweaking my brand and producing quality designs. In fact, I produced more designs in a month than I ever did before in a year.
What really made the difference was the system I created to have an organized approach to this challenge.
Batching was the Key
When I started out, I jumped around a lot because of the lack of experience. There was no focus and no process.
Because I set a much higher goal for myself this time, I had to come up with a way to make it happen and break everything down into achievable chunks.
My goal for August was to produce ~100 new designs for my store to push it across the 200 mark (at the end of July, I had around 94 products online).
It took me half a year to have 94 products in my store and now I'm trying to more than double this in a month?
At first, it sounded impossible but when I broke everything down into daily goals, it felt much more feasible. I just had to create 3-4 designs EVERY day. If I would spend 1h on one design, it would take me 4h per day to complete the task. DONE!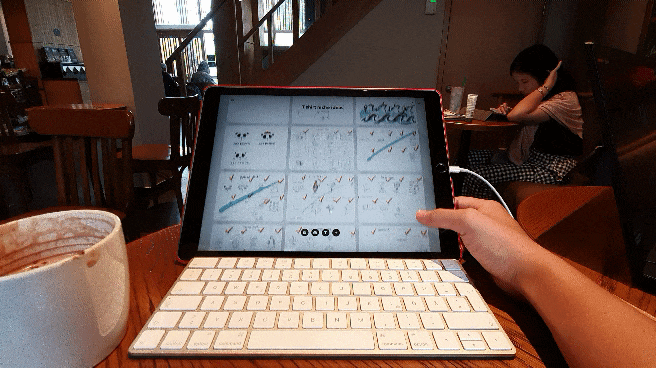 I researched 18 topics that have potential and brainstormed 8 designs for each = 144 designs.
Having 200 products may sound a lot at first, but the truth is: most successful POD business owners have somewhat between 1000-2000 products to make a decent 6-figure income. There is still along way to go for me.
However, because I put more effort into brand building and storytelling, I hope to achieve similar financial results with less products. But at the end of the day, more products always mean more traffic and increased chances of sales. In this case, the more the better is somewhat true.
Back to my story. Because my process looked pretty much like this …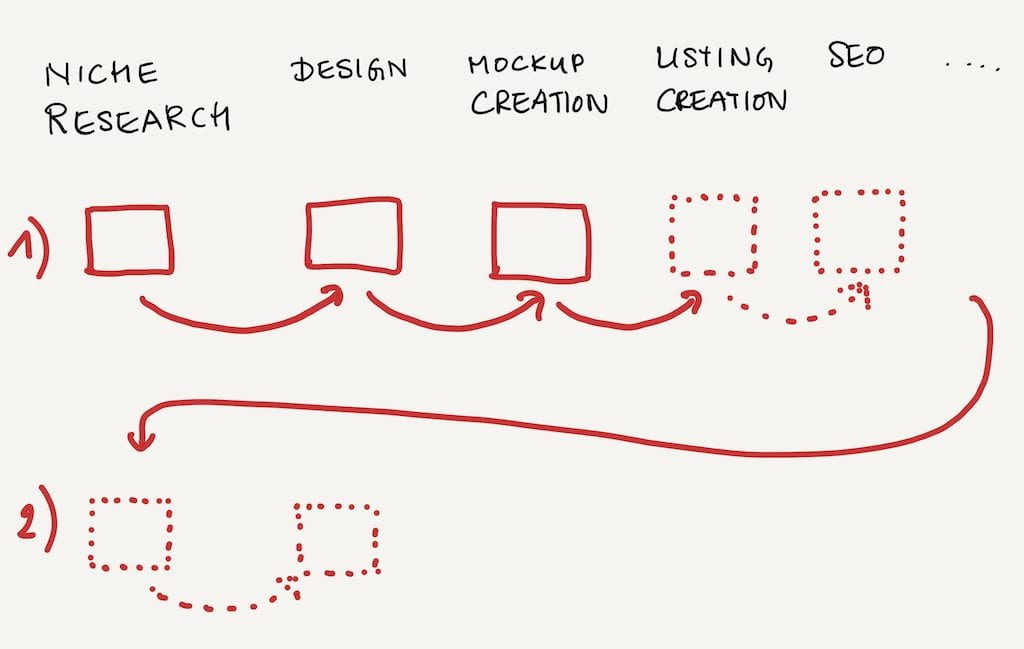 Every time I would have an idea, I would do the research and start with the design right away. For each new idea, I would go through the entire process from scratch. The downside of this approach is, that my brain needs to adjust for each step again and again.
… I had to come up with a new strategy to achieve my goal. I had to group similar task together in order to stay focused and create designs in batches. This is the process I came up with that worked for me to create even more than 100 designs and not using up the full month: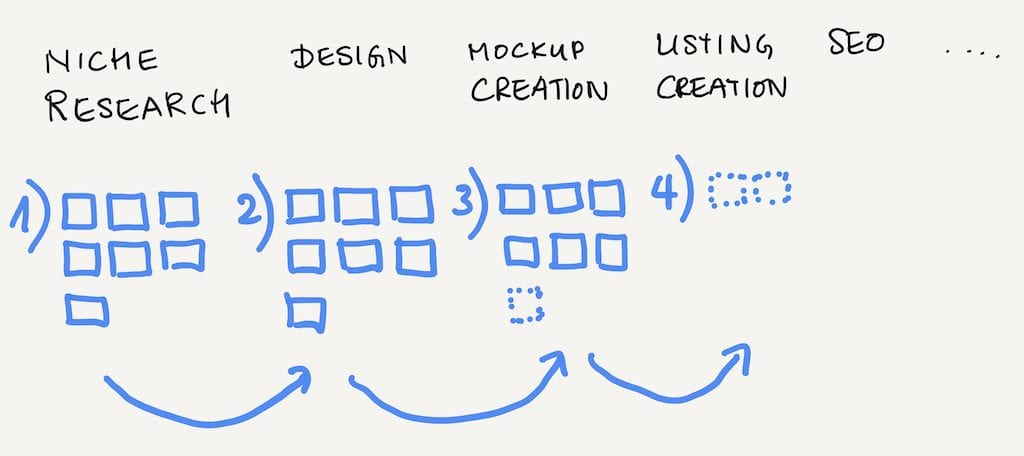 The lesson here: creating a system is necessary in order to maximize efficiency and staying focused. With a system, I managed to achieve my goals in less time. It also gave me a feeling of what I can produce in a month if I sit down and do the work.
Would I do it again?
Probably not. It had too much of an impact on my psychological well being. Just to clarify, creating the designs only made up 40% of my time. The majority was really spent on keyword research, SEO, writing descriptions, post processing designs, creating mockups, optimizing photos, uploading and creating listings, etc.
In the end, I would spend around 10h a day to get listings ready to publish.
Moving on, I need to find a middle ground between producing high quality designs without impacting my happiness.
Another important realization I had after going through that process:
If I want to scale my business, I need to hire people who can create the designs for me. Being a designer myself it is hard to give up this task, because I always want to do things myself to insure the highest quality for my customers.
However, there is only so much time I can spend and only so many designs I can create in a timeframe. Outsourcing tasks will be necessary to scale, but that will be my focus for 2020 once the foundation is stable.
Revenue in August: 275.79€ / 300$
Besides creating many new designs in August, I was also happy to see that my sales were picking up. I made roughly €275.79 with a 15% margin.
I intentionally keep my margin low at this point to ramp up sales as quickly as possible while still maintaining profitability. This helps the algorithm to rank my items higher.
While June and July have been crickets, my sales came back since August and it has been my best month so far: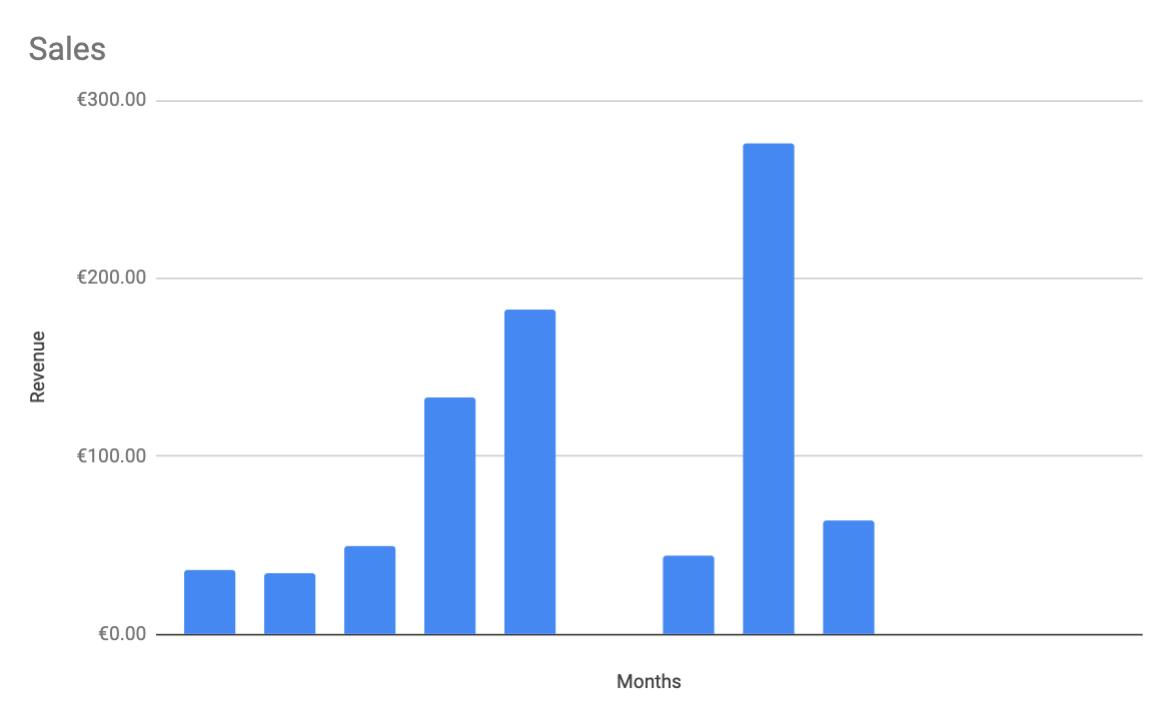 July & August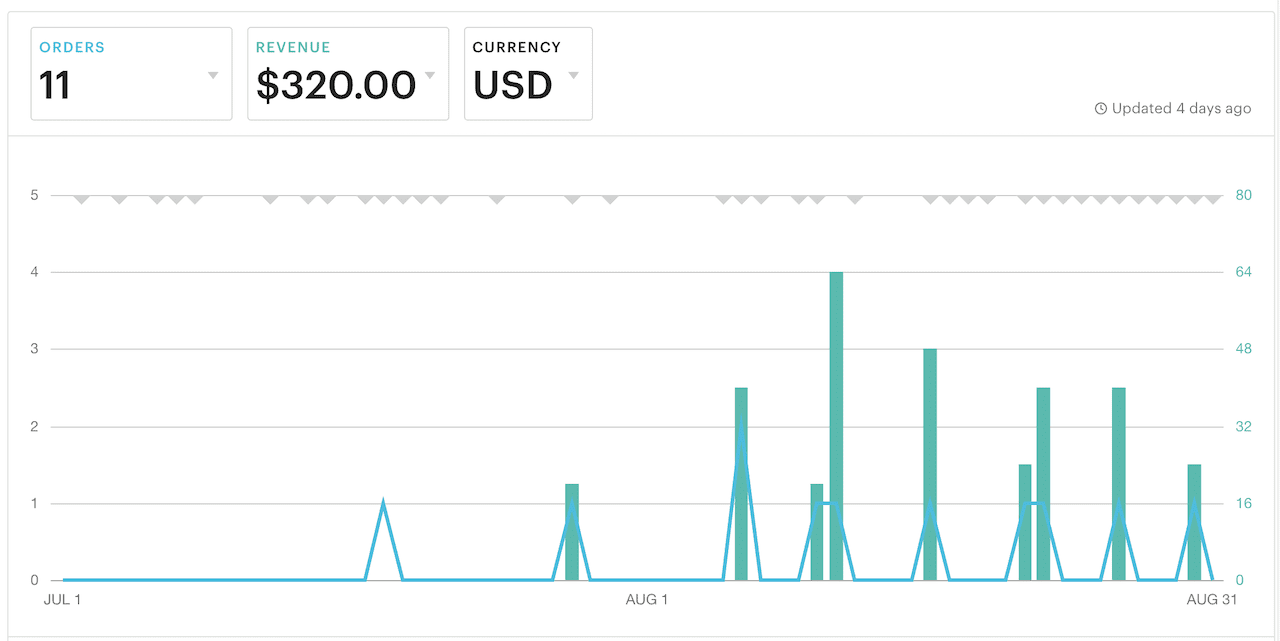 August

August Highlights of my life in Chiang Mai
Looking back, even though I created a very busy month for myself, I'm still gratefully to had some time and make new friends.
I met Angelo and Catie at a co-working day with other "Nomads". They turned out to be a very lovely couple with a similar mindset and interests, so we hang out a lot.
One of my highlights of August was visiting a professional Muay Thai Fight. It's embarrassing to admit that I haven't done it since I arrived in January.
But hey, I'm happy to be able to cross it off the bucket list now.
Here are some impressions: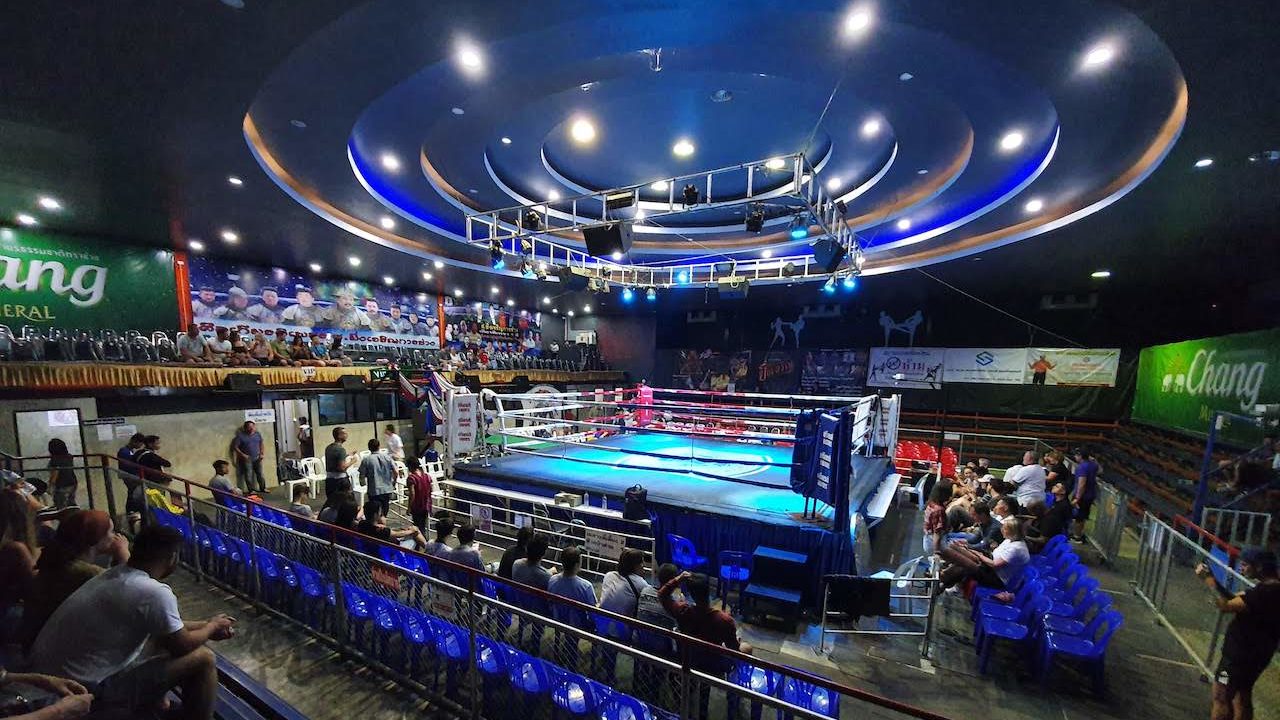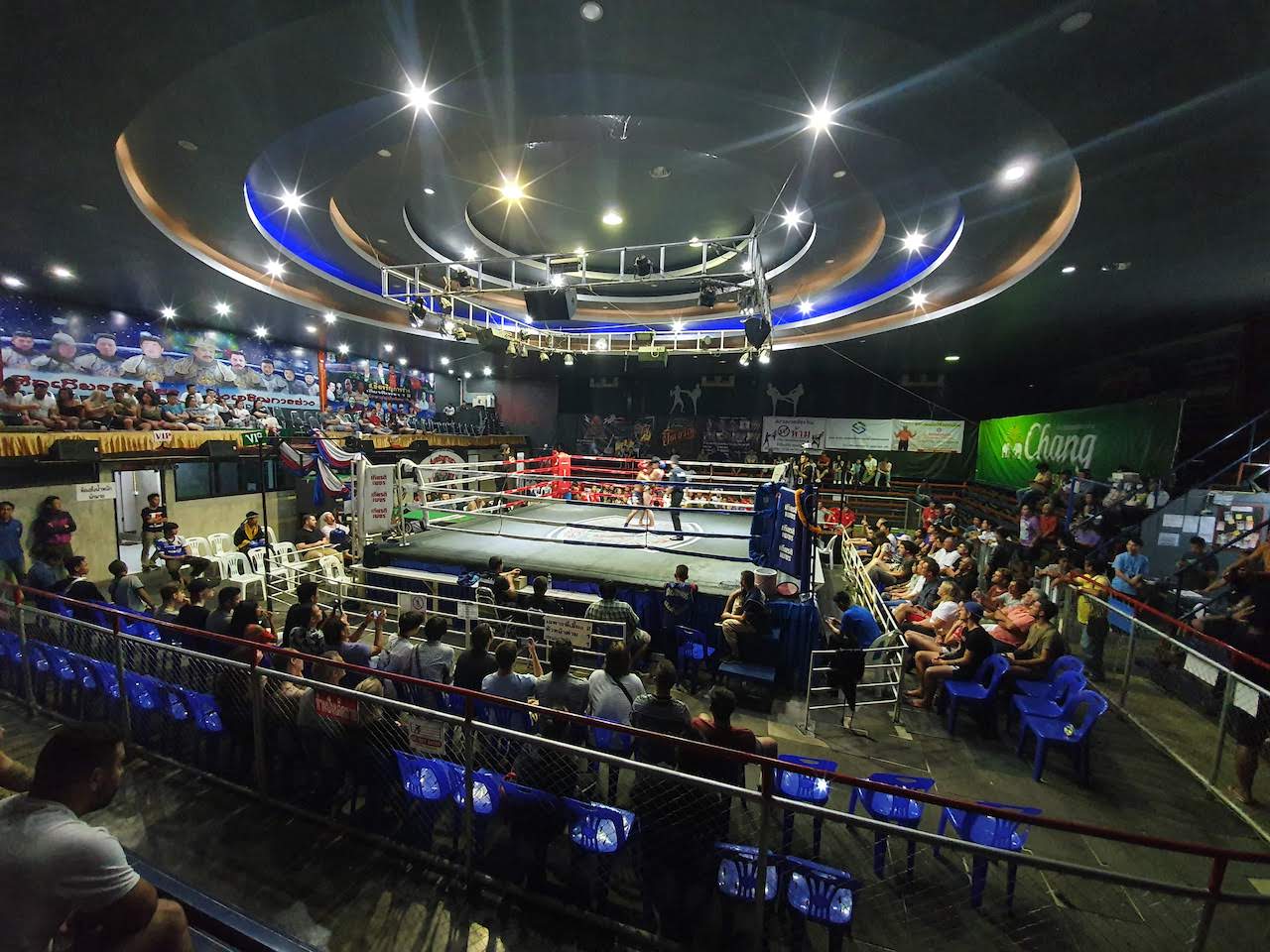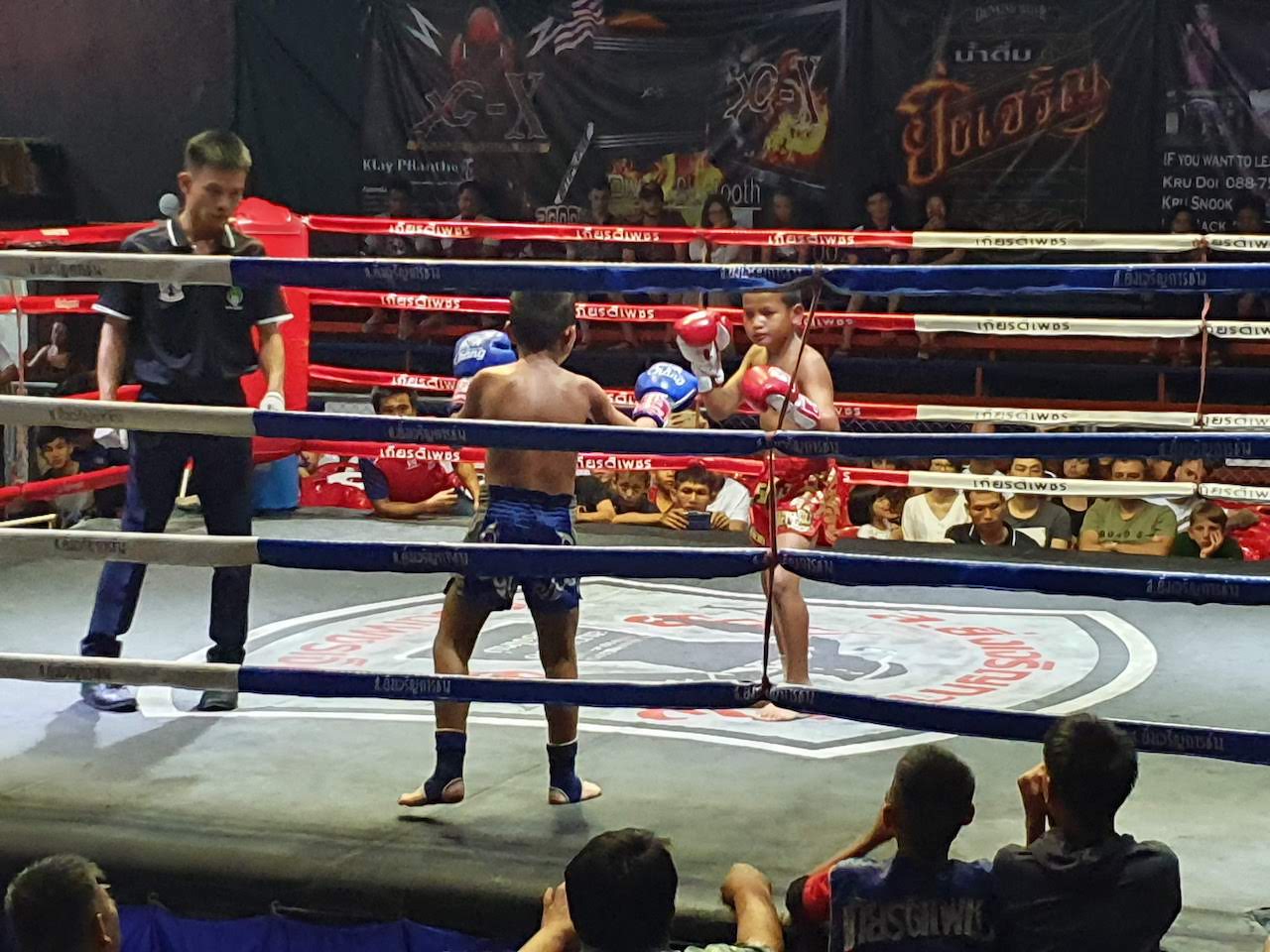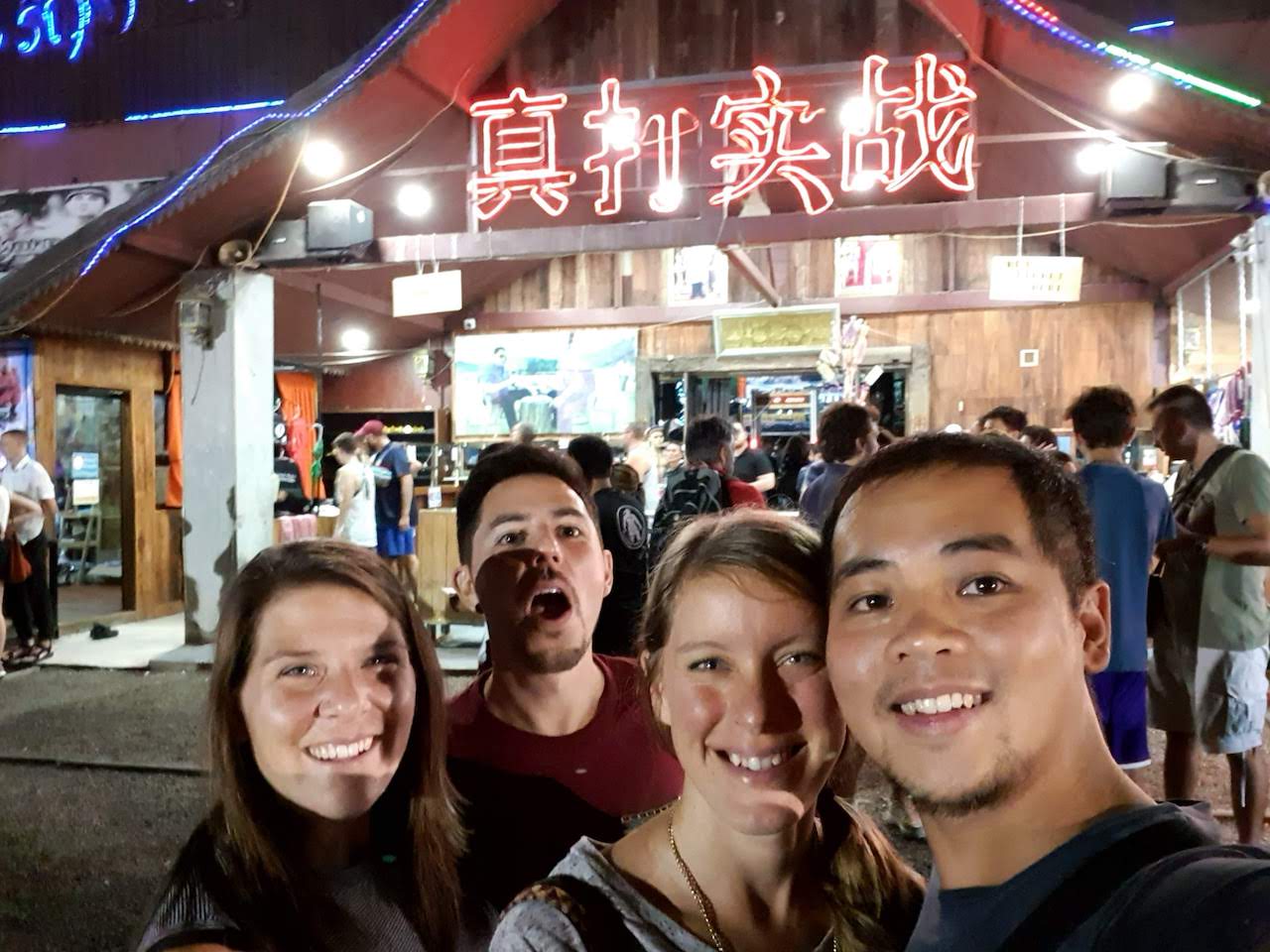 Although I was impressed by the performance of the fighter, especially the very young ones, I really struggled with the commercial aspect of the whole thing. Coming from a martial art background, It was hard for me to understand why tourists were allowed to distract fighters in such a way and jump into the ring to take photos.
But then I tried to see it from the perspective that the money these tourists pay, just keep the whole stadium afloat so that fighters can feed their families. Whether that's true or not, it's just the story that I play in my head to justify the commercialism of the "martial art".
Expenses: ~1085€/month
After traveling in July I was hoping to go a little low for August to save up a bit of money.
While my expenses where still lower compared to July, I splurged a little bit on the shopping side because, like everyone else, I love spending money more than I like saving 😀
First of all, my 8-year old flip flops broke down and I had to make an unwanted purchase. Because my previous flip flops lasted me for years, I decided to purchase quality instead of getting one of those cheap ass plastic sandals that you get on any corner in asia. It even included a built-in bottle opener!
The biggest purchase this month were actually new BT headphones. I've noticed that my previous BT headphones are slowly giving up and the terrible MIC is not good enough anymore for client calls.
So I decided to invest in the Galaxy Earbuds that play well with my S10e. The amazing upside: My S10e supports dual audio which allows me to connect two BT headphones at the same time. This way, I can listen to audiobooks with my girlfriend when traveling (we are currently listening to READY PLAYER ONE)
The third biggest category were nutritional supplements. Everything that helps me to perform better and stay healthy is worth an investment.
I spent quite a bit of money importing Multi Vitamin supplements, Ashwaghanda and Lion's Mane which is a mushroom extract to help me focus. Especially while traveling, it is important to stay healthy and I found this reliable website that delivers supplements worldwide: iHerb.
The fourth and last category are coffee mugs(plural, because the first one I ordered was too big and now I use it for smoothies and water). I drink a lot of coffee in the morning (especially when I do intermittent fasting) and found that I create a lot of waste with those coated paper cups.
For sustainability reasons, I decided to purchase a reusable coffee mug that I bring to my favorite coffeeshop. I found out that a reusable coffee mug amortizes after around 100 cups of coffee because of the greater carbon footprint. It sounds like a lot, but if I consider that I drink coffee every day, then the investment is already worth it after 3 months.With all of the above, my expenses stayed around 1200€/month which is great.
If I hadn't made those purchases, my expenses would be under 900€, which again shows, that Chiang Mai is a fantastic place to save up money while still having a good quality of life.
Here is a breakdown of my living expenses for August: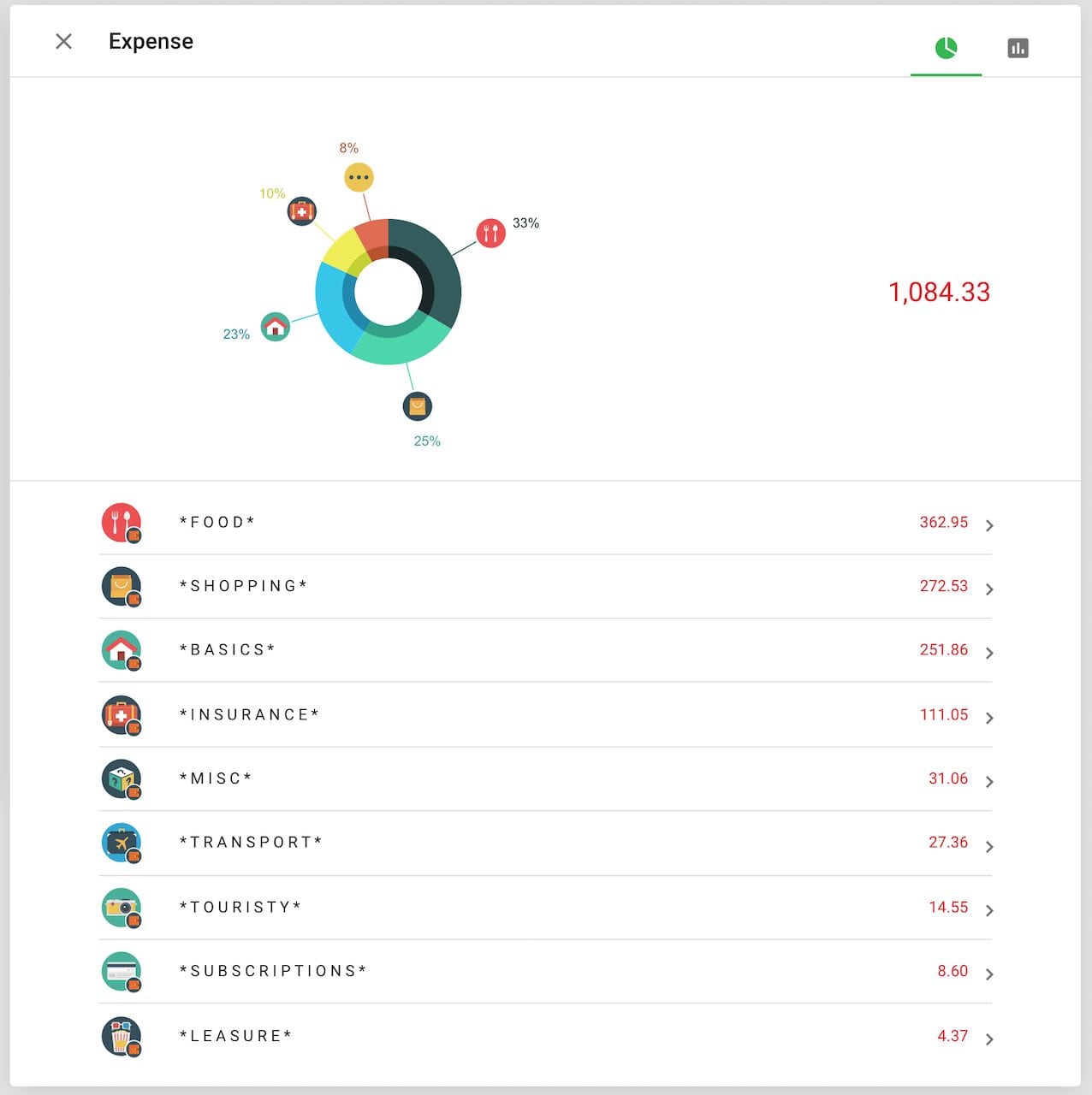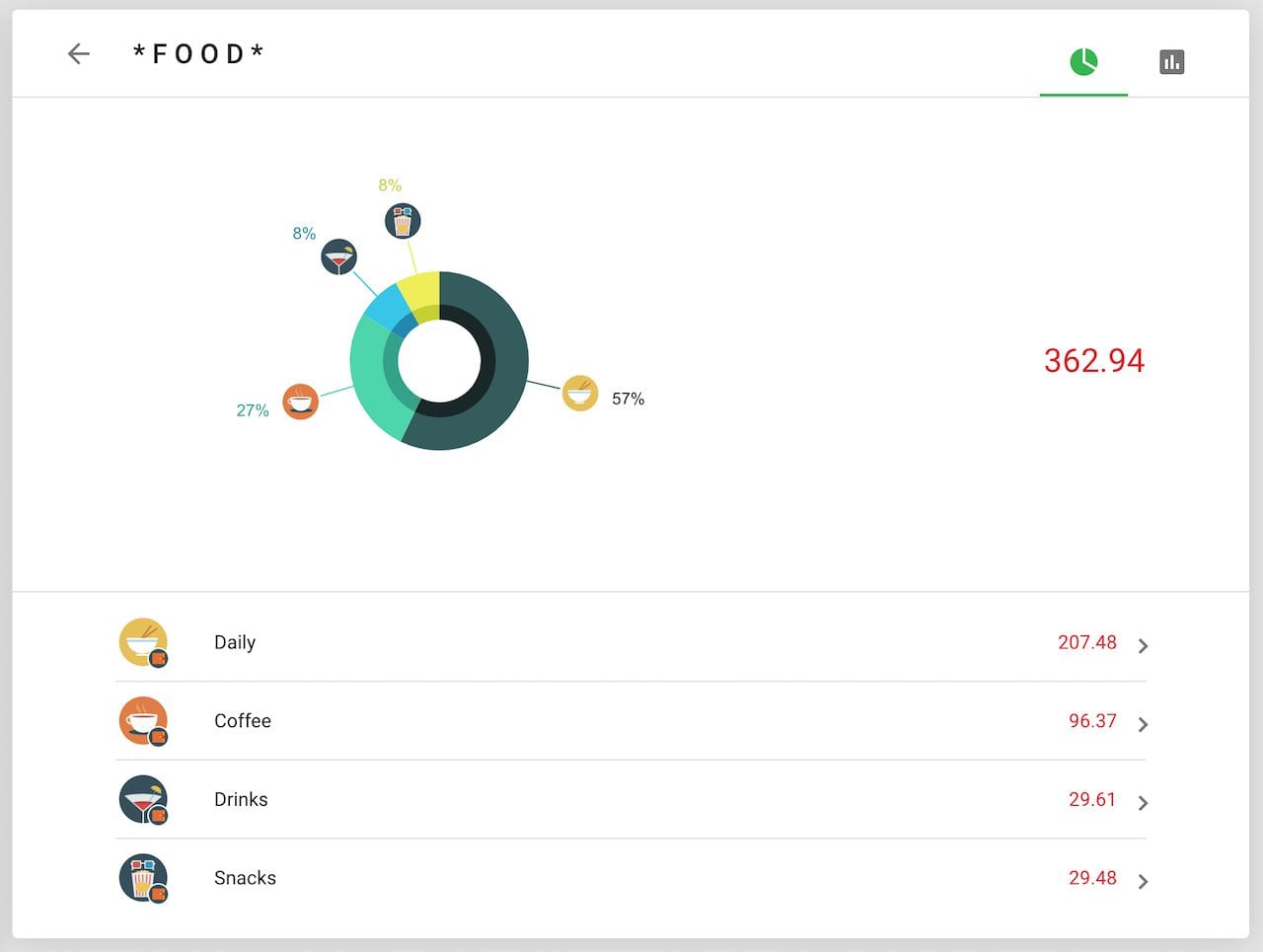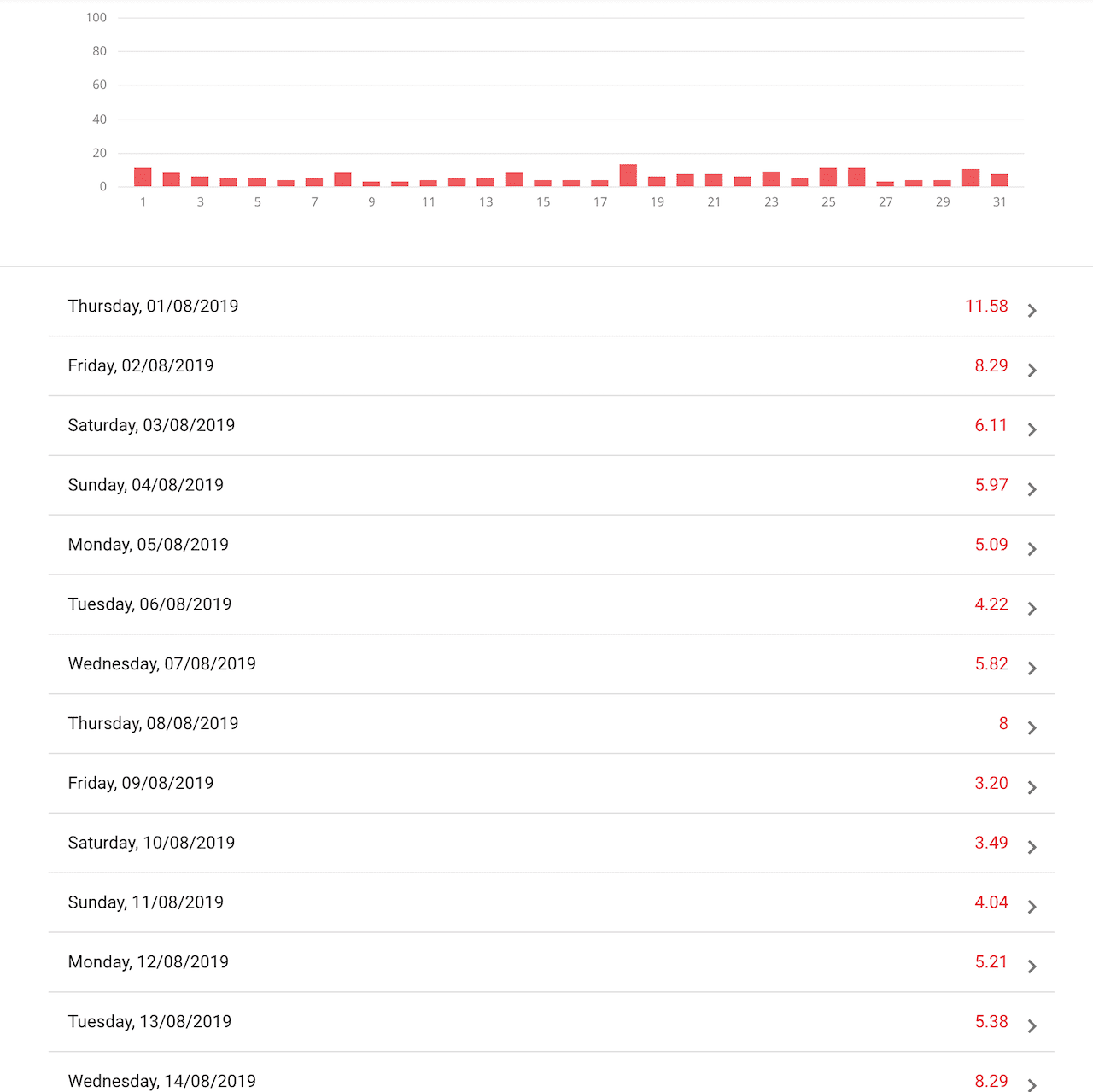 What I'm experimenting with
As you probably know, I have been experimenting with my sleep a lot lately. Optimizing it to improve all parts of my life.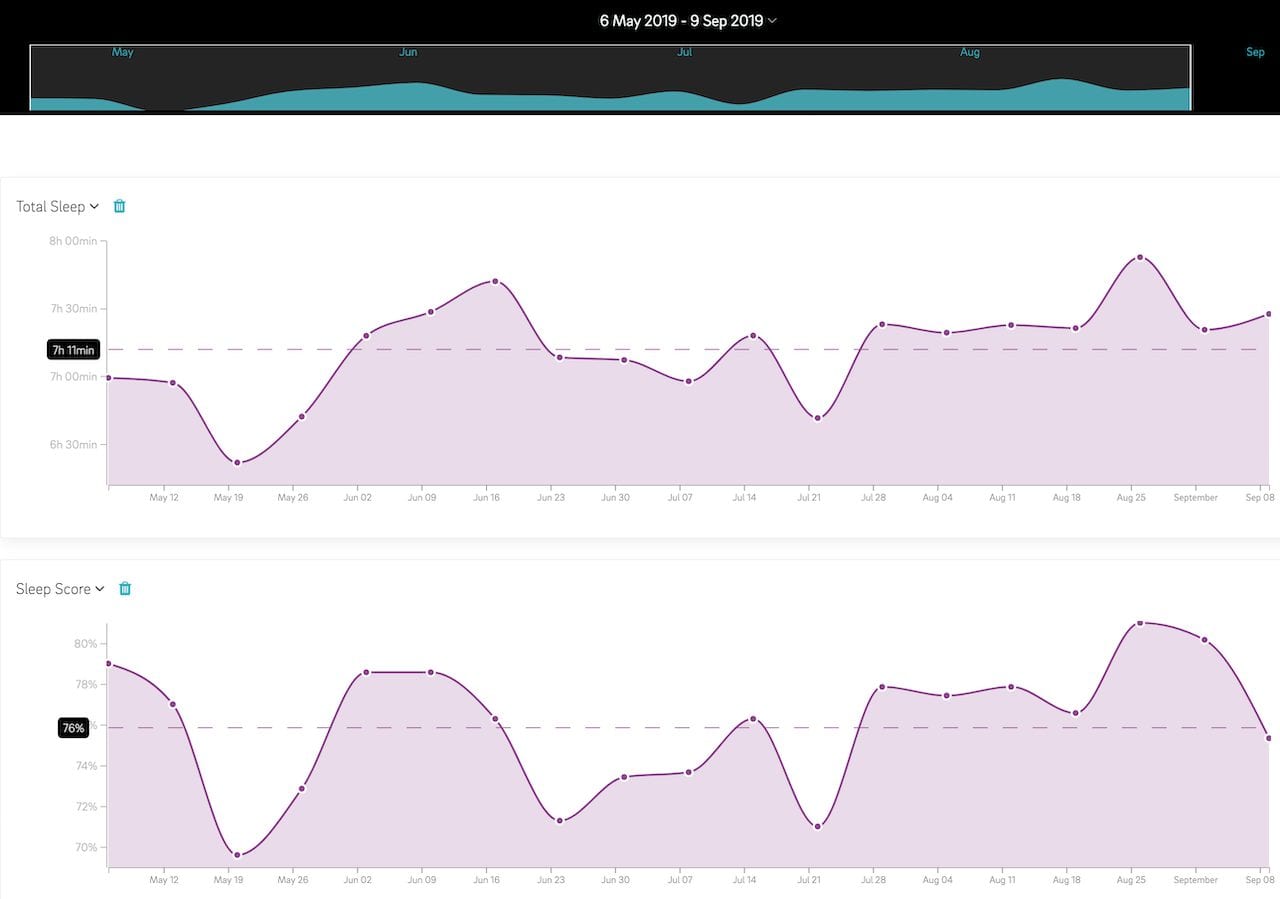 I've been wearing the OURA Ring since May to track my sleep patterns and have been making good progress towards better sleep. It's super interesting to see the trend graph and spot the reasons for bad sleep.
Here are my learnings so far:
I feel less groggy and tired when I sleep between 7:30 – 8:00 hours a night
showering cold before bed helps to lower my body temperature and lowers my heart rate which is great for recovery
having a cold room temperature increases my deep sleep
heaving early and less heavy food at night lowers my heart rate earlier so I sleep deeper
sleeping longer than 6:30h increases my dreaming phases which increases chances for lucid dreaming
one coffee a day or no coffee after 15:00 helps me to get tired faster
wearing ear plugs increases my deep and REM sleep significantly
wearing an eye mask and keeping my room dark helps me to sleep longer
I have much better sleep when I reduce screen time after 20:00 and be in bed by 21:00 for some reading session and falling asleep around 22:00 / 22:30
In addition to that, I'm experimenting with Lions Mane. I heard this tip on my favorite Biohacking podcast Bulletproof and thought I should give it a try. Dave Asprey, the founder of Bulletproof, reported significant improvements in his REM sleep, which is responsible for dreaming, creativity and mental fitness.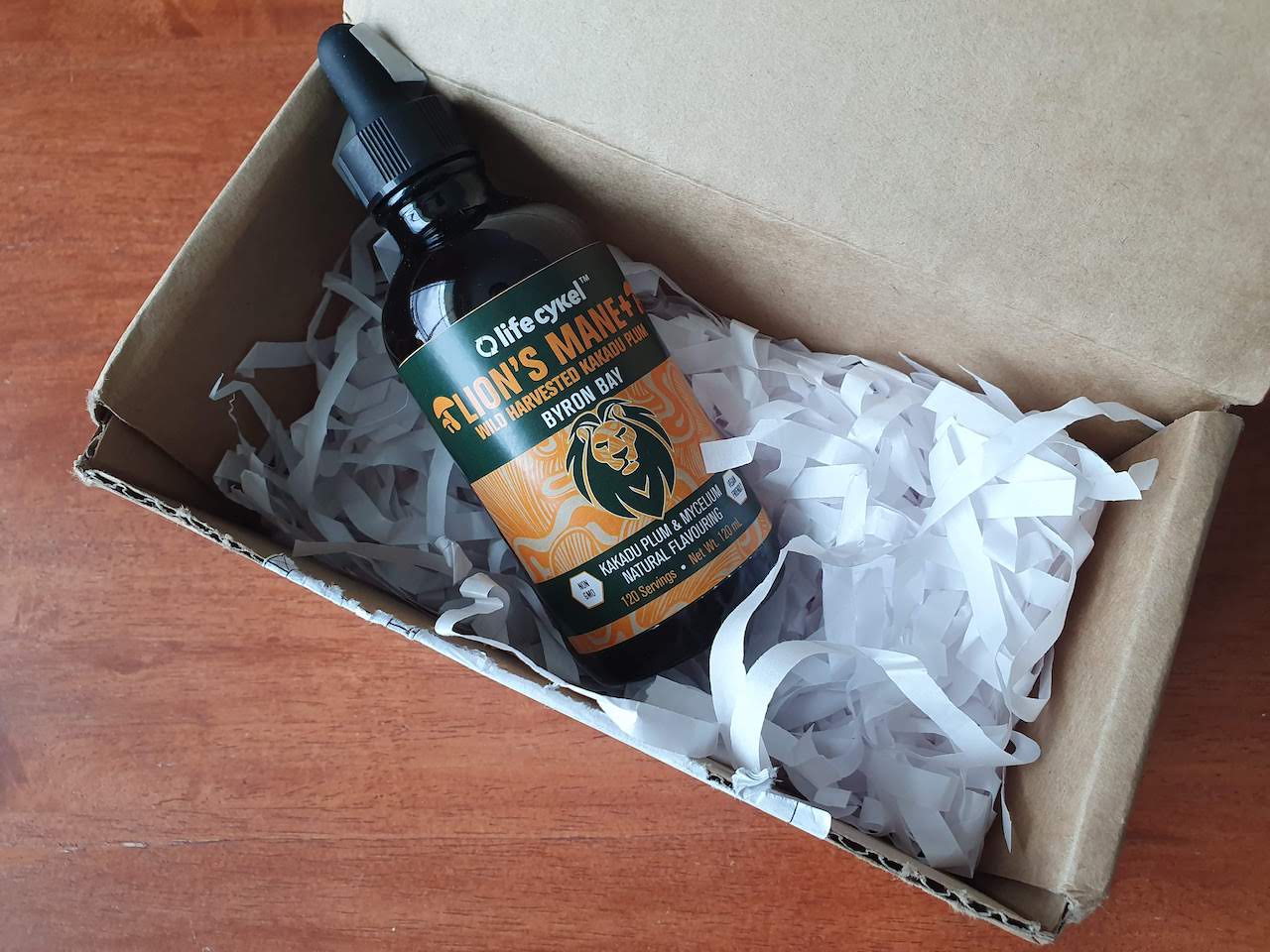 Because I'm struggling with REM sleep as well, I thought I should give it a try. I've been taking it for two weeks now and need to test it for a longer period to report results.
Wrapping up
Thanks for making it until the end of this monthly update. I hope it was insightful for you and maybe even useful in some aspects.
Overall, it has been a good month. I'm looking forward to publish all my products in September to crack the 200 product milestone. Other than that, I will start with client work again and look forward to be working on designing digital products again.
I guess, it will be another rather quiet month, but I try to squeeze in some travels here and there.
Stay tuned and see you back next month 🙂