January 2019 – Travel & Income Report
January was an exciting month for me since it was officially the first month of my location independent journey. I left…
January was an exciting month for me since it was officially the first month of my location independent journey.
I left Munich already in November but I didn't really count that in because it was more of a vacation. And during christmas time I went home to visit my family, so I can't really count that as Location independent because I barely left the couch 😉
Even though I spent half of the month in Germany, it still feels to me like I've been in asia for ages. This was probably due to the vast number of events that happened during the last couple of weeks that kept me busy.
During the course of 2 weeks, I attended the Nomad Summit, took care of elephants, went scuba diving, explored an island on a scooter and met tons of lovely people along the way.Yes, it's been a fun month, but the truth is, it was also mentally and physically draining changing places all the time and spending a lot of time on planes, trains and mini vans.
Now I'm back in Chiang Mai and I'm actually super happy to settle in one place for a while so I can really focus on getting work done and getting back into my routine without spending the majority of my mental energy on travel logistics.
Regardless of the busy month, I still had wonderful time and want to share with you my experience of getting started as a location independent designer.
January Travels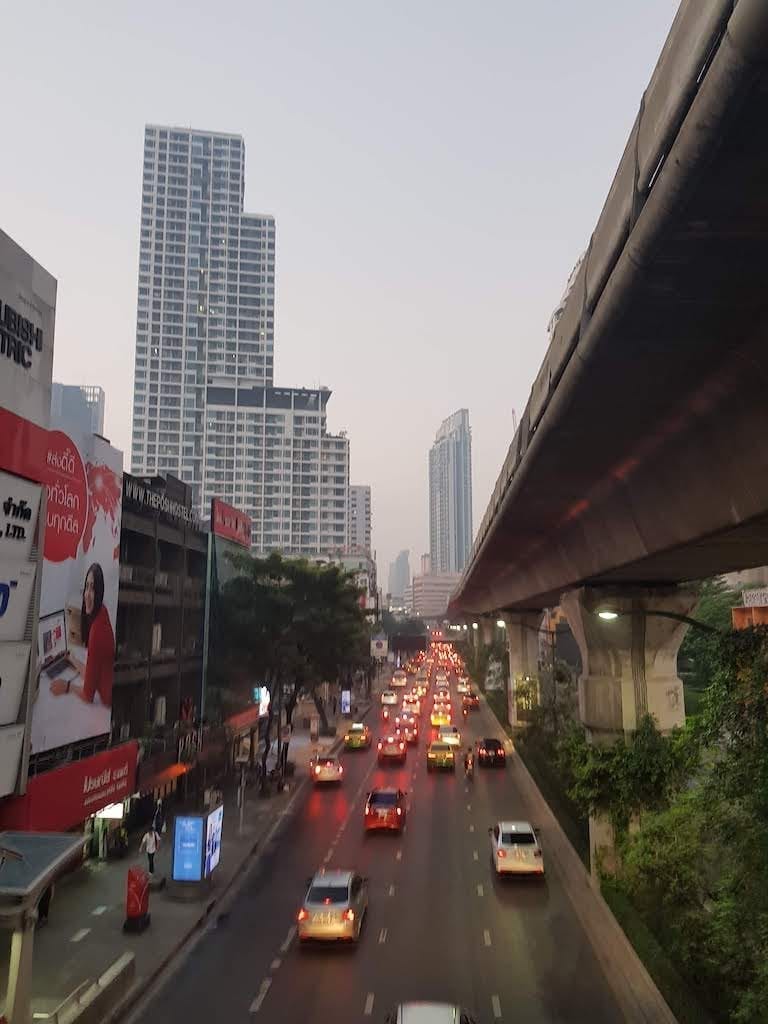 I started my trip in Bangkok before going to Chiang Mai for the Nomad Summit. In terms of planning, this was probably the stupidest thing I ever did. I arrived early in the morning at 7:00 and had to wait until 14:00 to checkin. Luckily, the hostel I stayed at, has a wonderful common room so I grabbed some breakfast, took a quick nap and went through some online course.
Every time I come to Bangkok, I go to the same Hostel (The Posh – Bangkok), since it's so convenient because it's just right next to the last station of the sky train. It's a super nice hostel and I can highly recommend it if you visit Bangkok for the first time. Because its location is so convenient, you don't have to hassle with switching trains and taking taxis after a long flight.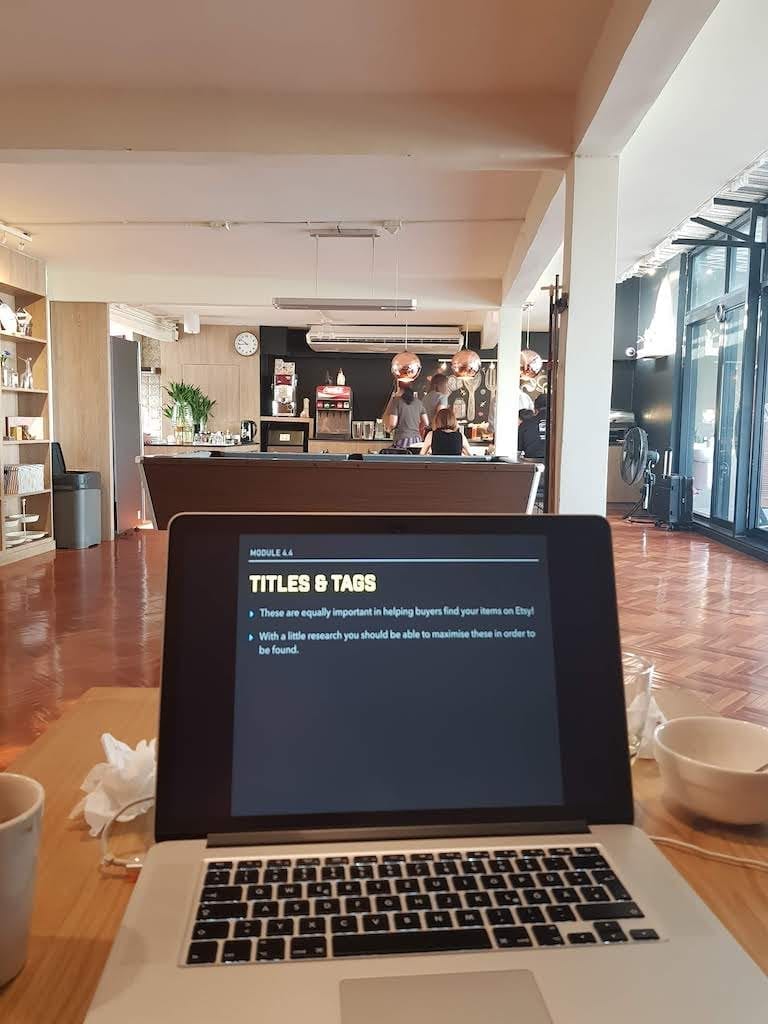 I spent my first two nights in Bangkok because I wanted to checkout the night train from Bangkok to Chiang Mai. The Night-train was actually really decent and in general a nice experience. Everything was clean and organized. On my way to Chiang Mai I made the mistake to reserve the upper berth, without knowing that the lights were on the entire time during the night. This let me arrived quite restless in Chiang Mai because I couldn't really sleep.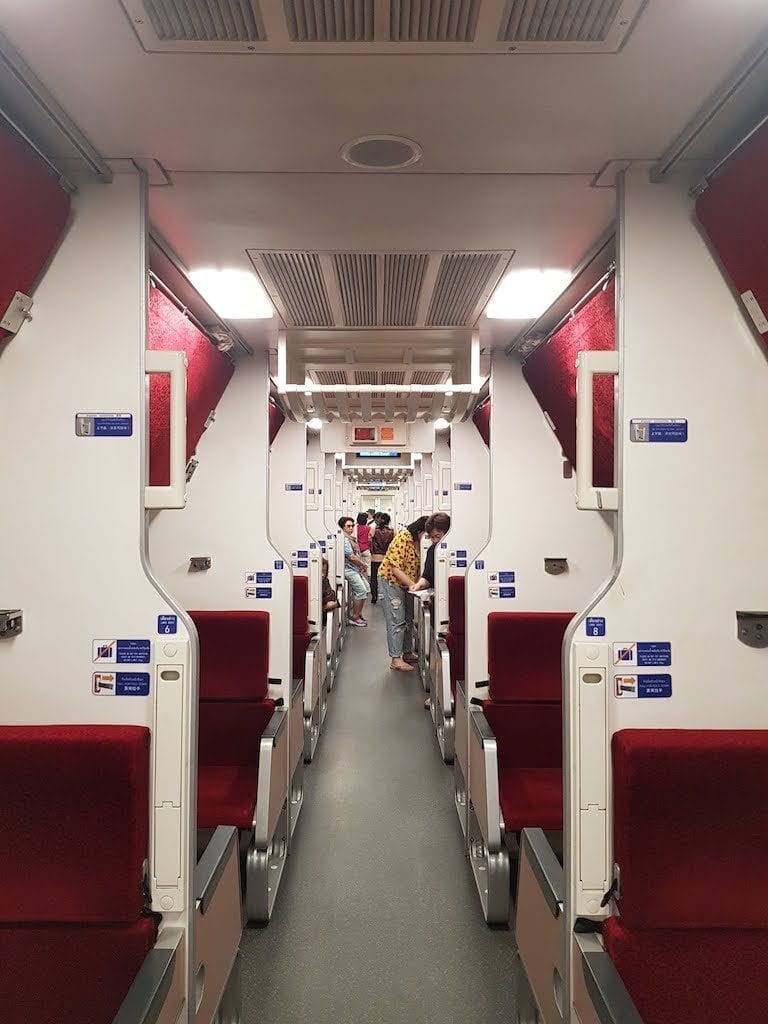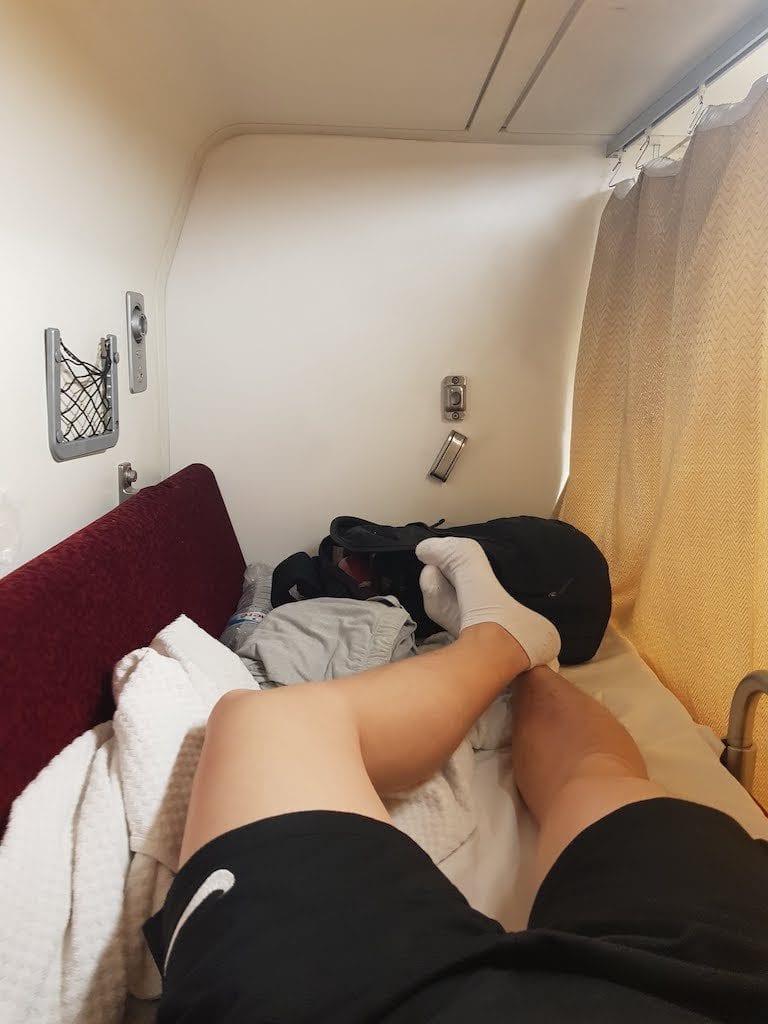 However, after arriving in Chiang Mai I checked into this wonderful new Hostel called The Entaneer. My buddies from Munich were also staying in the same hostel and we had some great time there, especially because we grew closer to the owner of the hostel and
felt like a big family in the end.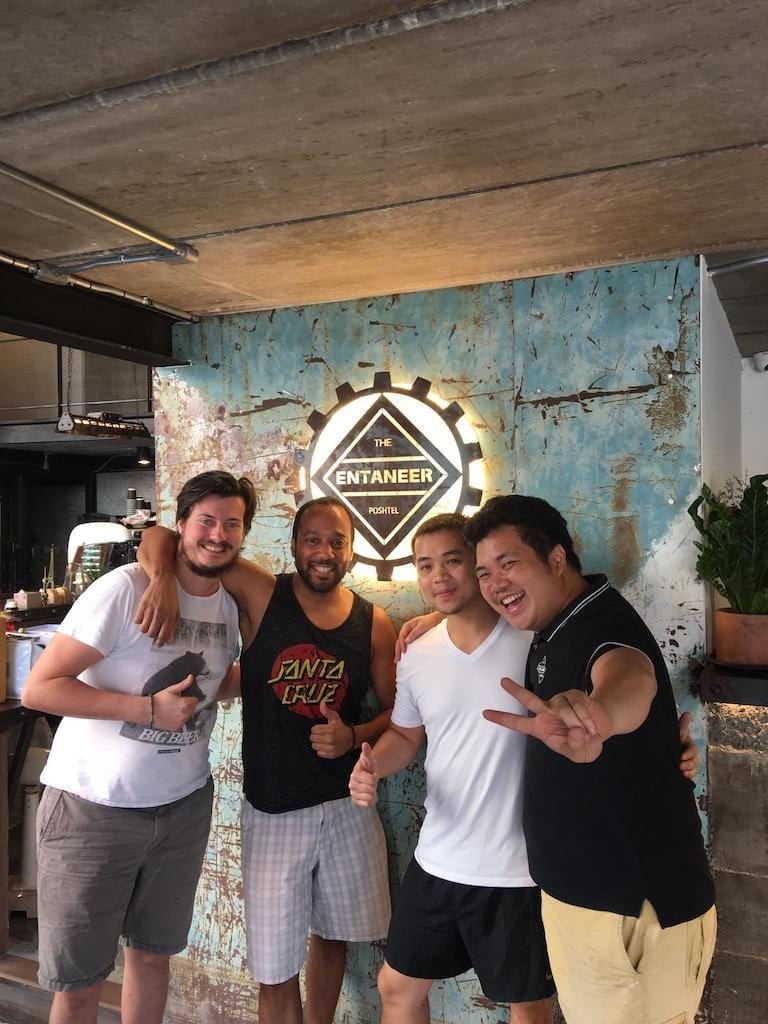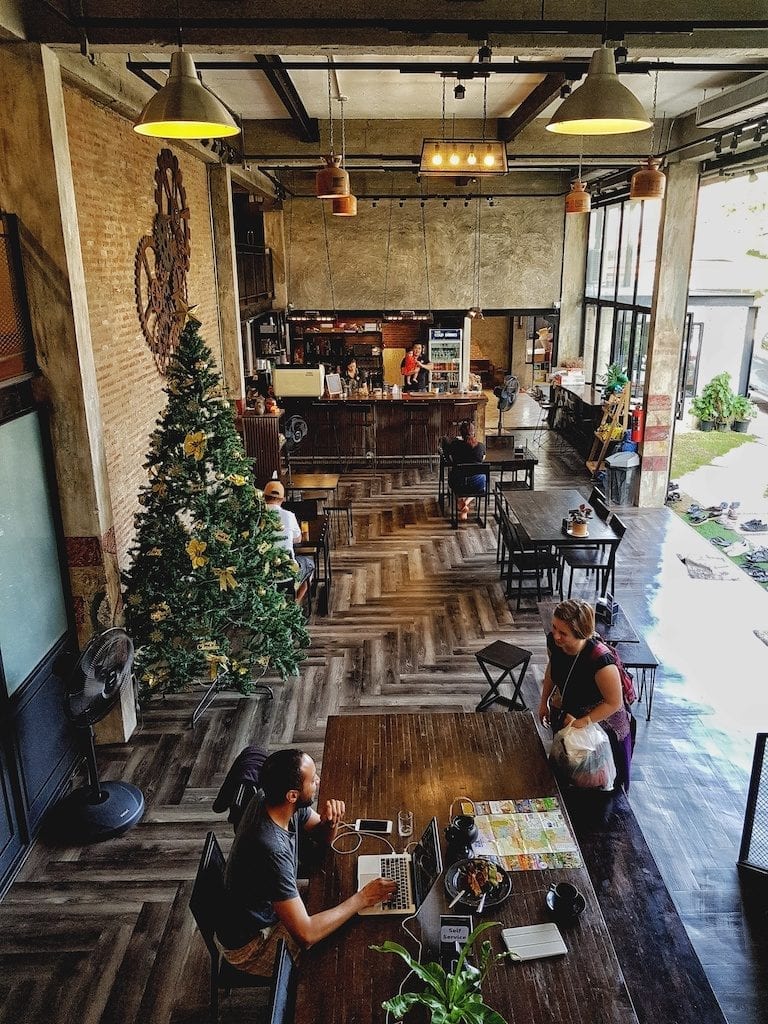 Over the weekend, we went to the Nomad Summit which was the main reason why we went to Chiang Mai in the first place.
After attending the Nomad Summit in Chiang Mai, we went down to Koh Lanta to get some tan. We planned the whole thing back in Germany, and for once, I was really happy not to travel solo because it's just much more fun with people you know.
Out initial plan was to create a steady routine of workout – breakfast – work – beach – work – sunset – dinner…
But as you may have guessed, it didn't really go according to plan. On the first day we arrived, we actually met a super nice bunch of people that we spent the rest of the time with. We were a group of 8 people and nearly spent every day together, exploring the island, chilling, partying and overcoming hangovers.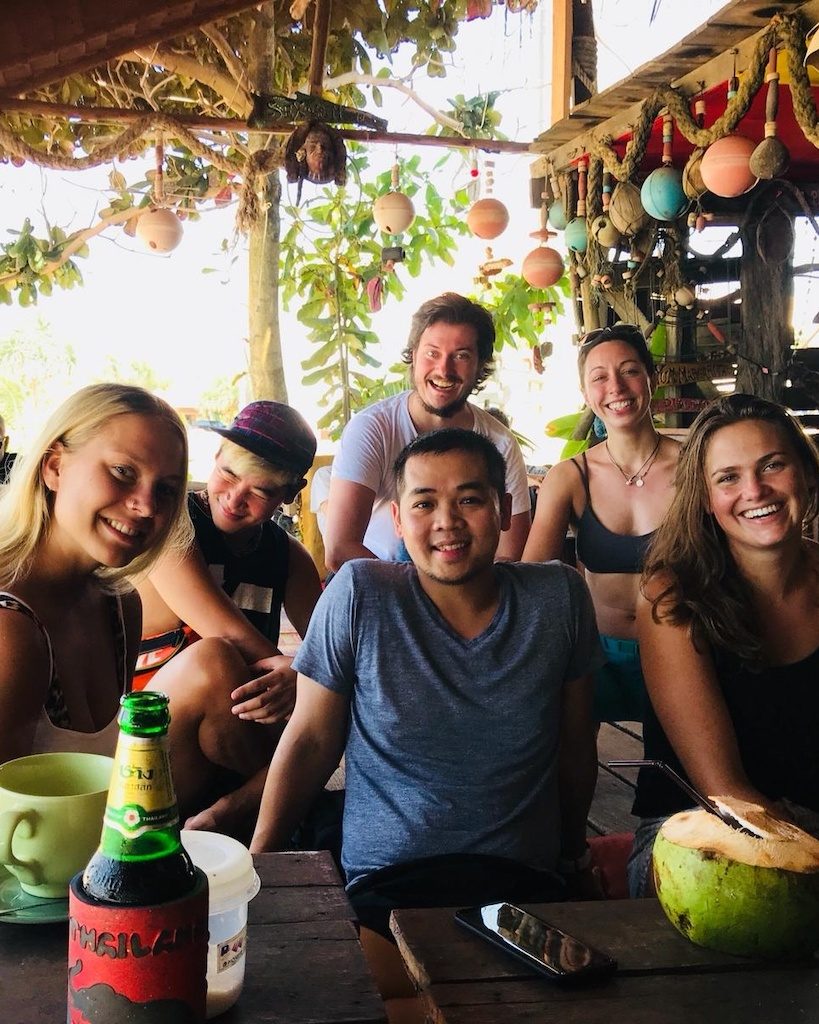 The other unexpected thing was the Nomad Summit Island Reunion where some Nomads from Chiang Mai came down to Koh Lanta to hangout. Many of them stayed in the same place, but because we planned everything upfront already, we only joined them for the Scuba Diving and Snorkeling Boat trip. It was fun to see some people again and just have a chat in a smaller round.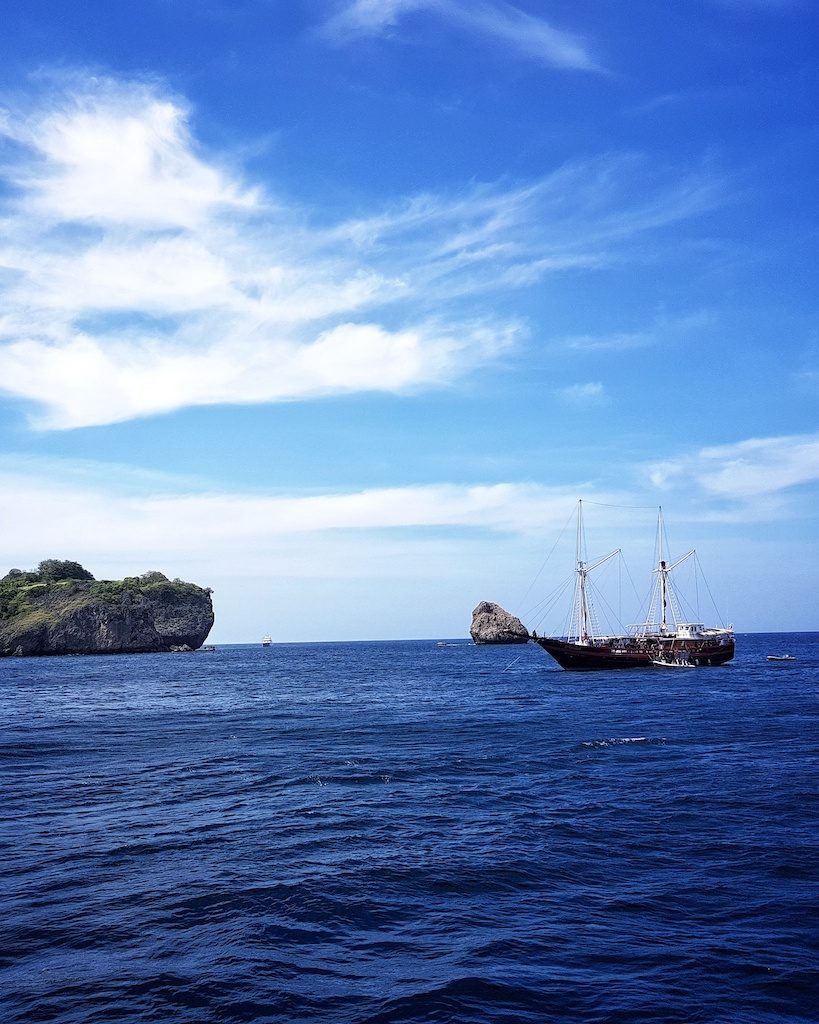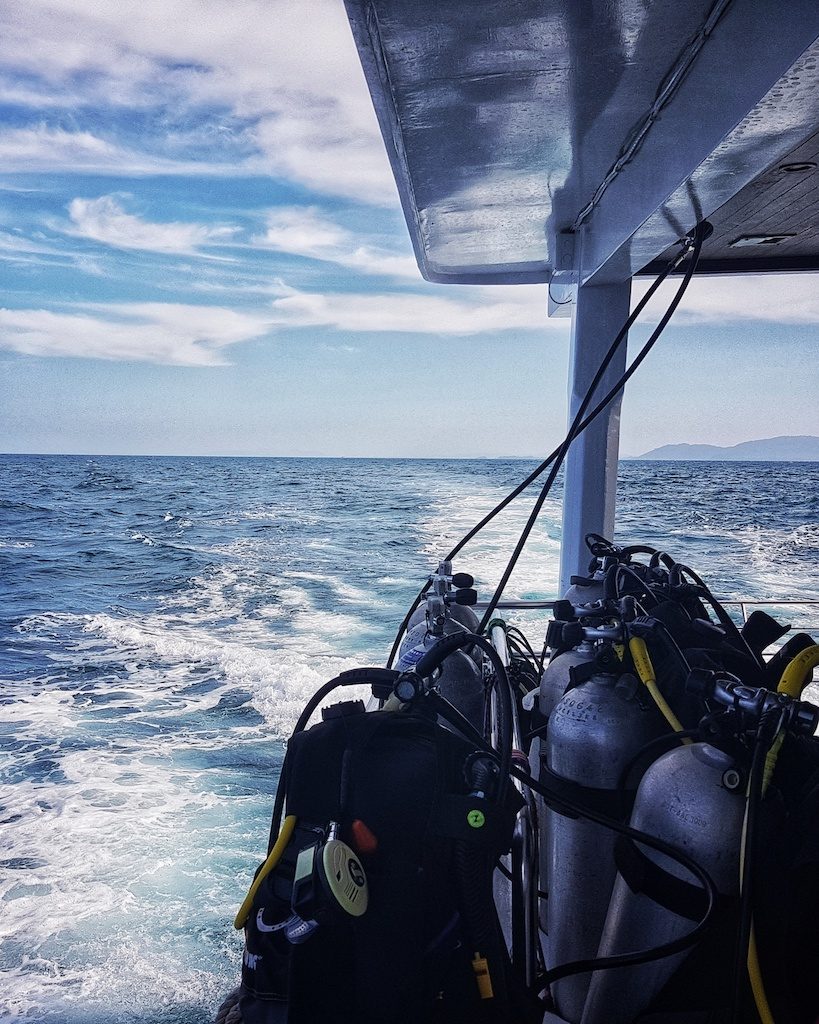 Koh Lanta is such a nice island with wonderful beaches but after a week, I felt that I had to go back to Chiang Mai to get back into a healthy routine. My liver can only take so much alcohol intake. Also a lot of people from our group were leaving and I felt a bit of sadness hovering around the island. I really hate goodbyes but probably have to get used to it, because it won't be the last time. However, the beautiful thing about traveling is that sometimes you really meet friends for life. So it's not always a goodbye, but rather a "see you soon".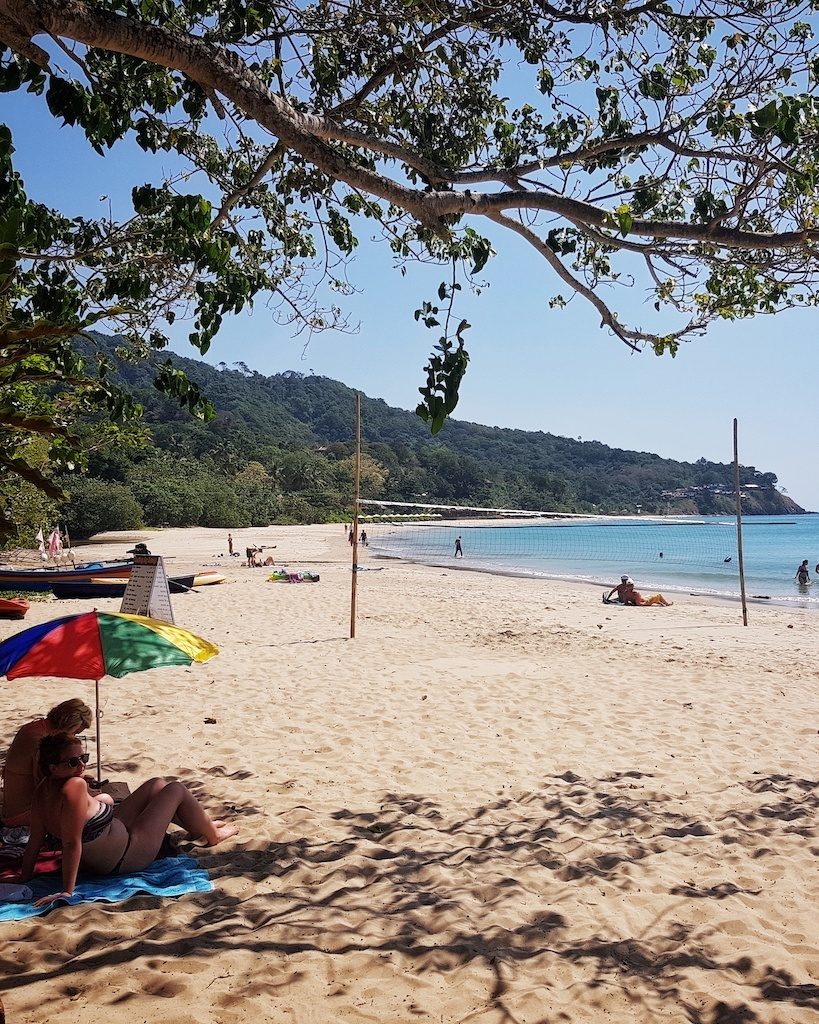 The Nomad Summit 2019
I've been following the nomad community for quite a while now and made the decision to attend the summit last year. The Nomad Summit was originally started by JohnnyFD and became an annual event that grew to a respectable size over the last 5 years.
Every year, hundreds of likeminded people are coming together to network and learn from each other.
I was especially excited to see the event location which was the Shangri La Hotel. The whole logistics and organization of the event was really well done, so shoutout to Johnny and the Nomad Summit Team.
Everything went smooth and I can imagine it was a ton of work to get everything into place.
So what can I say about the quality of the content?
Every year, Johnny is trying to involve interesting speakers from different backgrounds. This year, the talks were about:
How to make money from Skillshare
how to start a business from a small country and scale internationally
High ticket Dropshipping
Ebay Dropshipping
Travel blogging to 1 Mill
Retiring as a nomad
If you are interested, you can download the keynotes here:
http://www.nomadsummit.com/ns19slides/
There will be recordings of the talks in the future on the official youtube channel:
https://www.youtube.com/channel/UCO__7m-gQTR7_EmwhQjIpGQ/featured
You can also find the talks of the past events on there.
The diversity of the topics kept the whole day entertaining and fun. For me personally, it was less about the details of a specific business model, but rather hearing the different background stories of those people. This made it much more tangible that one can achieve the same when seeing how others grew their business (with numbers!) over the years. If you can reach financial freedom after 2 – 3 years of extreme hustle, wouldn't you do it?
It all boils down to mindset, which was my biggest takeaway after all. A lot of people I met, had such positive energy and a vision in life that really inspired me. Of course, there were also a lot of douchebag nomads who were just pooping arrogance all day long, but those kind, you find everywhere. Also if you operate beyond the 7 figure mark, your confidence will probably rise though the roof (yet, not an excuse for being an asshole).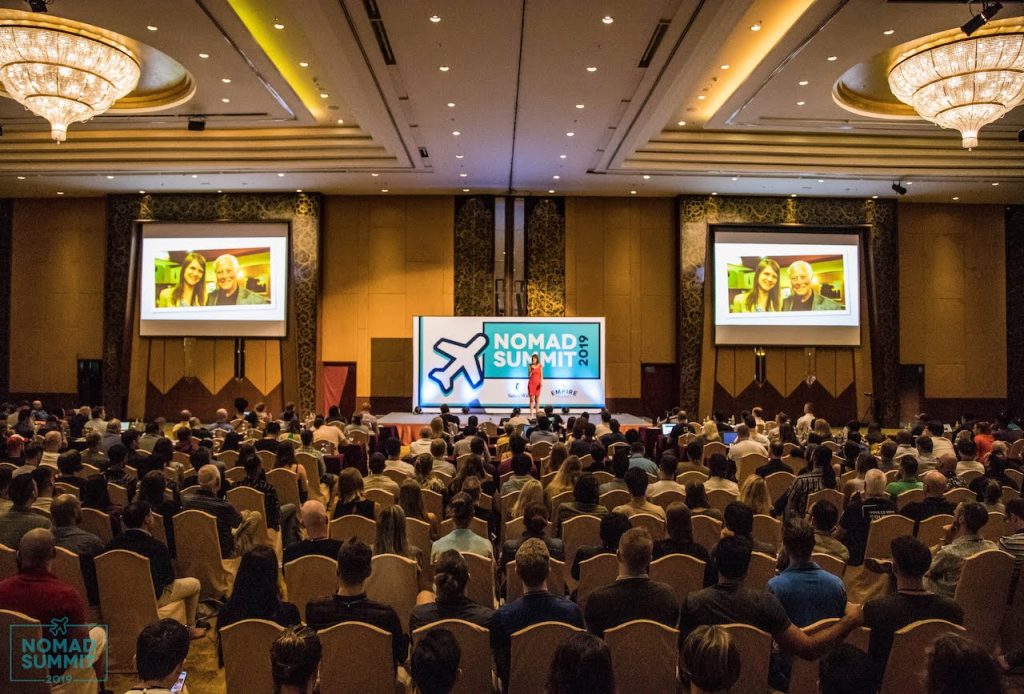 Will I attend next year?
Probably not to be honest. Even though I've been super excited about attending my first summit, it left me with a sense of meh. Although I like to network with people, I didn't like the networking that was going on at the summit. It felt to me like a giant penis contest, with people being more interested in what I can do for them ("what do you do?" and how much I make (is it worth continuing the conversation?)
Little did I feel the sense of someone being really interested in my background story. Lot's of people were just too focused on the superficial part of networking and exchanging business cards in the first 5 seconds of a conversation. I don't like to spread negativity, but I just don't believe in this kind of networking. For the future, I rather go to co-working spaces and mingle with the people there because the chance of creating more sustainable relationships is just greater.
Regardless of the superficial networking aspect, I still think it's a fantastic event to attend, since the majority of people are actually really nice. You don't have to become friends with everyone, but if you can take only 1 genuine connection from it, then it's totally worth it. If you were thinking of attending the next summit, then you should definitely do it because it will be a great experience anyways. Don't let my opinion scare you off.
Checkout the photos on the FB page: https://www.facebook.com/nomadsummit
Personal Projects
In terms of my own projects, I've been focusing on my POD dropshipping store in the last couple of weeks. I started it last summer but haven't put serious effort into this so far. However, I was still able to make some organic sales which is a nice proof of concept. My goal for 2019 is to get it off the ground so it can generate a decent amount of income that I can sustain this lifestyle.
I purchased a course from a guy I've been following for a while now on Youtube who has been quite successful with it. When it comes to learning new things, I believe in investing in yourself and learn from those who walked the path before. Don't waste time trying to figuring out everything yourself.
A lot of people think that online business is a scam and that you can't get rich with it. Yes, there are a lot of people out there who sell you courses with the promise to make 6 figures in 4 weeks. If you one of these persons believing in the get rich quick scheme then it's probably your own fault. Building a business takes time and if you expect money to rain over night then you probably shouldn't become an entrepreneur after all.
For January, I haven't been putting up any new products but focused on getting my branding right. Furthermore I spent a lot of time just optimizing my existing products to increase views. In the past, I didn't really pay attention to that and now it's catching up. But it's all part of the learning process, so I'm not really stressed out about it. If after all, I have a much better feeling now of how to approach keyword research.
My traffic has been growing slowly but steadily over the last couple of months. Traffic is mainly coming from Pinterest, so I need to pay more attention to increase organic marketplace traffic. Below a quick snapshot of my dashboard. Be aware that the revenue number does not represent the amount that lands on my bank account because you have to deduct manufacturing, ads and marketplace fees. In the end, it was a zero sum game but more importantly, I know it works.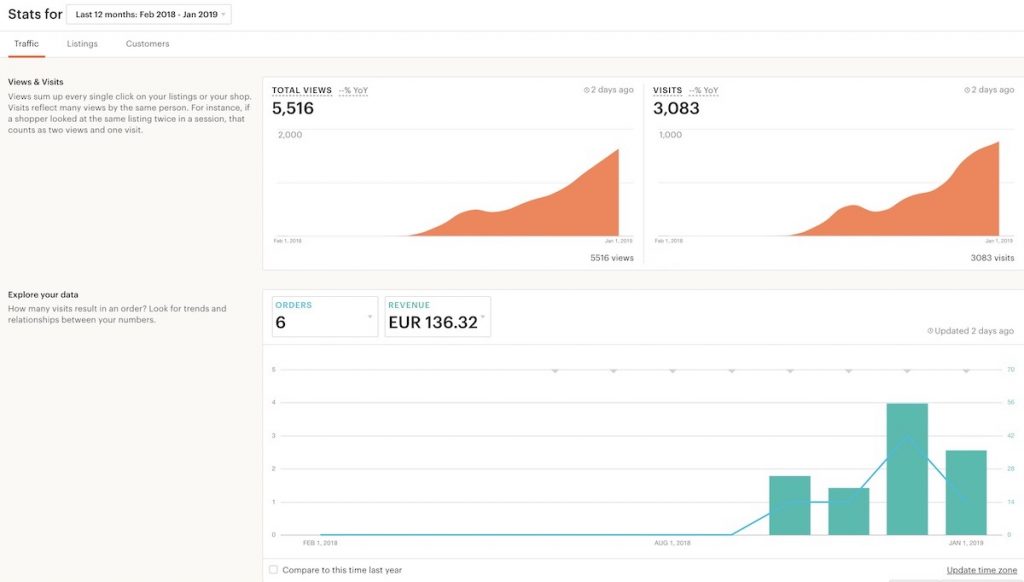 Income & Expenses
My income for this month is…0€.
Since I've been traveling around and not doing any paid work after all, I've been draining my bank account quite a bit. I expect to have some freelance work coming in the next few months so I'm not really stressed about it.
I seriously don't expect anything to take off in the first year since it's focused around laying the foundation for the upcoming years.
In terms of expenses, I accidentally reset my money tracker and lost all my recorded transactions for January. However, I managed to snag a quick screenshot that displays the total expense. and percentage of categories. Sadly, no details for this month.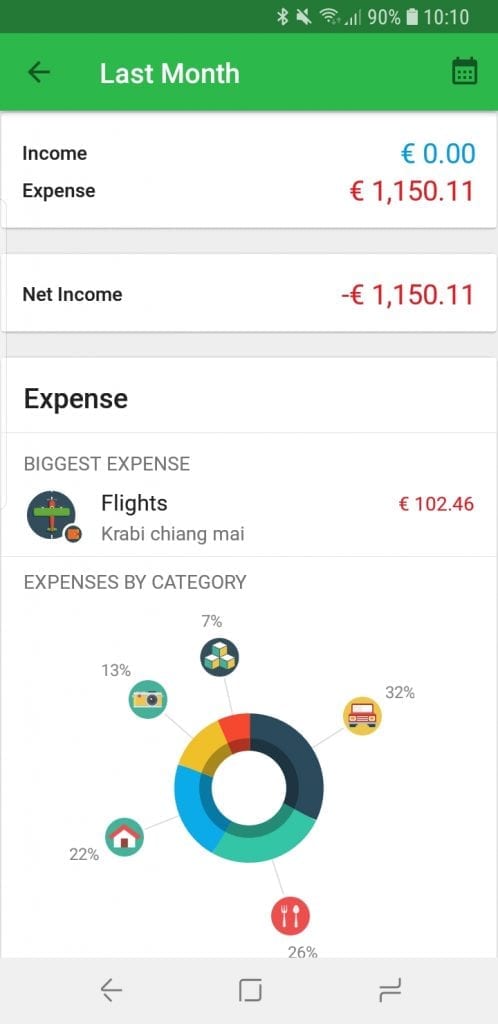 In general when it comes to traveling, the biggest costs are transportation and accommodation. For January, my accommodation was fairly low because I was still in Germany for half of the month. February is going to be much higher. The great thing about asia is that food is so affordable if you don't go crazy on western food or alcohol. When I sticked with Thai food, I barely reached my daily allowance of 15€ per day.
Other than that, there is not much I can show for now. February is gonna be more detailed.
Learnings – 2 Month into the nomad life
The first month of 2019 has been quite a ride for me. One of the challenges I faced during the last couple of weeks, or even month (nomadic since Nov 2018) has been the lack of a steady routine. I've been an active person for a great part of my life and just having no workout at all for weeks drives me nuts. Especially in combination with an unhealthy nutrition, it creates great pressure on my mental health. Staying in a hostel and meeting lots of new people every day was also another challenge. While I love to mingle with others, I also enjoy having my own space and some privacy at some point. After months of travel, it becomes draining telling your story over and over again and adjusting to new faces and memorizing stories. With these two things in mind, I will plan my next travels a bit more carefully so I travel at lower speed to avoid travel burnout.
Here are quick takeaways:
stay longer in one place to drain less money
stay longer in one place to reduce travel planning
carve out time for yourself to refresh your mind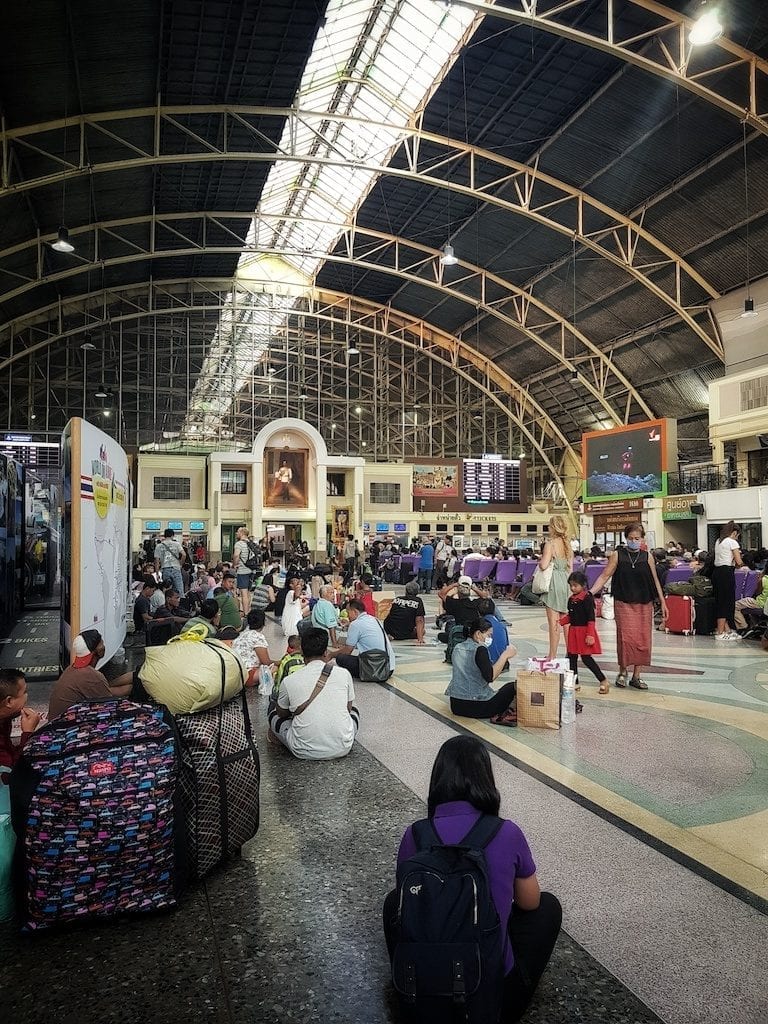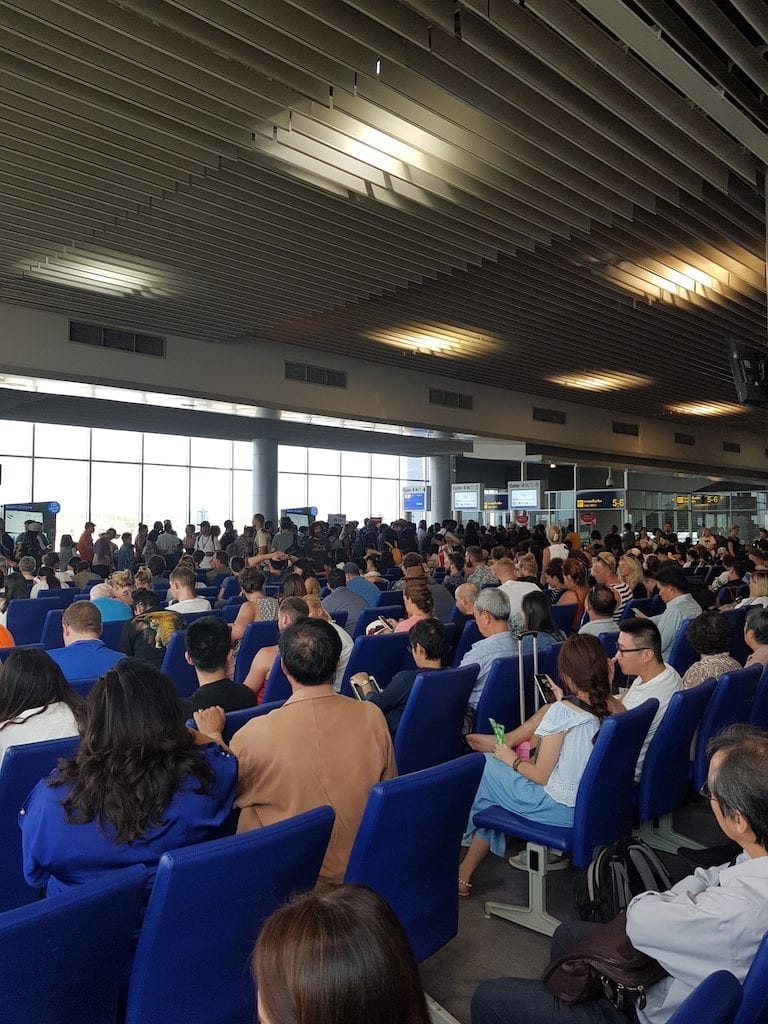 What's Next?
February will be a quite month for me since I will reduce my travels to a minimum. I'm currently looking for an apartment in chiangmai to get back into a "normal" life. I will sign up for a co working space and finally get back into the hustle.
In march, I will be traveling to Vietnam because my Thai visa expires. I don't plan on coming back to Chiang Mai right after, because of the burning season and also to reduce travel costs.
I will stay approx. 3 months in Hanoi and establish a routine there. This is the first time for me staying in my own country for so long. Looking forward to it and also excited to embrace the nomad community there.
Let me know if you like these kind of monthly reports. I also published another travel report for Portugal in december, so make sure to check it out if you haven't seen it yet: My Portugal Travel Report – Dec 2018.
Take care and see you on the road.
Ninh