June 2020 – Travel & Income Report from Vietnam
June has been another quiet month in Danang. I mainly focused on my e-commerce endeavor while trying to survive the hot…
June has been another quiet month in Danang.
I mainly focused on my e-commerce endeavor while trying to survive the hot summer with lovely temperatures of 36°C every day.
It is not a spectacular life to be honest, but life is the best when it's just simple. Hence, another short monthly update.
Life in Vietnam
There hasn't been any life changing events in June.
Vietnam's borders are still closed, allowing only professionals or investors flying in and out of the country.
For the majority of us, only domestic flights are available that almost go to any location in the country. I really don't mind that Vietnam is still encapsulating itself from the rest of the world.
It makes me feel safe.
The visa situation in Vietnam has slightly improved with cheaper prices available for a 3 months visa. Remember it was $400 in February?
Now it's just $280!
What a bargain for a visa extension that normally costs $50.
Left with no other choice, Andrea and I went ahead and extended our stay. At least Jane Visa in Danang was really supportive and got our Visas done in under 2 weeks. One thing less to worry about.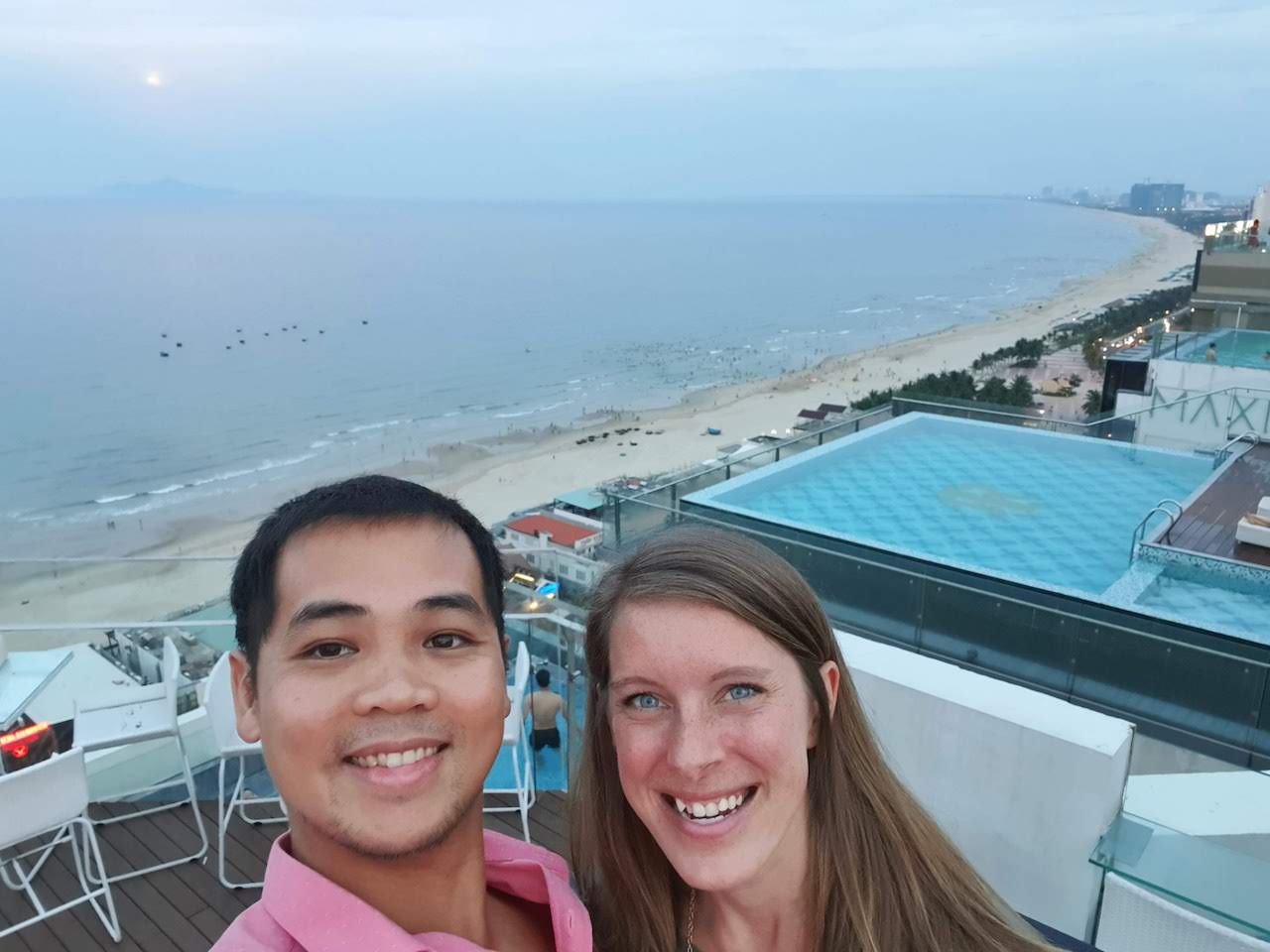 Danang has been treating us well so far so we didn't see the urge to go anywhere else and risking to end up in a country with a potentially worse situation.
I still enjoy my time in Vietnam and I couldn't be more grateful that I'm not stuck in another country. Vietnam has handled COVID very well and the country is back to normal.
No masks and no social distancing enforced in day to day life.
It is hard for me to imagine going back to Europe at this point. It's like going back in time.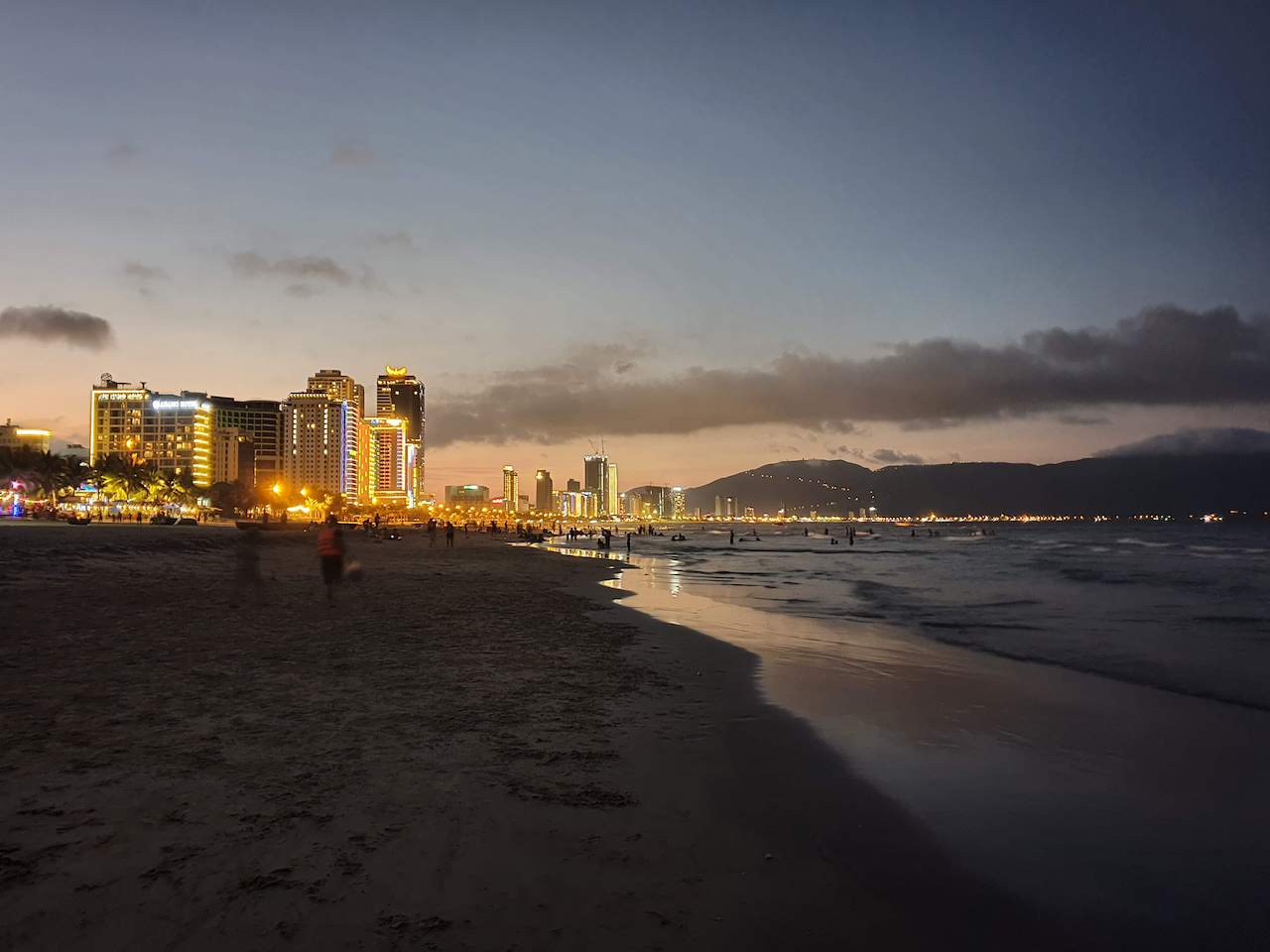 Domestic flights in Vietnam have also resumed 100% and people are going on with their daily lives. While international tourism has dropped significantly, domestic Travel has gotten a boost since prices for airlines and hotels has dropped for more than 50%.
I believe THIS is the best time to time to travel in Vietnam and most likely a once in a lifetime chance. Everything is cheap and tourist attractions are not overcrowded. Of course, this doesn't really help of you're reading this from another country right now.
Why Danang could be such a good base
I have been living in Vietnam for more than half a year now and this has been my longest stay so far.
In the past, I've been very skeptical about living in Vietnam for multiple reasons. However, in 2020, my perception has changed and I think it is currently one of the fastest growing countries on earth and one of the most exciting places to live.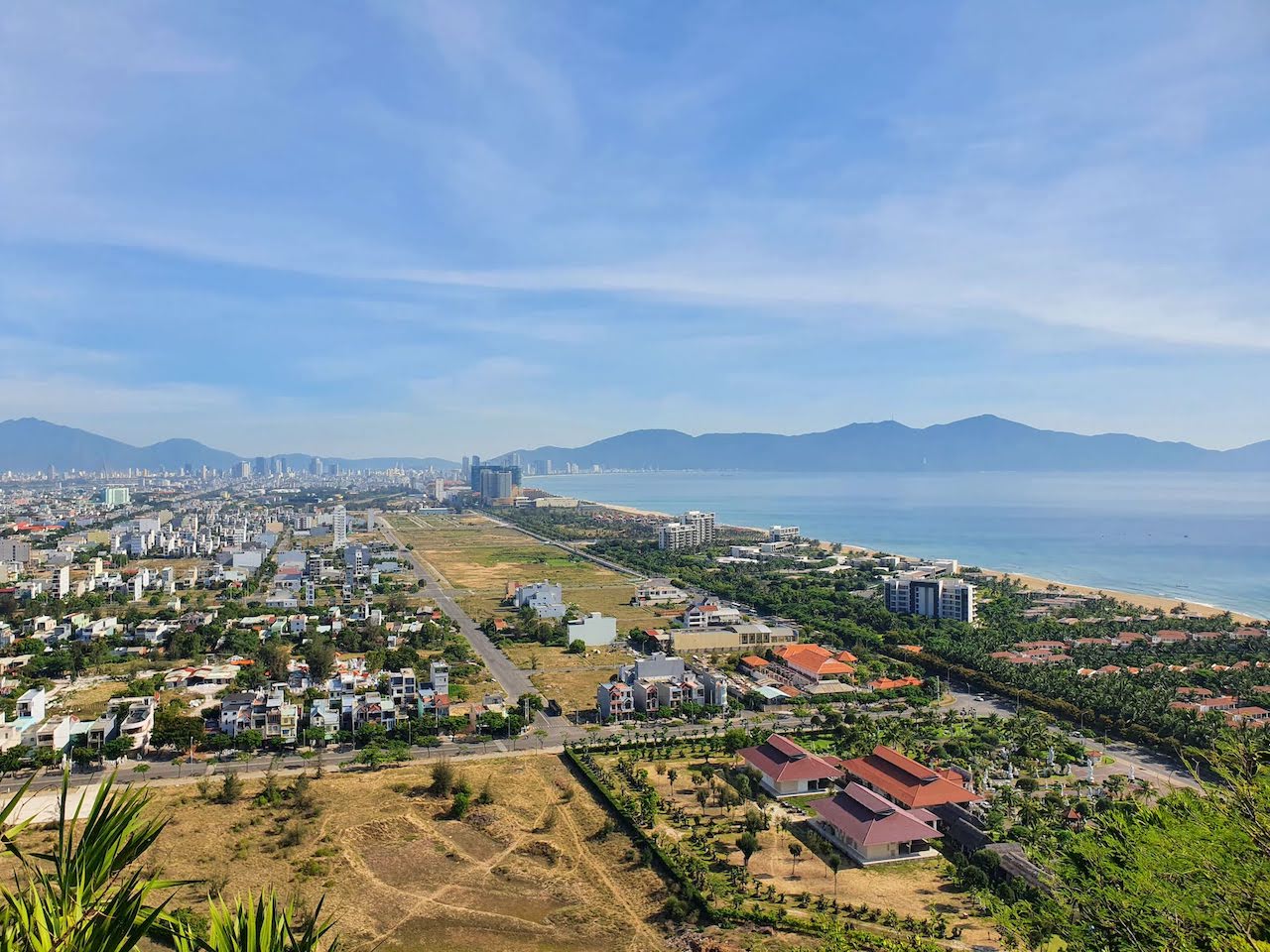 Especially Danang. I love living in Danang. The simple life, the healthy beach lifestyle, the fresh sea food, the friendly people and the ability to travel anywhere fast via the international airport makes it a very attractive base for me.
Another reason that speaks for Danang is the cheap living cost. Over the last few months, I only spent around €1000 per month for EVERYTHING. This includes eating out 99% of the time, drinking beer with friends, going to coffee shops every day etc. It is almost unreal.
I'm also grateful to be able to get the visa exempt as a former Vietnamese citizen that allows me to enter the country for 180 days straight.
No headaches with visa runs every 30 days! This would allow me to work on projects for 6 months and travel to Thailand or Malaysia for the other half of the year.
Working as a digital nomad during COVID
The biggest challenge for me in the last two months has been my freelance work. It is a bit unfortunate, but my client has not paid my invoices yet. I decided not to waste more of my time and focus on my own projects instead.
A lot of businesses have been struggling during this pandemic and while it didn't look like it wouldn't affect me as much, it did more than I wanted.
It just shows that having a job or relying on clients to pay the bills is not a good long term strategy. Job security is a myth and relying on only one source of income is the safest way to find yourself in trouble once you lose it.
It's not a gamble I'm willing to play any time longer.
Why I choose to focus on customers rather than clients
With all my mental energy available, I decided to go full speed on growing my e-commerce store in hope that can replace my full time income soon. I believe that everything happens for a reason and that my client hasn't paid me yet, is a sign that I need to focus on building my assets.
It is annoying not getting paid, but at the same time it is a necessary push for to make things happen. I remember when I started traveling, I only saved up money for 1 year and committed to get my business off the ground.
However, since my client work has been very comfortable, I ended up not investing enough time into my businesses. Why rush right?
Being in this situation right now and having no reliable income pushes me back to square one and encourages me to focus on customers instead of finding new clients.
The biggest difference between a customer and client is that customers come to purchase an asset. The transaction is instant.
With client work, you don't have an asset and in most cases, you are changing your time for money. The biggest downside with client work in the design industry, in my opinion, is that you have to fulfill the work first before you get paid. Risks can be limited if your service business is productized.
The other thing is, when working with clients, you don't build your own assets. You build theirs!
This makes an agency type business model very hard to sustain and succeed in, because it required a lot of competence and you need a continuous stream of new projects to pay the bills.Online Business
Online Business
As I mentioned in my last report, the current COVID situation led to an increase in production time and shipping delays for specific products. I decided to branch out to other product categories that weren't as affected by the delays and the gamble has played out. My traffic and sales has gone up compared to last month.
I reinvested the profits into paid advertisement to see how fast I can get sales in with new products. By doing so, I wanted to see if I can get ranked faster instead of waiting weeks/months for SEO to kick in.
Here are my takeaways:
Paid advertisement is a good way to find out whether a product is a hit or miss fast
Losing money in the short term to gain in the long term is easier to say than to do: if you lose money every day with advertisement without making any sales, can be frustrating.
When playing with paid ads, you can't be emotional. It's all just testing.
Paid advertisement can help with ranking faster: because my products sold a few times, I landed on the first page out of 250 in less than 30 days, this would take forever to wait for natural ranking
Ranking is only important when selling on platforms like Etsy or Amazon. Ads work differently when having your own store
Here are my stats for last month

Traffic May – June 2020 Overview

There are many factors for my higher traffic in June. More products, more sales, paid ads, better rankings…Sometimes it's hard to see what changes exactly caused the effect.
Orders May – June 2020

Expanding on Redbubble
The other thing I experimented, was to upload my designs to Redbubble. My Redbubble account has been creeping around with 25 products forever. I uploaded a few designs last year without knowing what I was doing. I had a few sales, but nothing significant. With my better understanding of SEO and how marketplaces work, I wanted to give it another chance to see if I can make some additional "sushi-money".
I bumped the numbers of designs from 25 – 200. My organic traffic grew quite fast. In addition, I lowered my profit margin to almost 0% to get sales in and get up in ranking fast.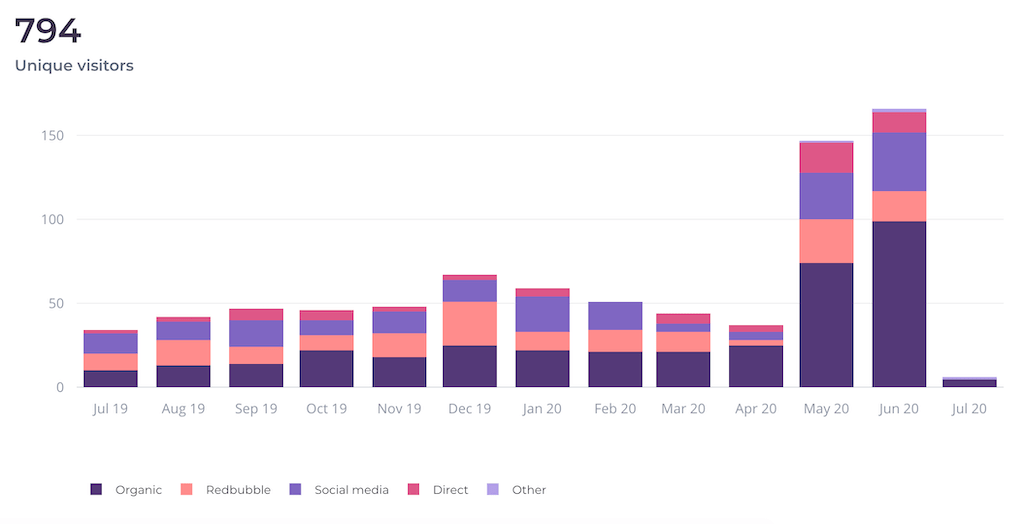 So far, no sales, but my "likes" have been growing at a faster rate than before. This definitely helps with ranking. Since I don't lose money on a regular basis, I have no intention to change that strategy any time soon until sales are picking up.
Redbubble is not the easiest place to succeed. Because you have no control over anything, you are mostly at the mercy of SEO. Because Redbubble is so easy to use, it attracts a lot of people with little to no talent that blow up the marketplace with low quality content. This makes it much harder to stick out because there are millions of products. Quantity combined with SEO is king on Redbubble.
Expenses for June 2020
Because my client work didn't pay off yet, I tried to reduce my living expenses to not burn cash unnecessarily. I reduced my spending by around €300 / month and spent around €1000 In total.
Considering that I eat out almost 95% of all meals and live in a fancy apartment, it is not a lot in the end. The majority of my money really goes to basic stuff like food and apartment rental. In the food category, I can easily save more money. Currently, I spend a ton on coffee and all the good stuff like sweet drinks and dessert. By just writing this, it makes me realize why I'm not losing any weight :D.
The biggest single expenses for June:
Apartment = €330
Visa extension = $280
Motorbike rental: €50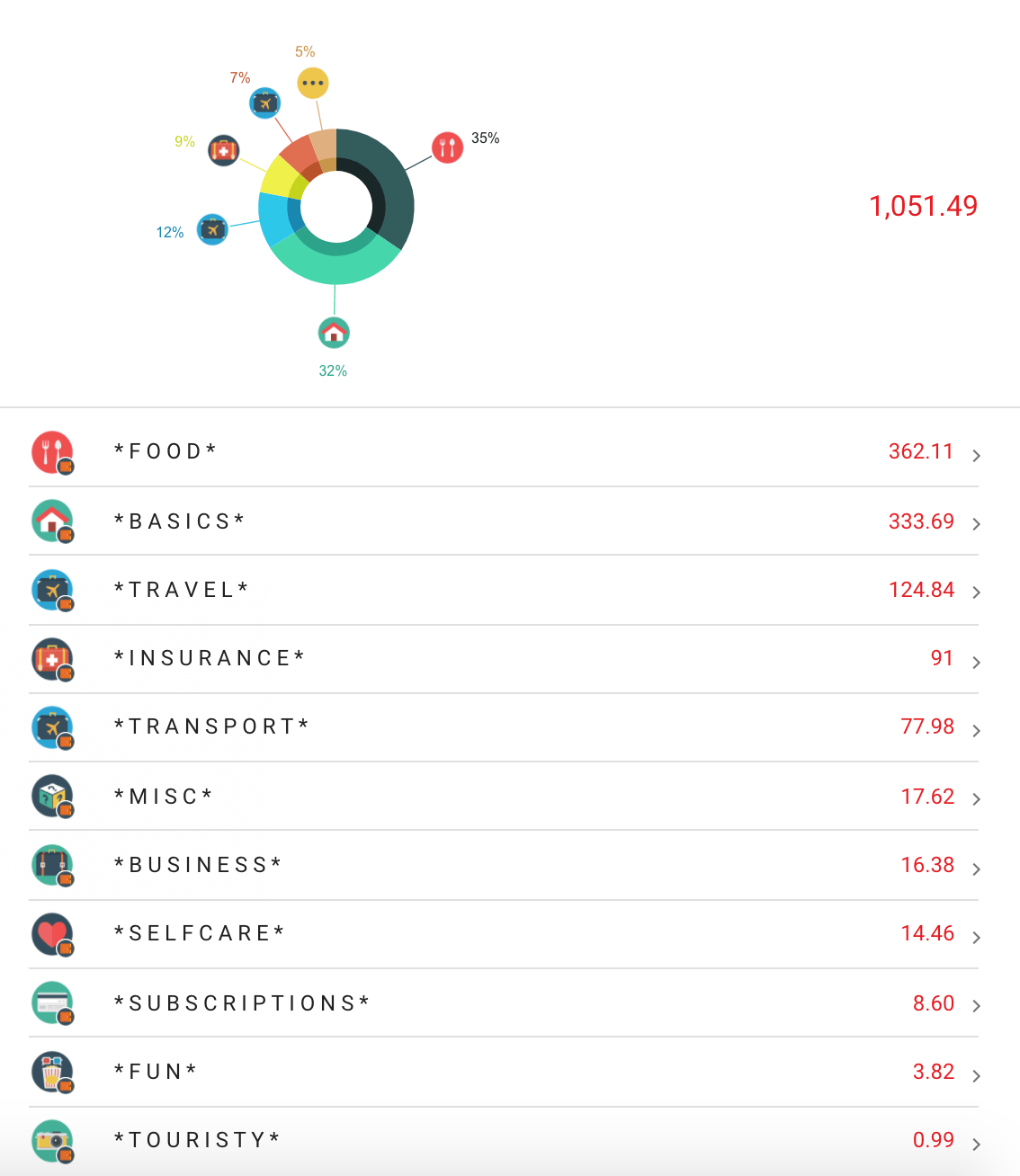 Wrapping up
For July, I will be focusing more intensely on my online business. I'm just tired of working for other people and running after my money. I can't stress enough how important it is to build assets. Creating a sustainable income with an online business is definitely not easy and requires a lot of work.
I'm running my own store for 2 years now. While it hasn't replaced my full-time income yet, it's still wonderful to see a slow but steady growth. You can go back to my archives and checkout my post from January 2019 to see the how much my online business has grown.
Of course, it can be frustrating at times when I put in so much effort and don't see any results for months.
I'm always chuckling when some of my friends ask how they can make passive income quick without putting in the effort. It doesn't work like that. I'm just grateful that I started relatively early and a few years down the road, I will be financially free with 1000% certainty.
It is also helpful to take advantage of geo arbitrage. A lot of people wonder why I live in places like Thailand or Vietnam. It is just so far from their imagination that it makes it impossible to convey the advantages.
But living in places where your money goes so much more far can extend your runway by years. It is so much harder to get a business off the ground if you are draining €2000 or €3000 per month just to get by. There is not much left to reinvest.
I can only encourage more people to start building their own assets as soon as possible. Don't wait for the perfect timing or when you are ready. If you can exchange 10 years of hard work to become financially free and earning more than you could ever in your job, wouldn't you trade it with 40 years of slavery? Let me know your thoughts!
With love from Vietnam.